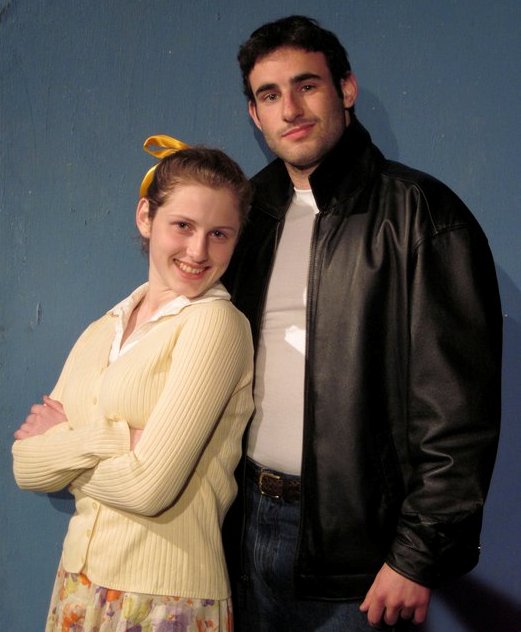 When grease paint meets axle grease, teen angst never looked (or sounded) so good! Walking into Merkaz Hamagshimim in Jerusalem the building is humming with energy as Center Stage theatre gets ready for the premiere of Grease on March 15, 2011. Taking a hands-on approach, director Joshie Trachtman is going over paint supplies in the entryway, while Center Stage Artistic Director Rafi Poch puts the finishing touches on plywood lockers with doors that open, and the cast members try them out, singing, dancing, and kidding around as they wait for rehearsal to begin.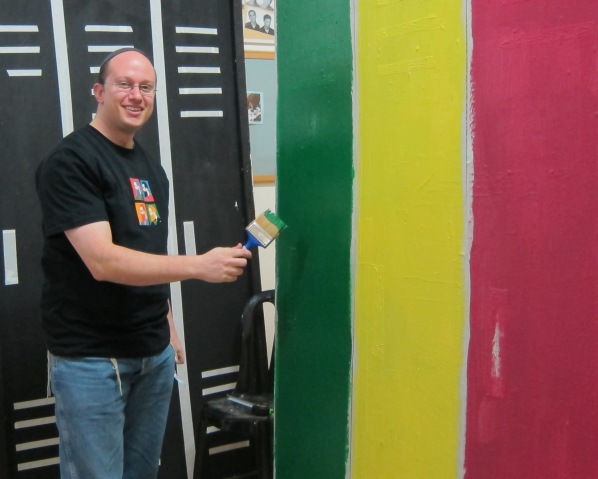 Center Stage Theatre has been active in Jerusalem for 14 years, and many of the young cast (most are teens) have grown up in the theatre, acting and working as crew in shows, here and in the some of the other community theatres in the city. Yet the future of the theatre is unclear. Center Stage has been supported by Young Judeah and Hadassah, receiving funding and a home in the building where the Hadassah offices are located. Hard hit by the financial crisis, Hadassah will be vacating the building and no longer has the funds to support the theatre. Unless a new partner is found, Center Stage Theatre will close on April 30, 2011 due to lack of funds.
At Center Stage occupies a distinctive place in the Jerusalem community theatre scene.  "It's a creative home. I'm not just looking to put on a show," says Artistic Director Rafi Poch, "we're part of a community, with an emphasis on the people involved." One might say that Center Stage is a place where dreams become reality, through the magic of theatre, dedication and hard work. Poch explained that while most of the other community theatres work with one or two directors, Center Stage works with different people on different projects, opening up the opportunity for more people to direct, many of them surprisingly young.
"Four years ago a young woman named Liel came to me," said Poch, "and said I would like to direct Tik Tik Boom, she was 16 years old. I asked her, what's your background and she said that she was directing Peter Pan at another theatre. I saw the rehearsal and realized – this girl knows what she's doing and for the next four years she was my right hand – whatever needed to get done she did."
Liel Zahavi-Asa directed the musical 13 at Center Stage last year – an excellent production that was not only immensely popular with audiences, but entertaining fun with a cast of great singers and actors, some of whom are now performing in Grease. Liel is currently pursuing university studies in the US. "The connection she has with the kids, this is what community theatre is all about," said Poch.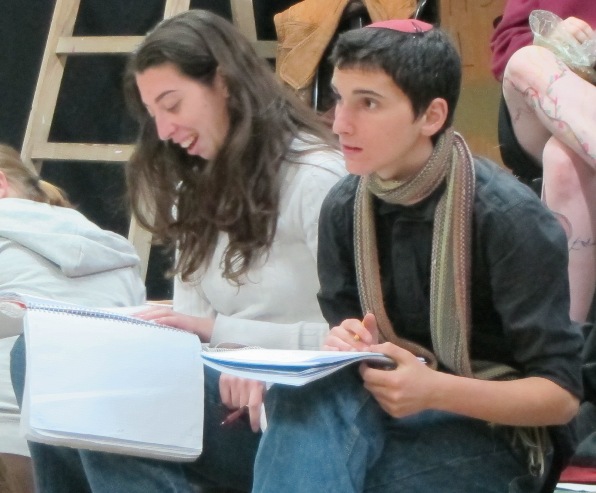 17 year old Joshie Trachtman approached Poch several months ago saying, "It's my dream to direct Grease, I want to do it before I go to the army (IDF)." Center Stage usually produces one musical a year, having just produced 13; they did not have the budget to do another musical. Yet Poch was not deterred, and told Joshie, "You have the dream, I have the space, let's do it."
There are several English speaking community theatres in Jerusalem, each with its own work methods, aims and character. The actors all want to act, and they go wherever there is a part. There is a neighborly feeling between the different theatres: they co-ordinate schedules and don't put shows on the same nights, share costumes and rehearsal space, and place ads in each other's brochures. Poch decided to take cooperation a step farther and made a sales pitch to Encore Educational Theatre, suggesting that the two theatres put on Grease together. The resulting co-production, says Poch, "is the first one of its kind in this country in English speaking theatre."
Jeff Rosenschein, the pianist for Grease (and several other Center Stage musicals) is the Head of the Board at Encore, Arye Supperstein builds sets for both theatres, and Yaeli Greenblatt, the Encore assistant choreographer is doing Grease. "She's getting an opportunity Encore wouldn't be able to give her," says Poch.
Watching the cast rehearse, I could see the magic of Center Stage in action. The cast has been rehearsing three nights a week for the past three months, and they are very serious about their work, whether it's singing, movement for dances, or working on scenes. Between scenes – there's a lot of laughter, teasing and fun in an open, friendly atmosphere. In the diversity of Jerusalem, with all the polarity and friction that exists between groups, people of all ages, religious beliefs and observance, political opinions, geeks, beauties, jocks, and other individual differences come together at Center Stage to share in the experience of making theatre, creating community.
When the cast took a break, the busy director took some time to talk about Grease and community theatre. Joshie said, "I've wanted to direct since I was 9 years old. My first dream was to direct Charlie and the Chocolate Factory, and as I grew older, my dream moved to a more teen show. I've been involved in community theatre since I was 8 years old – my sister began with JEST and I was hooked. I did anything I could, from makeup to playing recorder trios in the hall, working backstage, lighting – anything – to prepare myself, just to be able to understand."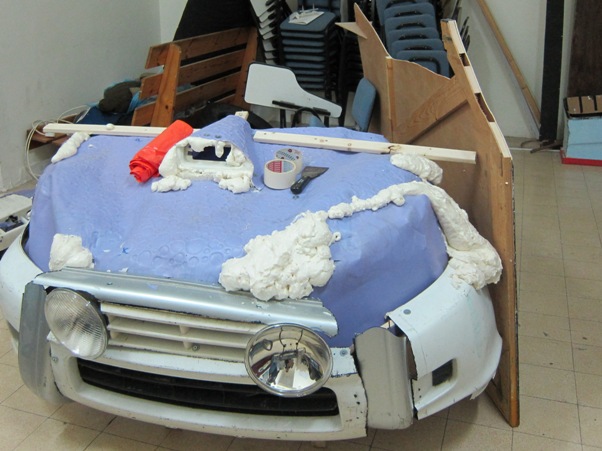 "Grease is one of the first teen angst plays, it's so full of energy so full of many things that I can relate to," said Joshie, "It's about the power of love to create change." While many might interpret the ending as Sandy succumbing to peer pressure, Joshie has a different perspective on Grease. "Sandy changes for the one she loves," he said, "but Danny changes for her first. He joins the track team and it's much harder for him to change. He has a reputation at school, she's new, and so it's easier for her."
 
On the brink of changes in his own life, Joshie adds, "The song at the end, We Go Together, really gets me. I saw in my own groups, hanging out, that feeling that we'll always be friends…that little bubble in life, so connected and you don't realize there is no forever…it's a perfect moment and you should appreciate it."
In the context of the Jerusalem community, directing Grease presents a challenge to the director, maintaining the energy and integrity of the play while keeping it acceptable for more religious audience and cast members. For example, at least one cast member is 'Shomer Negia' (the concept in Halakha that restricts physical contact with the opposite sex). Working through these issues in a way which "supports kids choices" Joshie generates an atmosphere of mutual respect and acceptance where cast members enjoy the freedom to express their creativity. Watching them perform – the result is…AWESOME!
Grease will premiere on March 15, 2011 at 20:00, with additional performances:
March 22 & 23 at 20:00, March 24 & 30 at 17:00 and 20:30. Tickets are 70 NIS, 50 NIS for students with an ID, soldiers, and children under 12! To order, call: 052-6039115 or write to cst@themerkaz.org.il
Grease, by Jim Jacobs and Warren Casey
Directed by Joshie Trachtman
Musical Direction: Jeff Rosenschein, Choreography: Yaeli Greenblatt
Stage Manager: Gavriela Zahavi-Asa, Properties Mistress, Photography & Filming: Elianna Rosenschein, Costumes: Dina Trachtman, Set Construction: Aryeh Supperstein, Set Painting, Car Construction: Ben Simon, Set Construction: Tzviya Brickel, Eliezer Freedman, Make-up, Video: Karen Feldman, Make-up: Deena Buckman, Elisheva Rottman, Producer: Robert Binder, Artistic Director, Set Construction: Raphael Poch, Lighting: Aryeh Kaufman
Band: Piano, conductor: Jeff Rosenschein, Guitar: Ben Katz, Bass Guitar: Shy Oren, Drums, Akiva Meller, Saxophone: Bob Trachtenberg
Cast: Flo Low, Iggi Abilia, Elinor Kaufman, Chava Dunn, Noga Yechielei, Danny Freedman, Gabe Skop, Mordy Miller, Zak Tick, Toby Trachtman, Atara Teitelbaum, Miri Fraenkel, Maayan Sarig, Shira Potter, Yisrael Edward Cohen, Lizzy Leff, Howie Metz, Tamar Eitan