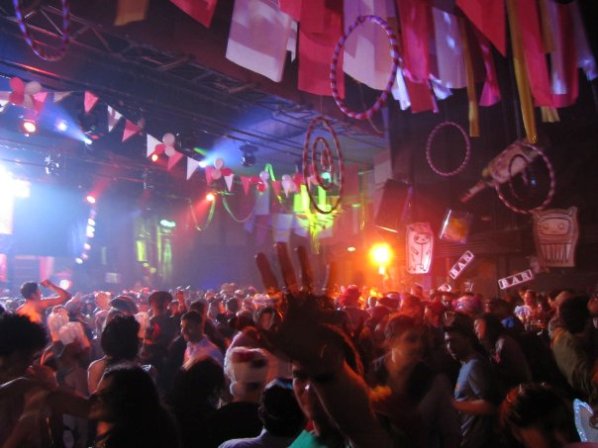 Art students know how to party, and the annual Purim Ball at Bezalel is amazing – a great reason to be an art student; or to know some…party tickets will only be available to art students.
The annual Purim Ball at Bezalel Academy of Art and Design is one of the major Purim Parties in Israel and the party of the year in Jerusalem an established tradition of creativity as a new generation of artists lets their imaginations go wild.
This year thousands of party goers – students from other art schools, Bezalel graduates and people who like to party will come from all over Israel for a night of multi-sensory experiences: an art ball on the theme of "The Monster Returns" (the students call the building the monster) challenging the borders between artist and audience, creating an alternative cultural environment. The artistic concept is "art invasion" flooding the spaces of the building with art works and exhibits of students from Bezalel and other art schools.
There are 5 major spaces within the building – each will have an individual design. 
Hall of Fame – the main stage, this is where it all happens! In the heart of the monster, a huge, glittering stage with DJ Mash, Adi Neuman vs Gili Saar, John Aaron aka mojo, and Geo.
Trash Pop Wonderland – the Gay space with feathers & glitter galore. Daniel Maryuma and Georgia in drag in the fashion hall.
The Barn – an Arabic – Balkan 'Hafla' with Sheikhs Hassid Abadi and Balkadan presiding.
Bass Camp – Dub and Glitz princes of Jerusalem, Dub El Wad will rock with 8BIT, HAMSTA, GUVIBOSCH and VJ PlanktON in the photography & multi-disciplinary dept.
The Edge of the World – this is it, the extreme edge where no one knows what will happen. Music by Schoolmaster & Digital Me. In the Visual Communications Gallery.
Lighting and design by LiCHTPiRATEN (Berlin), video by Majedra Eyes, and Bezalel graduate and designer Itamar Pluga will preside over a giant collective painting. This year, for the first time, the Bezalel Ball is produced in cooperation with ASLI (Art Students Association in Jerusalem), including participants and artists from several art schools in the city.
Tickets will be sold to Bezalel students and students of Jerusalem art schools, at 60 NIS, and to their friends at 80 NIS. Tickets may be purchased at: Hakatze Bar, 4 Shushan Street, Jerusalem;  Itzik's Place, Derech Beit Lechem, Jerusalem; Jabotinsky – Ben Shetach Midrachov, Jerusalem; Pasta Basta – Machne Yehuda Market, Jerusalem.