Midnight East will start celebrating Purim today, March 17, 2011, with The Glitz – and you're all invited to join! Idit Herman of Clipa Theatre will present a multi-disciplinary performance at 19:30 on Bezalel Street in the Bursa Diamond Center in Ramat Gan – theatre, music, dance and body makeup by MAC, with performance by the Giraffes to close the festive evening – and it's all FREE & open to the public.
The celebrations continue:
Friday, March 18 – Tel Aviv Street Party in front of the Tel Aviv Museum of Art on Shaul Hamelech Boulevard from 12:00 – 17:00; Cabaret, clowns and family fun at the street party of the First International Bank of Israel on 42 Rothschild Blvd from 12:00 – 17:00 (this party moves indoors to the bank's auditorium in case of rain) – both events are FREE.
Make masks, clown puppets, noise-makers and more! Purim workshops for kids at the Tsatsua (Toy) Exhibit at the Port of Tel Aviv from March 18 – 21, 2011. Workshops will be led by professional instructors who will demonstrate new techniques and ideas on the terrace outside Hangar 22. Hours are: Friday 10:00 – 16:00, Saturday 10:00 – 18:00, Sunday & Monday: 10:00 – 16:00. Participation costs range from 20 – 35 NIS. 

 I Got All the Hotties at the Container, Warehouse 2, Jaffa Port from 13:30 – 16:30 – FREE admission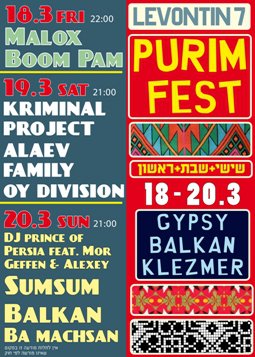 Purim Party with Malox & Boom Pam at Levontin 7, 22:00. Music + Costumes + Alcohol = PARTY!!! Tickets 50/60 NIS
Saturday, March 19 – Join the environmentally aware Purim parade at Midreshet Sde Boker. A 15 year tradition – students from the Environmental High School make giant puppets from recycled materials – bottles, paper, rubber hoses and more – and build giant puppets, 3 – 4 meters high. There is a different theme for each class, this year's puppets were inspired by: the story of the Garden of Eden, the Americanization of Israel, insects and birds. The parade starts at 9:30, but try to be there by 9:00. A Purim fair begins at 12:00.

Mitzpe Ramon Purim Party – Costume Party at the Mitzpe Ramon Jazz Club, dance til dawn, with music, costume competition (with cool prizes) and free drinks – all for 50 NIS admission at 8/2 HaBoker Street, Rova Habsamim, Mitzpe Ramon. N.O.D. – Hebrew hip hop from Detroit in an acoustic performance, followed by Dubba Bend – reggae-dub-punk from Mitzpe Ramon. For information call: 050-5265628.
Street party on Michal Street in Tel Aviv from 15:00 – 23:00.
Keep partying at Levontin 7 with Criminal Project, Oy Division & the Elav Family in Gypsy/Klezmer/Balkan mode at 21:00. Tickets 50/70 NIS
Holler Purim Bash at Saloona, 17 Tirza Street at 22:00. Tickets 20 NIS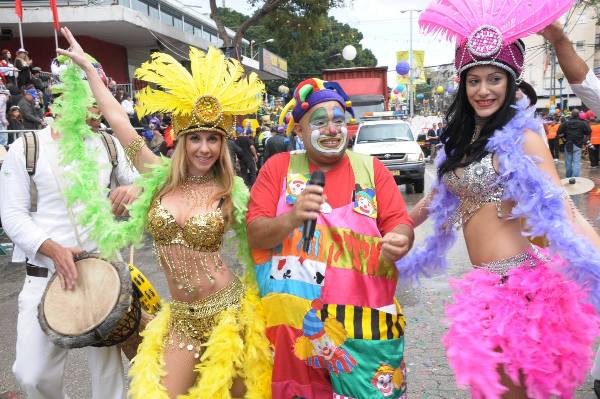 Sunday, March 20 – The Adloyada – Holon's traditional Purim Parade, will march on March 20, 2011 from 12:00 along Sokolov Street and continuing to Weizmann, corner of Golumb.
Giant puppets, music, dance and good vibes – all in the spirit of acceptance and tolerance. The theme for this year's Adloyada is "veAhavta leRea'kha Kamocha" (love your friend as you love yourself) and the Adloyada will celebrate the 10th anniversary of the Children's Museum in Holon, with parade displays that reflect the museum exhibits.
At 11:00, an hour before the parade begins; there will be a theatrical "warm up" performance along the parade route. The Adloyada's General Manager is Doron Shalom, Head of Events in the Holon Municipality, and the Artistic Director is Yedidya Amram, design by Zipi Yifat and content consutation by Hadar Shiran, the Pedagogic Director of the museum.
During Purim (after the Adloyada) the Parade floats will be on display in the Meditech square, 6 Golda Meir Street, Holon, on Sunday, March 21, from 15:00 – 18:00, and Monday, March 21, from 10:00 – 14:00.
Celebrate Purim at Beit Tami with the circus from 10:00 – 13:00 – clowns, games, juggling workshops, stilts, makeup, costumes, prizes, food and more…with a separate area for toddler fun! Tickets: 10 games + a workshop for 25 NIS, toddler circus 25 NIS, food sold separately. Beit Tami Community Center at Ginat Sheinkin, Tel Aviv.
Bezalel Art Ball – a night of multi-sensory experiences: an art ball on the theme of "The Monster Returns" (the students call the building the monster) challenging the borders between artist and audience, creating an alternative cultural environment. The artistic concept is "art invasion" flooding the spaces of the building with art works and exhibits of students from Bezalel and other art schools.
Tickets will be sold to Bezalel students and students of Jerusalem art schools, at 60 NIS, and to their friends at 80 NIS. Tickets may be purchased at: Hakatze Bar, 4 Shushan Street, Jerusalem;  Itzik's Place, Derech Beit Lechem, Jerusalem; Jabotinsky – Ben Shetach Midrachov, Jerusalem; Pasta Basta – Machne Yehuda Market, Jerusalem.
Purim at Na Laga'at with performances of the play Prince Indik, for children of all ages and workshops – March 20 & 21, 2011.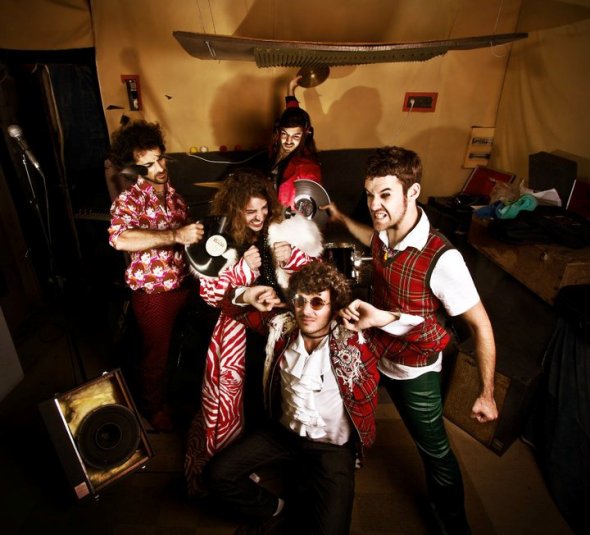 And what would Purim be without the Beatles? Let It Beer –at Tmuna, 8 Soncino Street, Tel Aviv at 22:30, tickets 50/60 NIS, 03-5611211

DJ Prince of Persia hosts Mor Gefen and violinist Alexei at Levontin 7 at 21:00
Monday, March 21 – Get into the Purim rhythm at the Tower of David Museum in Jerusalem – Mayumana will be conducting workshops during the holiday: Monday, March 21, 2011 at 10:30, 12:00, 14:00 and 15:00. Wear comfortable clothes, sport shoes and bring energy to spare. The workshops are suitable for children age 7 +, the cost is 50 NIS (includes museum entrance fee) and advance registration is required, call: 02-6265333.