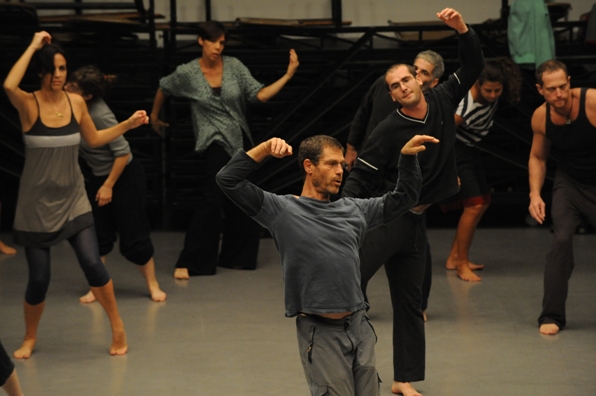 GAGA FOR JAPAN – Ohad Naharin and the dancers of the Batsheva Dance Company will hold a huge Gaga Happening to benefit the victims of the earthquake in Japan on Tuesday, April 5, 2011 in Hangar 11 at the Port of Tel Aviv. Doors open at 19:30 and class begins at 20:30 – no latecomers! All proceeds from the event will be donated to earthquake victims…read more…
Recycle, re-energize your body, and re-organize your closets for spring – bring clothes, toys, anything you no longer need (in good condition) to Hakvutza Beyafo on Saturday, April 2, 2011 from 17:00 – 21:00 at 2 Mendes France Street, Jaffa (the Arab Jewish Community Center). And if you find anything that strikes your fancy – take it home! While you're there, take a movement class in the studio – the first hour is a guided warm-up, followed by a free jam. Entrance is 35NIS and includes light refreshments and beverage. Any items that remain unclaimed at the end of the day will be donated. Check the facebook event page for additional details or call: 03-6595961.
LITERATURE – French author Michel Houellebecq will participate in several events open to the public: Book signing at the French Institute on March 31, 2011 at 18:00; launch event for the Hebrew translation of his book Le Carte et le terroire, published by Babel, on April 1, 2011 at 13:30, Tel Aviv Cinematheque; and a book signing on April 3, 2011 at 18:30 at Steimatsky, Dizengof Centre.
MUSIC – CALL FOR ENTRIES – Zimmer's LoKelim Festival. Dedicated to music made with non-instruments, modified objects and self constructed instruments. Artists who wish to participate please write to zimmer.ta2@gmail.com before May 1, 2011. The festival will take place May 27 & 28, 2011.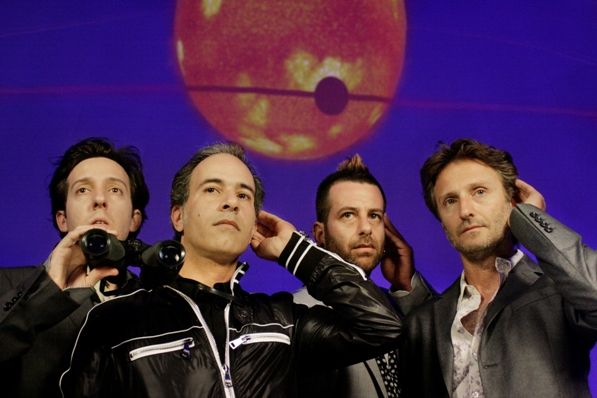 March 30 – Rockfour with their new album & guest Geva Alon at the Barby, 22:00; Ruth Dolores Weiss at Levontin 7, 20:30, 70/60NIS.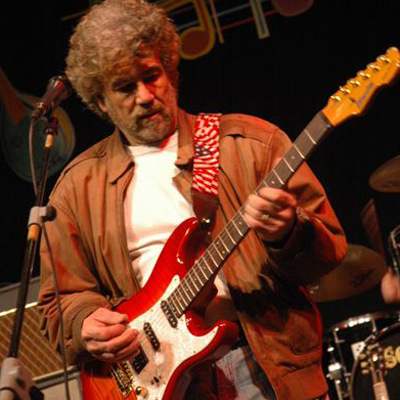 March 31 – The Mark Rashkow Blues Band at the Shablul Jazz Club; Avigail Rose FREE SHOW at Tzomet Sfarim, Port of Tel Aviv, 19:30; Shuli Rand at the Beat, Haifa.
April 1 – The rock opera Louis by Ziv Ravitz at the Mitzpe Ramon Jazz Club, 21:00; Eatliz at the City Winery in NY (yes, it's not in Israel, but if you're in the neighborhood – it's a terrific band that always gives an amazing performance).
April 2 – The Classic and Romantic in the 20th Century – Einav Yarden, piano; Moran Katz, Clarinet; Andrea Hallam, violin; and Ira Givol, cello – performing at 21:00 at the Einav Cultural Center in Tel Aviv with works from Stravinsky, Britten, Berg, Bartok, and Schoenberg;  Drunk Machine release their new EP Hot Flushes at the Ozen Bar 22:30.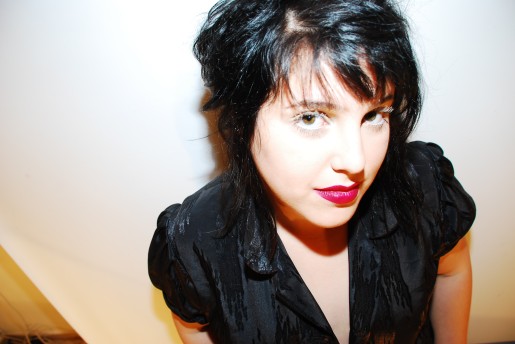 April 6 – Avigail Rose FREE SHOW at Tzomet Sfarim, Dizengof Centre, 19:30.
April 8 – Bellini's Norma opens at the Israeli Opera
ART – Fresh Paint Art Fair will take place from April 5 – 9 at the Botanic Garden Site.
March 31 – Colin Fournier of UCL will give a talk "Sympathy for the Alien" on March 31, 2011, at 18:00, at Bezalel's Department of Architecture, 1 Bezalel St, Jerusalem; 100 Chairs exhibit opens at the Diaghlev Boutique Hotel
April 2 – NU ByAdel Abdessemed, opening in presence of the artist at 12:00, Dvir Gallery, Hangar 2, Jaffa Port, the exhibit will be open through May 7, 2011.
April 6 – Ivor Samuels will give a talk "Urban Forms" on April 6, 2011, at 14:30,
Bezalel's Yafo 23 Gallery, Jerusalem.
April 7 – Laboratory Report – an art exhibit at an unusual location – the Shafdan, waste water treatment plant. Read more…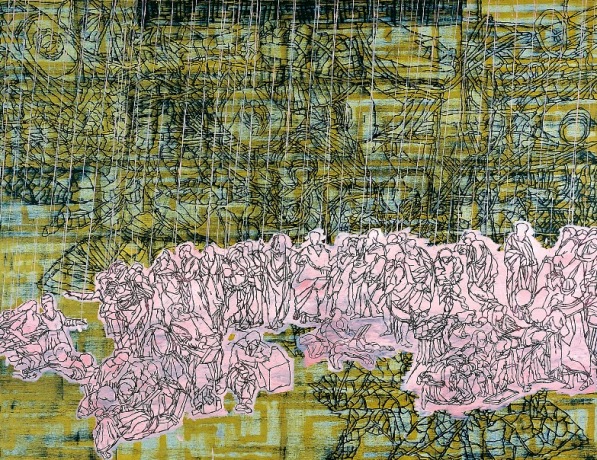 ONGOING – Rappaport Prize winners Sharon Poliakine and Oren Eliav at the Tel Aviv Museum of Art; 6th Ceramics Biennale at the Eretz Israel Museum; William Kentridge: Five Themes at the Israel Museum, Jerusalem through June 18, 2011 – which should give visitors the opportunity to see this fascinating exhibit several times. The intersection of the different media – animated films, drawings, prints, theatre models, sculptures and books in an excellently designed exhibit offers an opportunity to engage with the work of South African artist William Kentridge.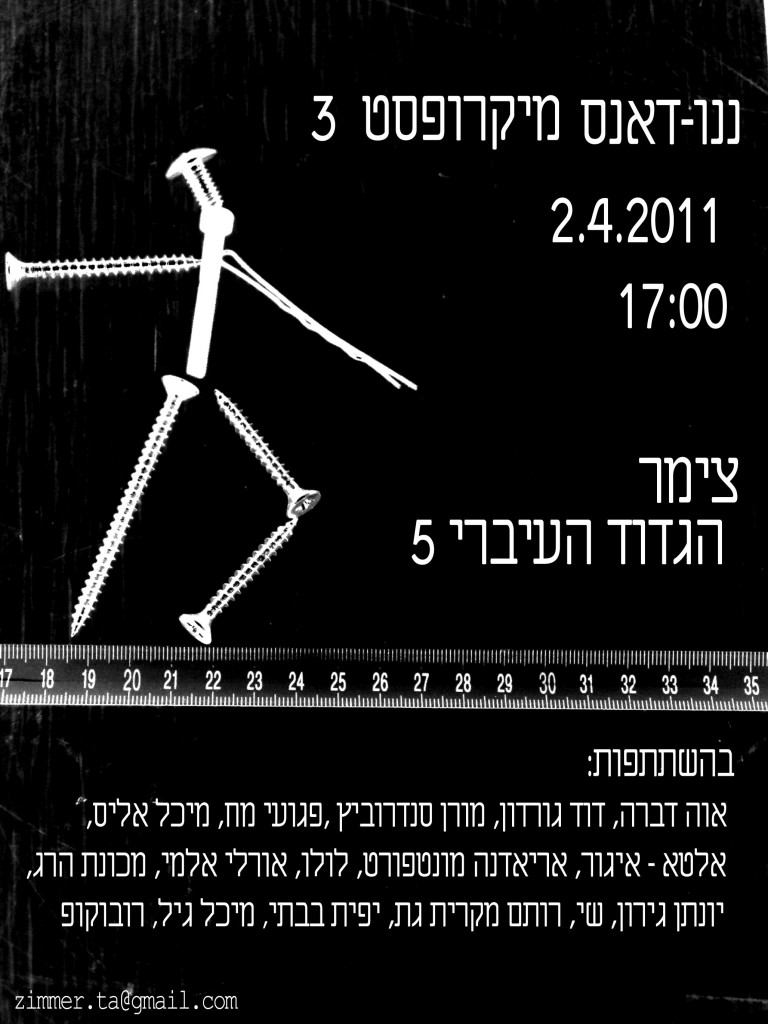 DANCE – March 30 – Post-Martha by Niv Sheinfeld and Oren Laor at the Inbal Theatre, Suzanne Dellal, 21:00; Particle Accelerator by Yoram Karmi at Suzanne Dellal, 21:00; Dance and Sculpture – innovative dancer/choreographer Anat Shamgar with guest Arkadi Zaides at Tmuna, 20:00.        
April 2 – Nanodance Microfest – dancer performances that take place within a very limited prescribed space, 17:00 at Zimmer, 5 HaGdud HaIvri Street, Tel Aviv
April 8 – Vertigo and the Diamonds – a sensual, romantic, energetic dance performance with live music at Suzanne Dellal, 22:00.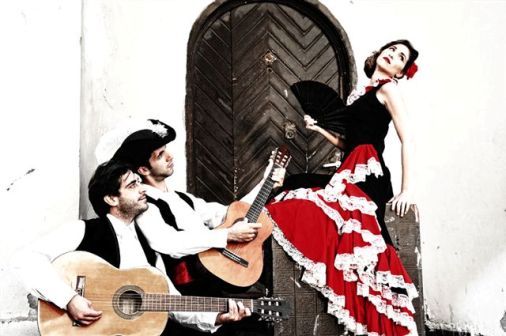 THEATRE – March 30 – Gush Lekha is utter nonsense, a madcap comedy executed with perfect timing, elaborate distortions of pseudo-elegant speech, shocking disclosures, live music and even a trap door! Tzavta at 20:30, tonight and also April 8th. Read more…
Kvisa Shorah (literally means black laundry = dirty laundry) 5 women meet at a Laundromat and the comic possibilities are endless at 20:30 at Beit Tami – this group has been getting rave reviews & this is a chance to see them for only 25NIS.
March 31 – Tziporela at Tzavta 21:30
April 1 – Homage to the Poet Rachel at 11:00 and 13:00, the Cameri Theatre Tel Aviv
April 2 – The Caucasian Chalk Circle at the Cameri with English subtitles, 21:00
April 3 – Pinter's Homecoming at Tzavta 20:30; Hanoch Levin's Icsch Fisher at the Cameri, 20:30; Youth Theatre Marathon in Bat Yam through April 5
April 4 – No Little Bird Shall Know at Tmuna Theatre 20:30 45 NIS; Icsch Fisher at the Cameri, 20:30.
April 7 – Derech Hagav Tzavta, 21:00.
April 8 – Gush Lekha at 13:00, Tzavta; Treats at Hasimta 21:00
FILM – French Films at the Tel Aviv, Jerusalem, Haifa, Sderot & Rosh Pina Cinematheques, April 2 – 16th, full schedule here
March 31 – Free Screening of Robi Elimelech's comic/tragic documentary of two brothers, garage mechanics in Sderot (Hebrew with English subtitles) at the First International Bank of Israel on 42 Rothschild Street, Tel Aviv at 20:30.  Hippopotam at Jerusalem Cinematheque 21:00
April 2 – the great Hippopotam video – If You Don't Dance You're a Goof will be screened at the Faux Film Festival (Midnight East knows that Oregon is not in Israel, but had to tell you about this one!)
*Unless otherwise noted, events take place in Hebrew
ADDRESSES:
Barby, 56 Kibbutz Galuyot Street, Tel Aviv
The Beat Club, 124 Sderot Hanassi, Haifa, 04-8107107
Beit Tami, Shenkin Garden aka 16 Merkaz Ba'alei Hamelacha Street, Tel Aviv             
Cameri Theatre, 19 Shaul Hamelech Boulevard, Tel Aviv, 03-6060960 
Chelouche Gallery for Contemporary Art, 4 Mazeh Street, Tel Aviv
Design Museum,  8 Pinhas Eilon Street, Holon, 073-2151515
Eretz Israel Museum, 2 Haim Levanon Street, Tel Aviv, 03-6415244           
Hakatze, 4 Shushan Street, Jerusalem
Hasimta Theatre, 8 Mazal Dagim Alley, Old City of Jaffa, 03-6812126        
Hateiva, 19 Jerusalem Boulevard, Hatzrot Yafo, Jaffa (parking level), 03-6822403
Herzliya Cinematheque, 29 Sokolov Street Herzliya, 09-9513361
Herzliya Museum of Art, 4 Habanim Street, Herzliya, 09-9551011
Holon Cinematheque, 6 Golda Meir Street, 03-5021555
Holon Theatre, 11 Kugel Street, Holon, 03-5023019
The Israel Museum, Ruppin Boulevard (near the Knesset), Jerusalem, 02-6708811
The Israeli Museum of Caricature and Comics, 61 Weizmann Street, Holon,  03- 6521849     
Jerusalem Cinematheque, 11 Hebron Road, Jerusalem, 02- 5654356   
Khan Theatre, 2 David Remez Street, Jerusalem, 02-6303600         
Levontin 7, Tel Aviv, 03-5605084 
Mamuta, El-Dan House, Habikur Stairs, 58 – Ein Karem, Jerusalem, 02-774310485 
Mann Auditorium, 1 Hoberman Street, Tel Aviv, 03-5289163      
Mishkenot Sha'ananim, Jerusalem, 02-6292212
Mitzpe Ramon Jazz Club is located in the Darkei Habsamim neighborhood, on 8/2 Har Boker Street. For additional information call: 050-5265628        Moadon HaBeat,
Nahmani Hall, 4 Nahmani Street, Tel Aviv
Pub Hapara, Moshav Shavei Zion, 04-9525250
Ra'anana Performing Arts Centre, 2A HaPalmach Street, Ra'anana, 09- 9457773
Reading 3, 3 Hata'arucha Street, Tel Aviv, 03-7624000
Rothschild Fine Art Gallery, 140 Rothschild Blvd., Tel Aviv, 077/5020484    
Suzanne Dellal Centre, 5 Yehieli Street, Neve Tzedek, Tel Aviv, 03-5105656
Tel Aviv Cinematheque, 2 Sprintzak Street, Tel Aviv. 03-6060800
Tel Aviv Museum of Art, 27 Shaul Hamelech Boulevard, 03-6077020
Tmuna Theatre, 8 Soncino Street, Tel Aviv, 03-5611211
Tzavta Theatre, 30 Ibn Gvirol Street, Tel Aviv, 03-6950156/7
Uganda, 4 Aristobolus Street, Jerusalem, 02-6236087
Yafo 23 Gallery, 23 Yafo Street, Jerusalem, 02-6249367
Yellow Submarine, 13 Erkevim Street, Talpiyot Industrial Area, Jerusalem, 02-6794040
Zappa Herzliya, 85 Medinat Hayehudim Street, Herzliya, 03-7626666