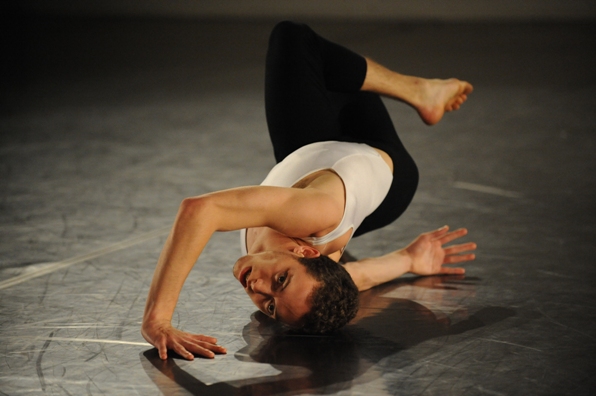 The Batsheva Ensemble will perform "Illustrations" on May 5 – 7, 2011. The performance is presented as part of Batsheva Dancers Create, a project that was initiated to enable the dancers to experience creating and producing independent works. The dancers are responsible for all aspects of the production, including costumes, lighting, and advertising. The project is supported by the Michael Sela Fund.
12 works created by dancers, including one by Ariel Freedman, a dancer in the Batsheva Dance Company, will be presented in two programs:
Program A – May 5th at 21:00/May 6th at 22:00
Works by: Olivia Ancona, Bret Easterling, Ariel Freedman, Nitsan Margaliot, Lotem Regev, Annie Rigney, Eduard Turull
Program B – May 6th at 14:00/May 7th at 21:00
Works by: Olivia Ancona, Gon Biran, Omri Drumlevich, Bret Easterling, Annie Rigney, Stav Struz, Maya Tamir, Eduard Turull
Illustrations is produced by two dancers of the Batsheva Ensemble: Lotem Regev and Omri Drumlevich.
This year, the dancers are collaborating with Studio B6 – the Department of Fashion Design, headed by Ido Recanati. Costumes for Illustrations will be designed by the students in the program, as part of a creative inter-disciplinary collaboration with the dancers.
Illustrations will be performed by: Bret Easterling, Olivia Anacona, Gon Biran, Omri Drumlevich, Eduard Turull, Keren Lurie-Pardes, Nitsan Margaliot, Stav Struz, Marija Slavec, Annie Rigney, Nitsan Ressler, Gil Shachar, Maayan Sheinfeld, Or Schraiber, Maya Tamir and two guest dancers – Kana Ota and Shani Tamari.

Batsheva Dancers Create is a wonderful tradition; these performances are always fun & bursting with creative energy!
Illustrations will be performed May 5, 2011 at 21:00; May 6, 2011 at 14:00 & 22:00; and May 7, 2011 at 21:00 at the Varda Studio of The Bat Sheva Dance Company, Suzanne Dellal Centre, Tel Aviv. Tickets are available online, or call: 03-5104037.