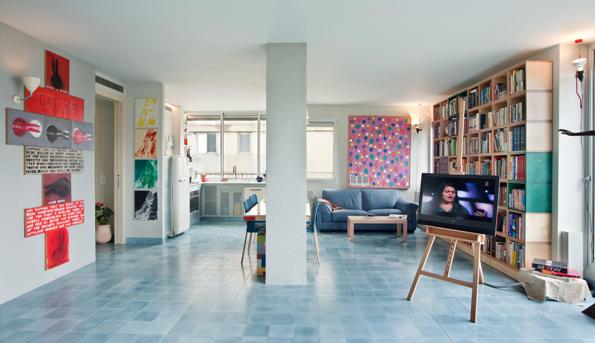 "Open your mind and eyes to the built environment" with Houses from Within (Batim Mibifnim) in Tel Aviv. Over 50 cities worldwide are opening private spaces to the public to bring outstanding design and architecture to a wider audience with the Open House project. Tel Aviv will start off worldwide Open House events on  May 20 & 21, 2011.
There is a dizzying list of events open to the public on the website (in English) – some require advance reservations. The 7 page list of events includes architectural tours, lectures and workshops.
Open House was launched in London in 1992 and has expanded internationally to a bevy of major cities – New York, Barcelona and Helsinki, to name a few – with four new locations this year: Rome, Chicago, Helsinki and Slovenia. Open House Tel Aviv started in 2007 and this year, Houses from Within goes global as the Tel Aviv Municipality hosts an international forum with the participation of directors of Open House from several cities worldwide, along with prominent international architectural and design writers. The visitors will have an opportunity to explore the unique architectural environment of Tel Aviv (a UNESCO World Heritage Site) and will participate in a conference examining the influence of architecture and design on international positioning, preserving and revitalizing urban centers and launching historic urban centers as cultural and global focal points. The forum is the initiative of Tel Aviv Global City, a project of the Tel Aviv Municipality in collaboration with the Israeli Ministries of Culture and Foreign Affairs.
Houses from Within is a project of the Tel Aviv Municipality, Maximum Tel Aviv, The Society for the Preservation of  Israel Heritage Sites, The Port of Tel Aviv, Jaffa Port, The Antiquities Authority, Access Israel, the Israel Bicycle Association (Yisrael Bishvil Ofanaim) and the Israel Architecture Archive.
Visit the Houses from Within site for further information.