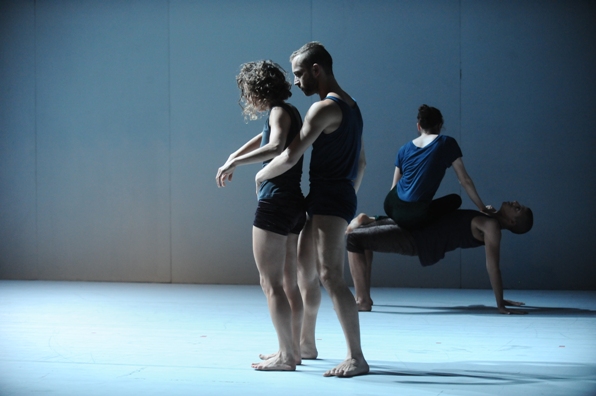 Hours before the opening of the 50th Israel Festival, Ohad Naharin and the Batsheva Company Dancers were rehearsing onstage at the Sherover Theatre in Jerusalem for the world premiere of Sadeh21 on Wednesday, May 25, 2011. As a spectator, I often feel that in the transition from studio to stage a work is transformed – lighting, costumes, the height and space of the stage all combine to create new images and sensations.
For the observer, these are privileged moments – a look into the studio and stage, the small suggestions and subtle differences of movement or intention between a sequence and its repetition that may generate an entirely different world of associations. Watching and hearing Naharin with the dancers, even for a brief interval of time, one is aware of the intimacy of this conversation. The choreographer/artistic director and his company are like a community with a shared private language, a language of movement and the body.
Yet when the work comes to the stage of the Sherover Theatre in Jerusalem tomorrow night at the Israel Festival, the audience will be invited to enter this private world, this journey of images, emotions, rhythms, sounds and associations that is Sadeh21. Performances will take place on Wednesday, May 25th and Thursday, May 26th at 21:00, Friday, May 27th at 13:00. Further information on the Israel Festival is available on the website in English, tickets may be purchased online.
Sadeh21
By: Ohad Naharin
Batsheva Dancers Collaborated in the creative process
Lighting and Stage Design: Avi Yona Boeno (Bambi)
Soundtrack Design: Maxim Waratt
Costume Design: Ariel Cohen
Video subtitle Design: Raz Friedman
Batsheva Company Dancers / Creative Collaborators:
Shachar Biniamini, Matan David, Iyar Elezra, Ariel Freedman, Shani Garfinkel,
Chen-Wei Lee, Doug Letheren, Eri Nakamura, Bosmat Nossan, Ori Moshe Ofri,
Rachael Osborne, Shamel Pitts, Ian Robinson, Michal Sayfan, Idan Sharabi,
Guy Shomroni, Bobbi Smith, Tom Weinberger, Adi Zlatin, Erez Zohar