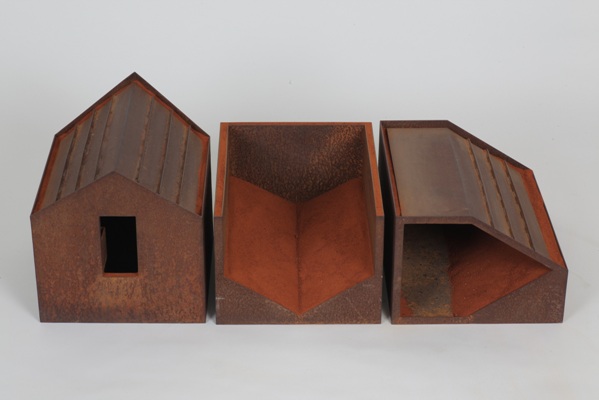 "Whose Earth is it Anyway?" is a group exhibit of contemporary ceramics, curated by Eran Erlich, exploring our connection to the earth and the underlying assumptions of our discourse about land, ownership and other earthy matters. The exhibit opens with a party, launching the new Benyamini Center on 17 Ha'amal Street in south Tel Aviv. Goodie-Goodie DJs Yossi Brauman and Elad Ben Elul invite you to explore your connection to the earth by dancing the night away on the roof – it all starts at 19:00 on June 16, 2011.
The Issachar & Yehudit Benyamini Contemporary Ceramics Center promotes ceramic art, design and craft with a working studio that hosts workshops, lectures and classes for all levels of interest, including classes for children, as well as a gallery space that hosts exhibits, gallery talks and other events.  The center's activities are organized in collaboration with the Ceramics Artists Association of Israel (CAAI) and Israel Designer Craftsmens Association. Under the direction of Marcel Klein, Ilan Meyer and Shlomit Bauman, the center will be a happening place for art, discourse and the occasional dance party.
The artists exhibiting in "Whose Earth is it Anyway?" are: Yoav Admoni, Micha Ulman, Tsipi Itai, Pina Bausch, Ruth Bigger, Tamara Ben-Artzi, Hagar Ben-Meir, Ester Beck, Maya Salomon, Cluadi Casanovas, Gilad Ratman, Shelly Shavit, Claude Champy, Yigal Tomarkin. The exhibit will be accompanied by a catalogue and will remain open through August 27, 2011.
Benyamini Center, 17 Ha'amal Street, Tel Aviv, opening hours: Monday – Thursday from 11:00 – 19:00, Friday & Saturday from 11:00 – 14:00. Closed Sundays. For additional information, call: 03-5182257.