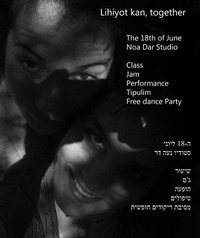 Coralie Ladame is a talented dancer who has made her home in Israel, performing works by choreographers Noa Dar, Sahar Azimi, Nimrod Fried and others. Currently in the process of trying to make Israel her official home, she has found a creative way of dealing with the difficulties involved. Lihiyot Kan (Hebrew: being here) is an invitation to experience the dance home Coralie has found here, with a movement workshop, a live music jam and performances by Noa Dar, Niv Shenfeld & Oren Laor, and Elad Schecter. A fundraising event intended to help Coralie deal with the costs involved in achieving legal status in Israel, and will take place at the Noa Dar Studio in Tel Aviv on Saturday, June 18, 2011.
Coralie says, "After 5 years in Israel, I came to the end of my staying permission. I had to leave Israel from one day to the other, but too many things attach me to this place. Now I am working on a new visa to stay, by officializing my relationship. The process costs a lot of money. By your presence in להיות כאן you would support me in this issue and allow me to share with you my happiness of being back here…Share with me a bit of my world."
The event will begin at 17:30 with a class – from floor work to contact, followed by a live music JAM at 18:30. Dance performances will begin at 21:00, and the evening will close with a dance party.
Entrance is 50 NIS. The Noa Dar Studio is located at Beit Ha'sofer and the official address is 6 Kaplan Street, but the entrance is from the parking lot on 13 Leskov Street. Link to facebook event page.