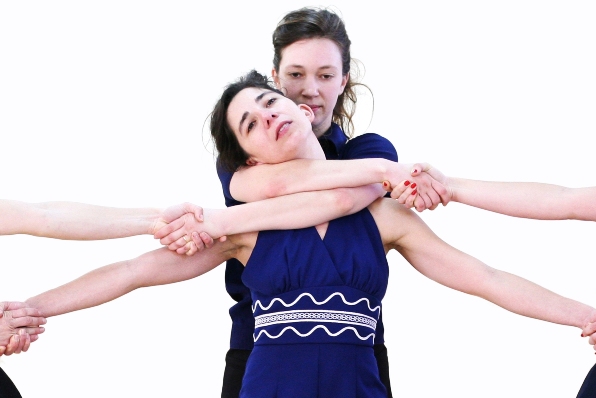 It's always time to dance at Suzanne Dellal – Summer Dance 2011 will present 60 dance performances through August 27, 2011, in a wide range of styles – contemporary dance, Middle Eastern, Neo-classical, African, Indian, and Flamenco.
Two Israeli choreographers working abroad will be featured in this season's program. Sharon Levi, who founded Tapelas in Barcelona together with musician Yaron Engler, fusing tap with music and rhythm, blending contemporary with ethnic influences. Lavi will perform with Harel Skaat in Fragments, on July 15, 2011.
Zvi Gotheiner presents ZOOM, a work that integrates dance, cellphones, video projection, real-time web interface and live music, on July 16, 2011. During the interactive performance audience members will be able to text the dancers, take photos and send them to the visual designer to be projected in real-time as part of a video collage. Born in Kibbutz Messilot, Gotheiner founded the Tamar Ramle Dance Company in 1983. Gotheiner currently lives and works in New York, where he founded ZviDance in 1989.
This summer's highlights include new works by Israeli choreographers:
NULL by Noa Wertheim, is an intimate exploration of the individual moving within the spiral of time, with Wertheim's unique imprint – a strong connection to the ground that pushes up to leap into the air, the ever-shifting balance of power and movement between the individual and the group, a presence at once symbolic and exuberantly physical. July 22 & 23, 2011.
Ship of Fools, by Niv Sheinfeld and Oren Laor, which premiered at the 2011 Israel Festival, takes a sharp look at the possibility of communication between dramatically different worlds. Performed by Sascha Engel, Anat Grigorio and Uri Shafir, the dance work refers to the allegory of passengers on a ship without a pilot, people who have been set adrift by society, considered fools or madmen. Three characters, each very different, existing together in the same space – yet apart. July 10, 2011.
New works by independent choreographers include: Noa Shadur's Calypso on July 18, the Hamama – dance greenhouse of the Acco Theatre will present an evening of solo works by Ran Ben Dror, Zachi Cohen and Oren Tishler "To Be Someone Else" on July 14, Maria Kong Dancers' Company presents "Nights" an evening of solo works by Artur Astman, Anderson Braz and Leo Lerus on July 27, and Mami Shimazaki will present a new work "Shitafon" (flood) along with her work "Loop People" on August 10.
Further details on dates and times may be found on the Suzanne Dellal site. This week's performances, through July 7, 2011 may be found here.