Sometimes the most radical action possible is to dare to look back, examine what has already been done; try to learn from history, and develop one's own ideas in relationship to that context. The Intimadance festival at Tmuna creates an intimate space for experimental work within dance, and beyond. This year's festival, with co-artistic directors Nava Zuckerman and Irad Mazliah, took as its the theme "the fourth wall" – the separation and relationship between the work, the performers and the audience. But the choreographers' process in creating works for the festival began with an unusual assignment, Mazliah instructed them to choose a choreographer who had inspired them, and copy a five minute sequence from one of their dance works, taking those five minutes as the starting point for their work.
While copying the work of another choreographer might imply the risk of creating a work that is stale, derivative and outdated – the resulting ten pieces seen this past weekend at Tmuna were anything but. Think "sampling." Diverse, edgy, energetic, challenging the performers and audience; the works generated more questions than answers – what better way to open a conversation between performer and audience?
The ten dance works created for the festival were performed in two separate programs, in the amphitheatre and on the larger stage in the converted parking lot. In addition there were performance installations and video on display in all spaces of the theatre: foyer, bar and stairwell.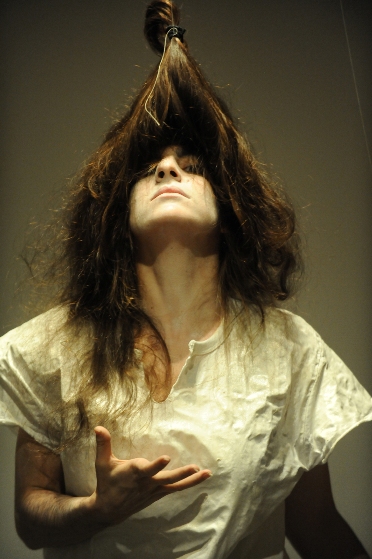 Walking into the theatre one was greeted by the specter of a woman in white, her face white and her hair suspended upwards, who seemed to float on the air, a runaway bride or ghost. Clad in a papier-mâché skirt, Ella Rothschild performed in her installation Hardwear, manipulating her hair and a paper cup that hovered just out of reach with the use of almost invisible strings, marionette and puppeteer as one entity. Moving to a soft ambient soundtrack created by Ohad Fishof, her gaze alternately haunting, seductive, defiant, her movements were mesmerizing.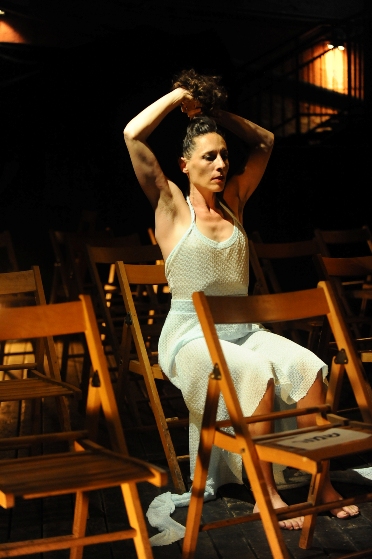 Yifat Pell-Barkai's performance installation presented viewers with the option of seeing the work from a distance, as one would a work on a flat stage, or entering the space of the work itself. At one corner of the bar, rows of folding wooden chairs faced a dark wood armoire with a mirror, and a sign informed that one could choose to sit down. At certain intervals, Pel-Barkai entered the space and sat down, first gathering her hair tightly and drawing it up, then beginning a rhythmic motion with her legs, suggesting the pace and sound of a horse's gallop. Her presence radiated intensity, viewed from within, one could feel her intensity magnified. As the floorboards shook with the rhythm of her feet, one might be galloping along with her.
A very different sense of space could be experienced in Efrat Rubin and Ossi Wald's work, although this one also offered the choice of observing from without or within. A small table was set with two coffee cups and a stack of books covered in white paper against the wall of the bar. Above the table were two screens, one showed a video of a man inside a small room with black walls, a situation reminiscent of a guard watching a prisoner in his cell. This "room" however, was the stairway leading to the large stage at Tmuna, and audience members could enter and sit on the stairs, a breath away from the man. As he circled the small room, taking off his clothes and putting them back on, sprawling on the floor and looking towards the stairs with terror in his eyes, the force of his fear and misery was immense, as if he was appealing to the audience on the stairs to intervene in some way.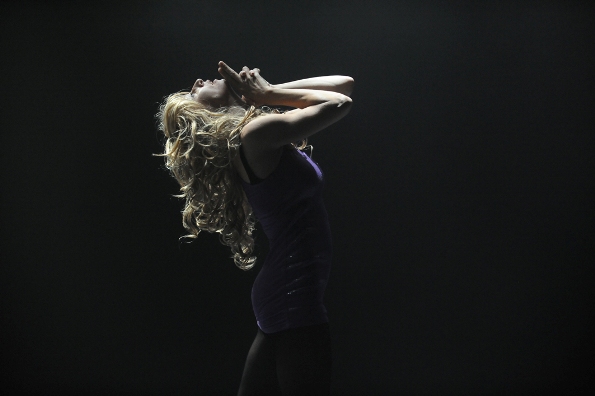 Many of the dance works raised the question of performer/audience relationships very explicitly. Program Aleph began with Top Gun, choreographed and performed by Michal Herman, who entered the stage of the amphitheatre in T shirt and leggings, asking the audience, "Did you turn off your cell phones?" Moving to jazzy music, her eyes darting wary glances at the audience were in stark contrast to the sensual movement of her body. After a few moments she stopped and asked, "Was I good?"  An accomplished balancing act on the fine line between parody and pathos, punctuated with humor, changing in full view of the audience while reciting her accomplishments, she transforms herself into a sex kitten with a wild mane of blonde hair and the de-rigueur accessory: pointing her finger like a gun and moving toward a dramatic conclusion.
Ma'ayan Moses' upped the ante on relationships as she and Gal Naor entered the stage arena in the midst of a struggle, pushing the limits of intimacy and violence in a work that explored the relationship between the two in a very physical duet.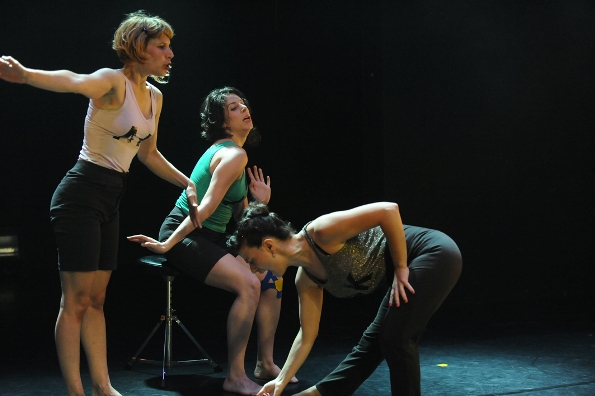 Anat Katz and Erez Maayan presented a self-referential work, transforming the stage into a rehearsal room, exploring what appeared to be the relationships between dancers, choreographer and musical/artistic director. Domination, competition, sex and salsa mingled in this energetic work.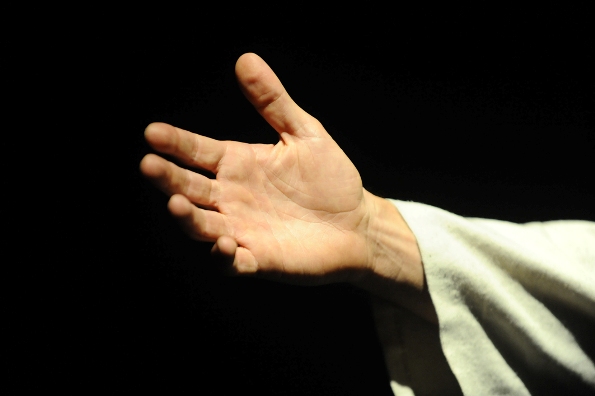 Yuval Goldstein's Munir begins in solemnity as he removes his shoes at the entrance to the stage, walking back and forth across the floor, moving closer to the audience with each length of the stage. Like Herman, he addresses the audience directly, motioning for silence then speaking in Arabic. He soon switches to Hebrew, explaining that he had just performed a work that had premiered in his village "in honor of the occupation." Introducing his next piece, he says, "This one is also about the land." He stands in one spot, slowly raising his outstretched arms, over and over again, to the song "I Have No Other Country" (Ein Li Eretz Aheret, lyrics Ehud Manor, music Corinne Alal). Then he stops, addressing the audience once more, asking, "What am I doing here? What are you doing here? …Do you know what I really wanted to say – that Bibi is an idiot." Just as it seems that he is about to plunge deeper into politics, the text veers into a carnivalesque avalanche of thoughts and feelings, when then dissolves into silence as he dances to a nocturne by Chopin.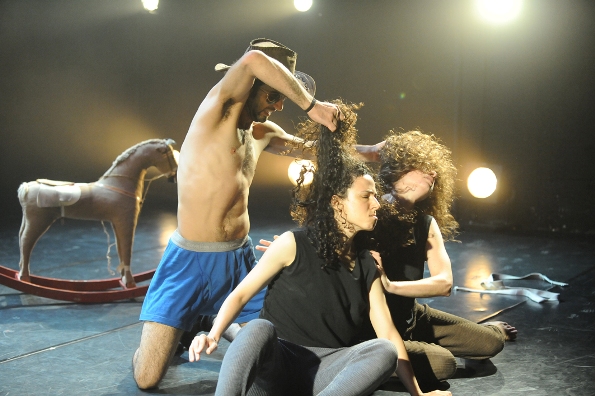 Big Bad Horny Pony by Shir Medvedsky and Dina Ziv is animalistic and tender, a work that encompasses a wide range of movement and mood. The two dancers/choreographers enter on all fours, arms entwined across their backs, heads down with a tangle of curls covering their faces like a horse's mane. Kicking, bucking, leaping, hurling themselves hard against the floor, and moments of tenderness, heads coming together in a caress, fingers eloquently articulated. Their wild idyll is interrupted by the advent of a cowboy (Ido Batash), complete with hat and rocking horse and swaggering to Confederate Railroad's Trashy Women. Comical until he becomes threatening, he approaches a woman in the audience, and later runs up a few stairs then falls down, hard. It's a work full of tension and lyricism, at times almost hard to watch.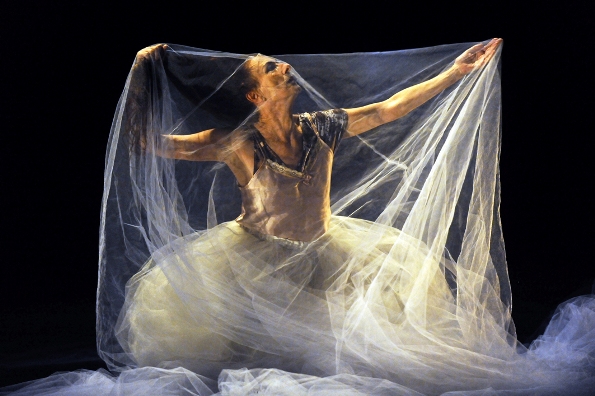 The second program began with an unexpected presence in the world of fringe – Rena Shenfeld. The dark stage covered in white tulle, she lay beneath, moving like a butterfly in a cocoon or a corpse inside a shroud. Rising and emerging, slowly shedding the tulle to reveal a brown body-hugging unitard, as her movements changed, with sharp, angled movements, arm and hand gestures that resembled a system of signs. Yet ultimately the music and movement shifted once more and she began to wrap herself in the tulle once more.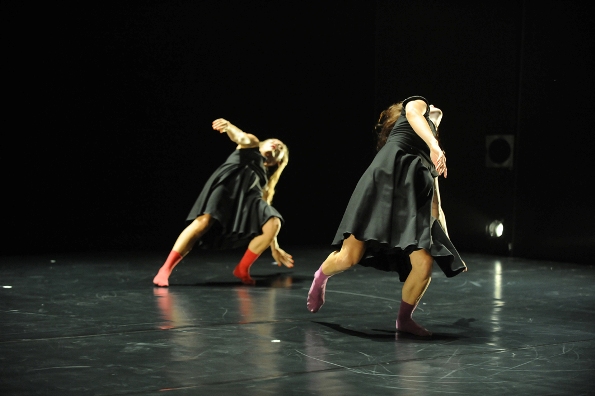 Although many of the works were performed by the choreographer, Dafi Eltbeb chose to remain off stage, while Rosalind Noctor and Olivia Court-Mesa performed a fast paced duet with a seductive feel. While the audience applauded, Noctor rose and started talking: "That was so great, every time I do it I get more excited." In a one-sided conversation with the audience she talked about the view from the stage recounting that she is always "intrigued to see your faces." Court-Mesa continues to twist on the floor, gradually moving forward towards Noctor, who continues to chatter on, wondering if perhaps there is something missing in their performance. Instructing Court-Mesa to join her in trying out some different moves, they arrive at a moment that satisfies Noctor's desire for more – they kiss. Then the two repeat the brief dance in its entirety. Is the second performance different from the first? Is it more sensual? And if so, is that because of something different in the dancer's experience, or in the audience's perception of the work?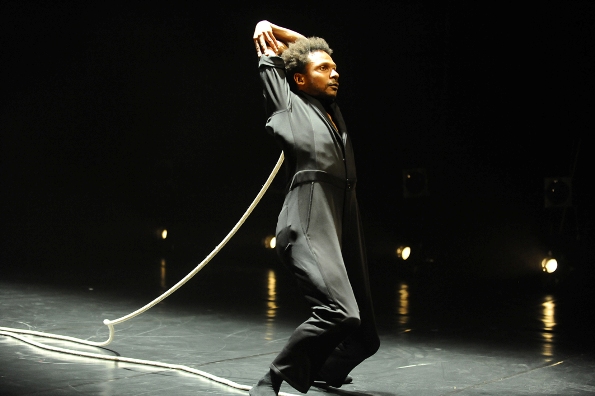 In PTP Leo Lerus began with a strong visual image, standing with a long rope attached to a collar around his neck. He gave the rope a good throw, sending it straight down the center of the stage, and moved through several poses of hand gestures that acquired a symbolic weight. Detaching the rope from the collar, he began to move and dance to the music. When the music came to an end, he stopped and looked at the audience then engaged directly, giving the end of the rope to a man saying, "Hold me but hold me tight, we can have a conversation with this." Walking back out to the stage he re-attached the rope and began an experiment in movement, a conversation of control and force, dancing at the end of a rope held by several audience members. There was an element of risk to the experiment, at one point he stopped and said, "That's too much." There were also moments of playfulness, as the rope became a giant jump rope, making great arcs in the air. Yet the control and control of the images was in Lerus' hands, as he wound the rope around his arms while Nina Simone's 1964 protest song Mississippi Goddam was heard and creatively translated Hebrew lyrics were screened on the wall.
Or Marin's work Lavan (Hebrew: white), performed by Or and Stav Marin,  opened with a tent on the stage and a woman in a coat bursting out of it. The tent is almost a performer in this dance, as she teases her way in and out again. Another woman emerges, and together they face the elements and one another in this frozen white landscape.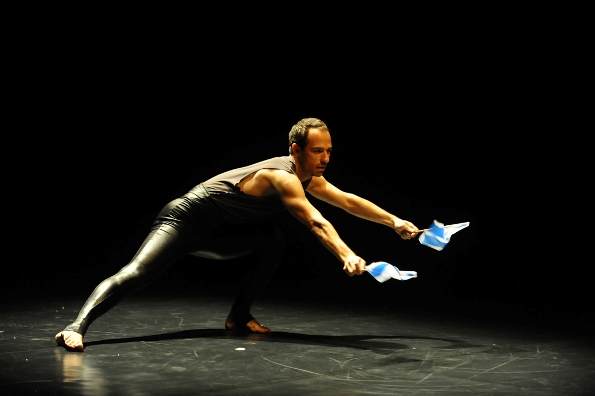 In Rite of Spring, Hillel Kogan takes on several legends of epic proportions: among them Nijinsky, Stravinsky, and a few chapters of contemporary Israeli history. Beginning with an empty stage, a light slowly appears on a small red mat just to the side of the stage. Kneeling at the edge of the mat, he bent down low, arms outstretched, head down, in an attitude of prayer. Then rose up on all fours nuzzling his neck like a dog and then up on his knees, paws/hands up to "beg." Bouncing in that position he entered the space of the stage bouncing as the music intensified. As he moved through a multitude of scenes and props, each seemed to begin in an obscure movement that slowly revealed itself as an element within the collage of images and associations.
A conjurer of words, image and movement, Kogan created moments of great beauty, undercut by images harsh and crude. Holding a small flag in each hand, he seemed to float, moving with the flags gliding on the air. Then the glide became a spin and a primal club groove, flags flailing and then shoved into his mouth as he leapt in a drunken sort of ecstasy. Working with sacred symbols and structures with audacity, he sang a medley of patriotic songs into a mini-megaphone over the music at one point. Later in the work he conducted a public auction with the audience, offering symbolic items such as "East Jerusalem" for sale. A ketchup bottle, a length of white chiffon, feather boa and the jangling red scarf of a bellydancer are some of the items involved in creating this ceremonial dance that raises questions of sacrifice, worship, violence, complicity and desire.