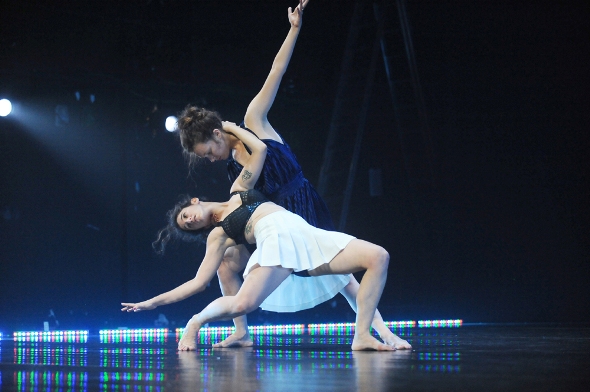 There is a subversive beauty to the four women onstage in Noa Shadur's Calypso. Calypso is a work of mesmerizing beauty and edgy social commentary. Quoting and referencing iconic images and movement languages of the feminine, bathing beauty, Indian goddess, punk princess and a pantheon of others take the stage, performed by dancer/creators Doron Raz, Inbar Nemirovsky, Osnat Kelner and Rosalind Noctor. These women take you in with their allure; they take you under, gasping for breath, and seal the deal like a stiletto heel to the heart. Think femme fatale, and ask: fatal to whom?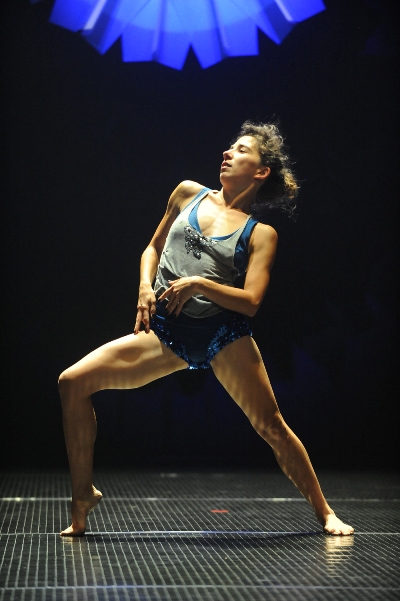 Evoking the retro glamour of Hollywood's extravagant production numbers with a few deft touches, Calypso opens with light tropical music and a huge flower shot through with pulses of blue and magenta light suspended over a dark stage. Recalling musicals starring swimmer turned actress Esther Williams, known for films such as Million Dollar Mermaid (1952 MGM) with elaborately choreographed scenes of synchronized swimming, the dancers embody the look with exquisite, flowing grace , augmented by costumes with period touches and lighting creating an underwater feel. In this aquatic world, everything is lovely.
Shadur administers a lethal dose of nostalgia, effective in its perfection. One is tempted by the pull of the past, this image of another era draws one path through Calypso, leading the viewer into an evening that is a seductive succession of beautiful images and elegant, sexy moves. Yet beneath the smooth blue surface of the water, lurk the invisible rules of this choreography. The image is captivating, holding the viewer in its thrall; the women too, are captives of their image.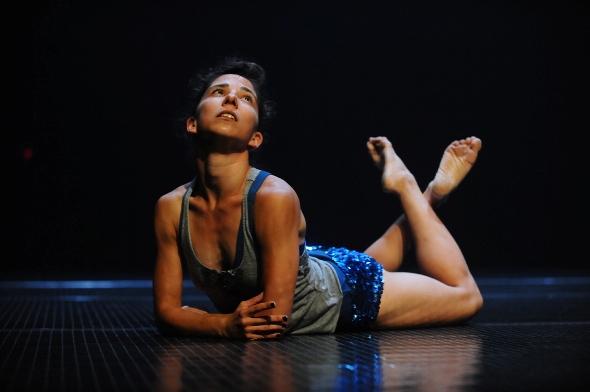 In Calypso, Shadur returns to the familiar terrain of relationships, the treacherous balance of power and control, the force of desire and the role of iconic imagery in structuring identity explored in her previous works. Immersed in the ominous elegance of these women, swept away by a tide of images, Calypso invites the viewer to question the ways in which our lives are choreographed, and our own complicity.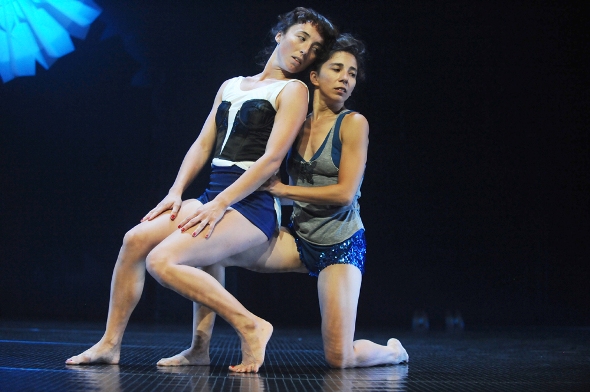 There is a mesmerizing sense of duality to Calypso; the dancers embody this duality in the expressive estrangement and dissonance between the precision and allure of their movement and their gaze: detached, lost, frozen in fear, beseeching and aching by turn, revealing the turbulence within. Time after time, a dancer emerges from the all-encompassing dance of unison, only to be impeded by the others, or collapse from the effort. Swimming for their lives, in a dark, treacherous ocean, the dance of femininity is not one that the individual is meant to survive.
Performance dates: November 14 at 20:30; November 28 at 20:30; December 16 at 14:00 and 20:30. Inbal Theatre, Suzanne Dellal Centre. Tickets: 03-5105656.
Calypso
Choreography: Noa Shadur
Dancers/Creators: Doron Raz-Avraham, Inbar Nemirovsky, Rosalind Noctor, Osnat Kelner; Artistic Consultant: Andreas Merk; Styling: Tania Jones; Soundtrack: Shahar Amarilio; Lighting: Alon Cohen; Rehearsal Director: Melanie Berson; Set: Shiri Golan, Joanna Jones; Production: Alon Shwabe; Stills photography: Aline Lev Har; Seamstress: Daria Krasnov; Shoes: Max Kiberdine; Video teaser editing: Shahar Amarilio; Cinematography: Itay Marom, Gaya Weinberg; Text: Dan Shadur. Calypso premiered at the Suzanne Dellal Centre on July 18, 2011.