Is it a bird?… Is it a plane¬?… it isn't, but it's even better than a superhero: it's Joe Kubert, the man behind superheroes. Last Wednesday the Israeli comics community had the privilege of encountering one of the founding fathers of the American comic-book industry, a celebration that many of them have described simply as "a dream come true."  The much-anticipated visit of Kubert and his son Adam took place at the Holon Mediatheque Center and the Israeli Museum of Caricature and Comics, where a comprehensive collection of Kubert's art is featured in a brand new exhibition, titled "Heroes". During the gala evening, the audience also had the chance to discover the prominent strands of Kubert's more personal work, which are woven into the vast fabric of the canonical illustrations he created throughout his career.
"I started drawing at a very tender age," Kubert stated, "as soon as I could hold a pencil, really." And, evidently, from then on it did not take long for his talent to soar. Getting his first professional job at the age of twelve at MLG, which later became Archie Comics, Kubert says he still remembers the smell of the paper and ink, and the great fortune of finding some of the kindest people he ever met. Those professional artists at the studio encouraged this avid young cartoonist and gave him his first break in the industry.
Soon enough, Kubert made a living out of the art he loved to create, which was a very notable achievement during the difficult years of the Great Depression. "In retrospect, drawing has saved my life countless time," Kubert said, as he recalled how easy it was at that time to give in to delinquency, trouble which he was spared from by his talent. The danger of falling in with the wrong crowd he later fully expressed in his graphic novel Jew Gangster.
However, instead of being any kind of gangster, teenage Kubert preferred to continue to draw, religiously honing his craft to reach new standards.  Growing older, he came to work for many notable studios and publications, including: DC Comics, Marvel Comics, Atlas Comics and many more. There, he drew some of the most memorable superhero characters, among them: Tarzan, Hawkman, Sgt. Rock, and other fantastic figures, which have accompanied the lives of comic-book readers and enthusiasts for many decades.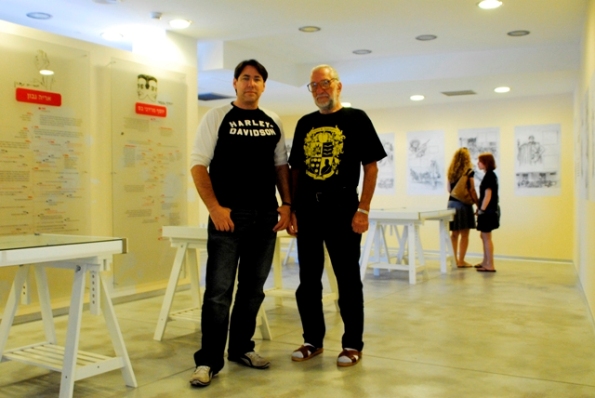 It is perhaps this initial tap on the back of recognition that helped inspire Kubert to open up his own school for the comic-book craft in 1976. As it turns out, one of the current teachers at The Kubert School is Adam Kubert, his son. Adam Kubert's academic education is in medical illustration, yet he soon realized his true ambition lay elsewhere. "I was always drawing things out of my head," he explained, and this practice eventually drove him to continue in his father's vocational footsteps. Becoming an artist and an educator, Adam is there to continue the Kubert comics legacy. Exchanging thoughts and ideas, the Kuberts seem to have a natural chemistry between them for artistic collaboration, which obviously springs out of a mutual dedication for the craft. Exhilarated, Kubert sweetly described the delight of working together with his son as "putting the cherry on the whipped cream."
The doctrine of The Kubert School is to train and nurture new comic-book artists, and Kubert emphasized that there is a very strict professionalism to the craft, which goes way beyond the often rather romanticized image of a cartoonist's lifestyle.  And yet, among the myriad of commercial studio drawings he has created over the years, his latest work tells a far more personal tale. "People who are familiar with Kubert's work see that during the last fifteen years he has been dealing with more historical, personal themes," says Nimrod Reshef, the Israeli comic-book artist who also hosted the event in Holon. Indeed, although Kubert does not proclaim this too overtly, it is hard to deny that these beautiful works stem from a deeply intimate place.
One of his most famous graphic novels Kubert has dedicated to his good friend, Ervin Rustemagić, a European comic book agent who spent two years in Sarajevo under Serbian siege during the Bosnian War. The non-fiction graphic novel, titled Fax from Sarajevo, is Kubert's adaptation of a collection of messages Rustemagić sent to America through a car-battery operated fax machine —his only means of communication in the confinement of his bombarded house, which was cut off from power—depicting the nightmare of living through the war. In 1997, this affective tribute went on to win the prestigious Eisner Award, the comic-book world equivalent of the Motion Pictures Academy Award. An even more personal story is told in Kubert's tragic Yossel.
One could argue that the character in Yossel is really an alternative Joe Kubert – "Joe" is, of course, short for "Josef", which is nicknamed in Yiddish "Yossel"– and he indeed admits that this graphic novel is linked in some way to his own family history. It is the story of a Jewish boy named Yossel who draws his memoirs of living in the Warsaw Ghetto until finally arriving at a Nazi death camp. Kubert 's family emigrated from a Polish Shtetl to the US in 1926, and were thus spared from the horrors of the Holocaust. But as an adult, after a visit to the Holocaust Museum in Washington DC, Kubert felt the urge to reflect upon and draw a kind of epitaph to a fate that perhaps could have been his own.  It is somehow fitting that the original drawings of Yossel have found a new home at the Israeli Museum of Caricature and Comics, as Kubert has graciously decided to donate them during his visit.
At the opening night spirits were high, as the guest of honor was handed a lifetime achievement Golden Pen Award by the museum and the municipality of Holon. Then, the revealing of the new exhibition was like a treasure chest opening for fans and professionals alike, as people went in to immerse themselves in comic book art and get original signed drawings from both Joe and Adam. "If at fifteen you would have told me that one day I would be standing in this museum, hosting the legendary Joe Kubert," Uri Fink, one of Israel's most prominent comic-book artists later told me, "I would never have believed it."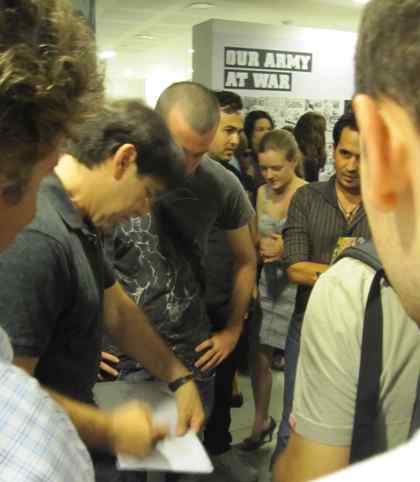 Mr. Fink's sentiment was certainly shared by everyone attending, as it is clear that such a rare visit of one of the monumental old-school comic-book masters will be remembered for many years to come. "I'm the luckiest person in the world – I'm doing what I love to do and people pay me for it!" Kubert noted joyfully that evening. But last week, the Israeli comics community felt no less lucky; though he possesses no supernatural powers and wore no cape, Joe Kubert is most certainly their kind of superhero.
The Kubert's visit was sponsored by the U.S. Embassy, the Holon Municipality, the Israeli Museum for Comics and Caricature, Holon Mediatheque, and JCVA, the Jerusalem Center for Visual Arts.