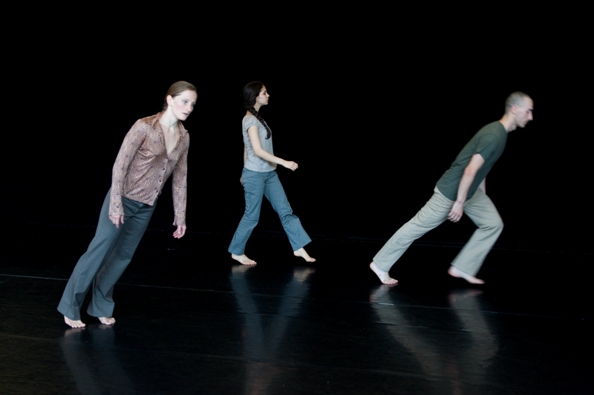 Culturescapes, the multidisciplinary festival exploring the contemporary cultural landscape of one country, will focus this year on Israel. The festival begins this week in Basel, Switzerland, and will continue through the end of November. Participating Israeli artists include: the Batsheva Dance Company, Yasmeen Godder, Niv Sheinfeld & Oren Laor, Yossi Berg & Oded Graf, Amit Drori, Patricia O'Donovan, Carolina, Kutiman, Ofira Henig, the Modus Quartet and more. This year, for the first time, Culturescapes will hold a parallel festival in Israel, with Swiss artists and Swiss-Israeli co-productions, from October through mid-December.
Culturescapes, a season of Swiss culture in Israel, was launched this morning at a press conference held at the Suzanne Dellal Centre in Tel Aviv. Rafi Gamzou, Head of the Division for Cultural and Scientific Affairs (Kashtum), said of the festival, "This is the best way to develop cultural dialogue and exchange between people and cultures. Bringing together, not just artists and venues, but artists of both countries to work together."
Jurriaan Cooiman, founder and director of Culturescapes, discussed his motivation for initiating the festival, saying, "I think we live in a time when humans question: How do we want to live together? Getting to know each other is a way of finding out." Noting that this question has a particular urgency for Israel, Cooiman explained that he feels cultural exchange can help countries move "beyond cliché" to change "fixed mind sets." "Through the artistic process we have a new picture of the other," said Cooiman, "whoever that may be." Founded in 2003, Culturescapes has focused on Georgia, the Ukraine, Armenia, Estonia, Romania, Turkey, Azerbaijan, and China. After this year's focus on Israel, which he described as "most tense and intensive" Cooiman announced, "I'm done with countries at the moment." Future festivals will focus on Moscow and then on the Balkans.
The season in Israel will open with dance performances at the Suzanne Dellal Centre: Fabrice Mazliah and Iaonnis Mandafounis will perform P.A.D on October 2 – 4, 2011 and the Alias/Guilherme Botelho company will perform Sideways Rain on October 5 & 6, 2011. Culturescapes events in Israel will include dance, art, theatre, music, film and literature, many of the projects taking place within the context of existing programs and festivals. Artists Fabrice Gygi and Christoph Büchel will present two installations and a video art work at the Herzliya Biennial for Contemporary Art which opens on October 9, 2011, and the Haifa International Film Festival will have a tribute to the actor Bruno Ganz, with a screening of his film "Colors in the Dark."