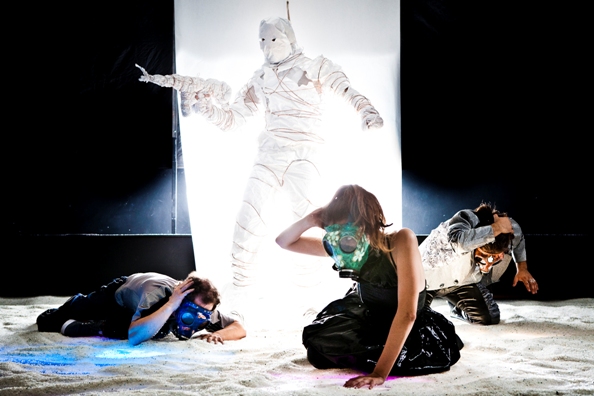 Malenki Theatre will premiere The Golem on Wednesday, September 22, 2011. The adventurous experimental theatre (Orpheus in the Metro, Job: The Story of a Simple Man) takes their talents to explore new territory.
The Golem is set in a post-nuclear holocaust era, when much of humanity has been destroyed. Based on research into the legend of the Golem in traditional Jewish texts, Igor Berezin has created a play entirely without words (good news for non-Hebrew speakers!) that is expressed in movement, music and sand animation.
Next performances will take place on September 23/24, November 1/2, 2012 at 21:00, at the Malenki Theatre in the Gan Meir Cultural Centre. Tickets: 90 NIS, to order call: 0542488105.
The Golem
Plot development: ensemble work
Performers: Yefim Rinberg, Dima Ross, Anna Stefan, Ilia Domanov
Movement: Ilia Domanov
Set and costume design: Vadim Kashransky
Music: Yevgeny Levitas
Sand animation: Olga Goltzer
Lighting design: Misha Tcherniavsky and Ina Malkin
Technical director: Andrei Yudshkin
Technical crew: Dima Svetov, Lev Kobrov