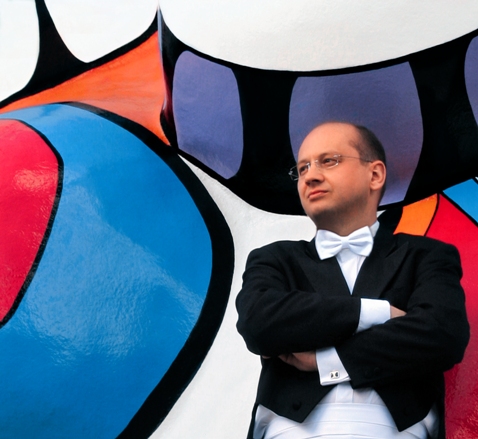 Romanian pianist Eduard Stanwill perform tonight at the Ticho House in Jerusalem, the second in a series of four solo recitals in Israel. The repertory for Stan's recitals will comprise works by George Enescu, Franz Liszt, Frédéric Chopin, and Franz Schubert.
Stan's tour in Israel is with the support of the Romanian Cultural Institute in Tel Aviv. A student of Arie Vardi, Karl-Heinz Kämmerling and Martin Dörrie, Eduard Stan graduated from the Academy of Music and Drama in Hanover, where he obtained his Master's Degree. He has widely performed across Europe (Konzerthaus and Philharmonie in Berlin, Konzerthaus Viena, Concertgebouw Amsterdam, Auditorio Nacional Madrid, Palais des Beaux Arts in Bruxelles) and the US (Carnegie Hall New York). Recently, he recorded a double CD with the complete works for violin and piano by George Enescu (together with violinist Remus Azoiţei), as well as a Chopin CD, released last year. He is the founder and artistic director of the 2005 Enescu-Festival in Heidelberg/Mannheim. In 2011, Eduard Stan has already performed on internatioan stages like Teatro La Fenice (Venice), Palacio Foz (Lisbon), Casa da Musica (Porto), Enescu Society (London) among others.
Recital schedule:
Wednesday, September 21, 2011 at 20:00, Ticho House, Jerusalem. Information and tickets: http://www.go-out.com/ticho/houseEng.html.
Sunday, September 25, 2011 at 20:00, Rappaport Art and Culture Center, Haifa. Information and tickets: http://www.ethos.co.il/.
Tuesday, September 27, 20:30, Heichal HaTarbut Rishon LeZion, Rishon LeZion. Information and tickets: http://www.rishonlezion.muni.il.