Gather your friends and head out to Yavneh! Batzir Hadash – an international multidisciplinary contemporary arts festival, will take place in Yavneh for the first time this year from October 16 – 18, 2011. Batzir means grape harvest in Hebrew, and the festival is an intoxicating and abundant offering of artistic works, in theatre, street theatre, dance, music and more – all either free or at the very inviting admission of 20 – 30 NIS. Great bands, the best of fringe & street theatre – Yavneh Rocks!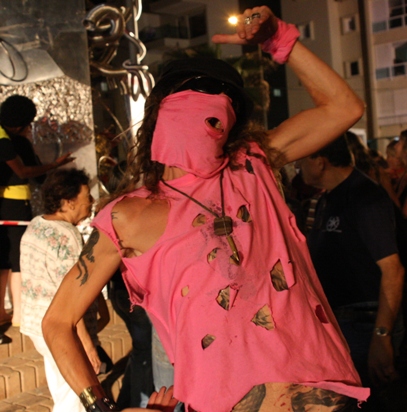 Full festival program:
Opening night events will take place in the Sanhedrin Garden at 20:00 on October 16th and will be free and open to the public. The evening program will include: Mime Daniel – Daniel Zafrani, a mime trained in Paris who has performed internationally, will present a collage of his work; The Ljud Group from Slovenia will perform The Invasion – Midnight East has enjoyed encounters of the strange and amusing kind with these alien visitors who turn pink upon entering the earth's atmosphere; Adam Read of Australia will present The Garden Project – a clown, visual and object interactive performance that asks 'What is Paradise?' performed with Spiros Paterakis and Barbara Pradzynska; Zitzland in the Street – street theatre performance by Moshe Malca, Tidhar Cohen and Eran Feller; Stones – the Orto-Da Theatre's poetic performance inspired by Natan Rappaport's sculpture Warsaw Ghetto Uprising Monument, created and directed by Yinon Zafrir, co-director and choreographer: Daniel Zafrani, and performed by: Motti Sabag, Mikey Marks, Avi Gibson-Barel, Hezi Cohen, Noga Dangeli and Yinon Zafrir; The Moshav Band – an Israeli rock band fusing rock with Irish, Jewish, and Reggae influences. And that is just the opening night!
Monday, October 17, 2011
Af al P Tehom – is the story of Nagdiel Epstein, a forty year old clown tried on 6 different counts. Will he succeed in proving his innocence, or is he fated to hang? Written and performed by Noam Inbar; directed by Gavriel Grundland Cohen; Lighting: Renana Lotem Ofir; Poster: Uri Visler; Costumes: Naama Grundland Cohen. Duration: 1 hour; 20 NIS; 19:00 Germanov Community Center, 1 Giborei Hahayil Street, Yavneh. (also on the 18th)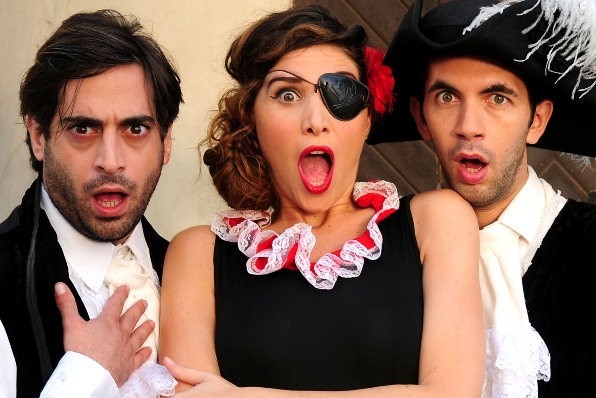 Gush Lekha – a one act hilarious musical parody, Lorca gone wild in this crazy comedy with three actors performing a melodramatic cast of characters with fun and flair. Written by Roni Hadar and Ori Urian; directed by Rotem Keinan; Music: Ziv Kessel; Set design: Niv Manor; Costumes: Merav Netanel; Performers: Ori Urian, Yuval Stunis and Roni Hadar;Classical guitar: Yair Ferber. Duration: 50 min; 20 NIS; 21:00, Germanov Community Center, (also on the 18th).
Hamarkid – The Dance Instructor – the award winning comedy of a dance instructor painfully hoping for his great breakthrough. Written, performed and directed by Yoav Bartel; directed and choreographed by Avigail Rubin; Lighting design: Nadav Barnea; Music consultant: Yehezkel Raz. Duration: one hour; 20 NIS; 20:15 & 22:15 Germanov Community Center, (also on the 18th).
Songs in Ashdodit – Shimon Mimran musical theatre performance with original music by Yonatan Canaan with Adam Meder playing on an array of instruments. The poetry of Sami Shalom Shetrit from his book Songs in Ashdodit. The experience of Moroccan Jews in Israel from the unique perspective of the poet. Duration: 70 minutes; 30 NIS; 19:00; Yavneh Performing Arts Center
25 – A coming of age drama that takes place in a small forgotten town in the South, with the lives and loves of three friends at its core. Written by Maor Zagori; directed by Maor Zagori and Miri Lazar; Choreography and music editing: Miri Lazar; Costume and set design: Shai Tur; Lighting design: Shahar Verchzon; Performers/creators: Noga Shahar; Lior Hasson and Daniel Sabag. Duration: 65 min; 30 NIS; 22:00; Yavneh Performing Arts Center.
Between Two Worlds – a selection of dance-theatre performances:
La Familia by Yoram Karmi is a lively, humorous peek into the living room antics of one perhaps not-so-ordinary family. Choreography: Yoram Karmi; Music: Amir Kosturitza, gypsy music; Costumes: Maor Zabar; Dancers: Tal Benari, Ligal Melamed, Joel Bray, Oded Ronen and Gil Naveh.
Tide by Ronit Ziv relates to the work of Ibsen and Bergman, a work replete with associations that takes place onstage and on the shore in three acts. Performed by Hagar Enosh and Ronit Ziv, Costumes: Keren Zarka of ANNA K.; Music: Ran Bagno.
La Divina by Shlomit Fundaminsky – a solo inspired by the life and career of opera diva Maria Callas, translating her unique voice to a language of movement. Choreography and performance: Shlomit Fundaminsky; Music: Maria Callas from a variety of operas; Soundtrack design: Eyal Weintraub; Artistic consultant: Itzik Giuli
Glory Monster by Michal Herman – a dance theatre performance about dreams of fame and success, the monstrous desire for glory and the price it extracts. Performers: Oryan Michaeli, Mor Nordimon, Michal Cenkel, Stav Marin; Music: Verdi, Moloko, Vivaldi and Saint Saens; Set and Costume design: Yaarit Eliyahu; Sound: Keren Or Bitton. Duration: 85 min; 20 NIS; 20:30 Naot Shazar Community Center, 19 Hanesi'im Street, Yavneh
Literary encounters between writers – Nurit Zarchi meets Galit Dahan-Carlebach; Yoram Kaniuk meets Gon Ben Ari. Moderated by Sahara Blau. Duration: 1hr 15min; 20 NIS; 20:00; Plaza of the Yavneh Performing Arts Center
Miss Sigalit's Way – Itzik Giuli's adaptation of Brazilian playwright Roberto Athayde's play is one of the most entertaining and provocative plays Midnight East has seen in the past year. The unique staging of this one person performance – Merav Gruber is the teacher, Miss Sigalit, and the audience is her class of 8th graders – sets the scene for a lively examination of power relationships. Translation: Itzik Giuli and Sigalit Fuchs; directed by Itzik Giuli; Performer: Merav Gruber; Set and Costume design: Aya Zeiger; Video: Lior Sadeh. Duration: 1hr 20min; 20 NIS; 22:00; Plaza of the Yavneh Performing Arts Center.
All music performances in Sanhedrin Park are free:
20:00 Hashovavim – comedy rock.Assaf Orlev – vocals, acoustic guitar, Almog Ben Harush – drums, Hili Boymel – electric guitar, Merav Ovadia – bass guitar and vocals, Yoav Levi – trumpet, Shlomi Kazas – saxophone, Noah Hershkovitz – trombone. http://www.myspace.com/hashovavim
20:40 Monti Fiori – Itamar Fintzi – Vocals, Melodica; Assa Raviv – electric guitar; Or Edry – bass guitar; Irra Raviv – Drums. http://www.montifiori.net/
21:45 Umlala – STANDGOSHOWSHOUT comes to Yavneh – they've just released their debut album & you just have to hear this band! Josef Laimon – vocals; Orel Tamuz – guitar; Yuval Goren – bass; Omri Blau – drums; Nir Yatzkan – keyboard.
Tuesday, October 18, 2011
19:00 Af al P Tehom, Germanov Community Center
20:15 & 22:15 Hamarkid – The Dance Instructor, Germanov Community Center
21:00 Gush Lekha, Germanov Community Center
19:00 The Resident Chaimovitz – created by graduates of the Nissan Nattiv Acting School, the play tells the story of a young poet who tries to make a fresh start when moving into a new apartment. Written by Ariel Bronz; directed by Marina Baltov and Nataly Shilman; Set and costume design: Shira Weiss, Barak Aviam and Ish Shalom; Music: Tami Barak; Lighting: Effi Ogad. Duration: 1 hr; 30 NIS; Yavneh Performing Arts Center
22:30 Derech Hagav – Tziporela Ensemble's musical revue based on the poems of Uzi Ben Canaan, is witty, funny, entertaining and full of subversive insight to the human animal. Physical theatre meets cabaret with a wink and a smile, and even a tender moment or two. Creators and performers: Efrat Aviv, Dana Ivgy, Lotus Etrog, Dudu Golan, Naama Amit, Omri Doron, Ben Perry, Tomer Nahir Petluk, Gal Friedman, Rotem Keinan and Tamara Klayngon; Original music: Assaf Korman; Costumes: Inbal Lieblich and Efrat Aviv; Lighting: Martin Adin. Duration: 1hr; 30 NIS; Yavneh Performing Arts Center.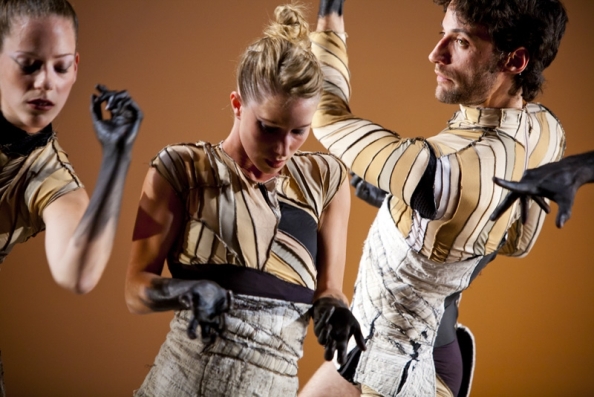 20:30 Babel – a new dance work by Amir Kolben takes its inspiration from the Biblical story of the tower of Babel, and the loss of communication between people. Choreography: Amir Kolben; Video art: Yaniv Yur and Yotam Zana; Costumes: Shira Weiss and Barak Aviam Ish-Shalom; Lighting: Shay Yehudai; Soundtrack and Lighting design: Amir Kolben; Original music: Shani Broner; Narration: Yossi Shohat. Duration: 70 min; 20 NIS; Naot Shazar Community Center, 19 Hanesi'im Street
20:00 Literary Encounters: Nurit Zarchi meets Galit Dahan-Carlebach, Yoram Kaniuk meets Gon Ben Ari; 20 NIS; Yavneh Performing Arts Center Plaza
All music performances at Sanhedrin Park are FREE:
20:00 Shalom Tshuva – psychedelic & folk performer whose influences range from Leonard Cohen to Jeff Buckley and Nick Drake.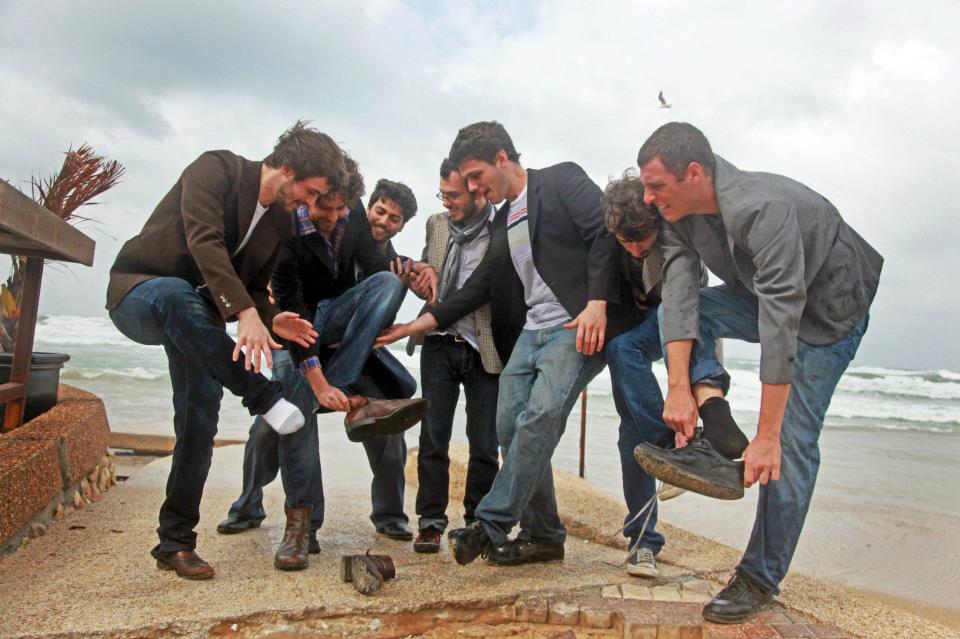 21:00 Acollective – this 7 man eclectic band of amazing musicians will make you want to join a collective – their collective of loyal followers! They've been touring with their debut album Onwards, produced by Chris Shaw. Idan Rabinovici – soloist and keyboards, Roy Rieck – soloist and harmonica, Daniel Shoham – guitar and vocals, Joseph E-Shine – guitar and vocals, Roy Rabinovici- vocals and saxophone, Emanuel Slonim – bass, Nadav Luzia – drums.
22:00 Shmemel – just released their first album Helium for the Masses, they perform a theatrical-cabaret-circus mix of soul, funk, Balkan, blues, groove, rock and chanson…and they're funny! – can't wait to see this!  Dror Waidman – vocals and saxophone, Yaniv Raveh – guitar and vocals, Shem Hamami – guitar and vocals; Eyal Raveh – guitar and bass; Ran Genez – drums; Michael Schwartz – keyboards; Liad Cohen – trumpet and vocals; Ori Tabachnik – baritone saxophone, percussion, vocals; Gal Dahan – saxophone; Yonatan Rubin – saxophone; Maayan Milo – trombone and vocals.
Street Theatre Performances – October 17th & 18th in the Yavneh Performing Arts Center Plaza are all FREE and open to the public. Featuring: The Garden Project at 19:20 & 22:30; Mime Daniel at 19:50 & 22:10; Juicy Lucy (Inael Guri) 19th century circus artist and her loyal assistant (Jeremy Rabon) at 18:30 & 20:45; Via Dolorosa – four apes, a man, a woman, an apple and the voice of God at 20:10 and 21:30; The Smedrik – juggling, acrobatics, accordion & clarinet directed by Edgar Grul and performed by Paula Reizfus and Edgar Grul at 18:00, 19:30 and 22:30; The Armchair – a living sculpture designed by Emilia Cohen, created and performed by Emilia and Yuval Cohen at 18:30, 20:15 and 21:45; Zitzland in the Street at 18:45, 20:30 and 22:00; Ljud Group in The Invasion at 18:30, 20:30.
What an amazing program! Go Yavneh!
For additional information: 08-9320000, www.yavnecity.co.il
The Yavneh municipality initiated Batzir Hadash to showcase original work by emerging artists , Midnight East hopes that this new festival will become a tradition. Nahum Langsem is the festival director, and the artistic directors are: Avi Gibson-Barel and Yinon Zafrir of the Orto-Da Theatre Group, with Ifat Dandani-Zafrir as artistic consultant.