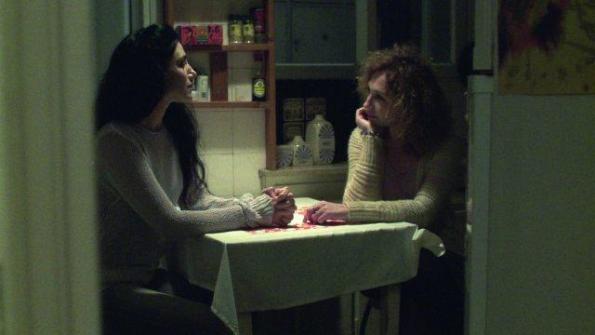 Invisible, a film by Michal Aviad, produced by Plan B Productions, won the award for Best Film in the Israeli Feature Competition. The film stars Yevgenia Dodina and Ronit Elkabetz as two women whose chance encounter reveals their shared past – both had been raped 20 years earlier by a serial rapist. In their statement, the jury noted: "In determining this year's prize we did not only examine a films overall quality, script and production, but felt that we have a responsibility to select a film that deals with an important story that will resonate with both local and international audiences. Invisible tells a very personal story that remains as relevant today as it was thirty years ago."
Members of the Jury for the Israeli Feature Competition: Gareth Unwin (UK) – Chairman, Co-Founder and CEO of Bedlam Productions, co-producer of The King's Speech; Azize Tan (Turkey) – director of the International Istanbul Film Festival; Yael Fogiel (France) – Film producer, co-founder of Les Films du Poisson; Guy Nattiv (Israel) – Film director and writer, his debut film Strangers was an Official Selection at the 2008 Sundance Festival, Mabul (2010) won the Best Film Award at the 2010 Haifa Festival and a Special Mention at the 2011 Berlin Festival; Yoav Kosh (Israel) – filmmaker and teacher, his cinematography credits include Life According to Agfa, Love-Sick in Nana Street, Shuroo, and Avanti Popolo.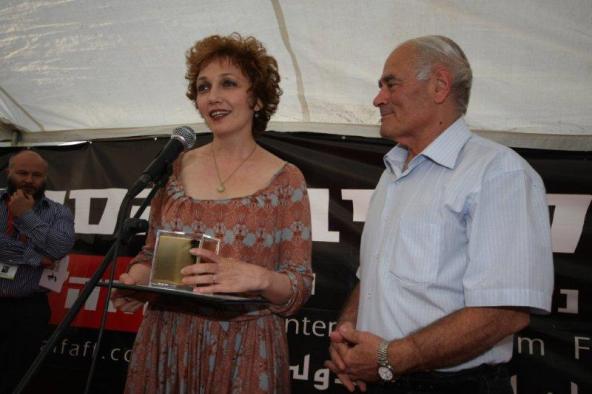 The jury awarded Yevgenia Dodina the award for Best Actress saying: "An acting role based on real events is often both rewarding and difficult. The judges decided that although both actresses playing leads in this film delivered a precise and nuanced performance, the one awarded the prize is the one who best showed the importance of establishing the place of an actor in a role and making the character her own."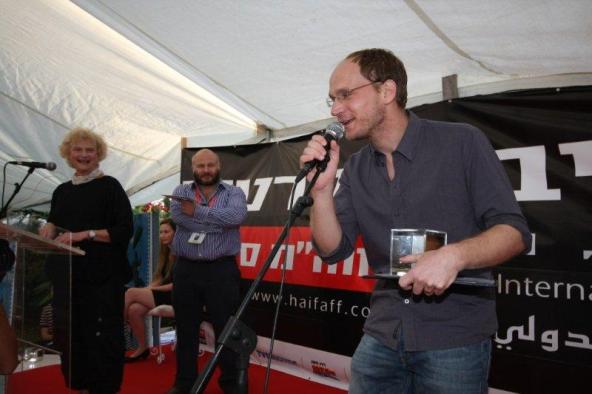 Rotem Keinan won Best Actor for his performance in Eran Kolirin's film The Exchange, produced by July August Productions, Tel Aviv and Pandora Filmproduktion GmbH, Germany.  The jury's statement: "This year's prize winner has displayed an amazing ability to capture the audience's attention, in a performance that emphasizes nuance and restraint, despite the fact that there was frequently very little action onscreen. In the 'boy's adventure' of middle age, the actor immersed himself in the character he portrayed, creating a performance charged with subtext and a sense of the background story."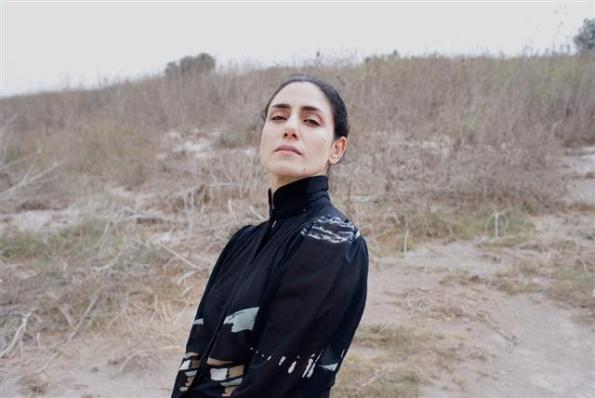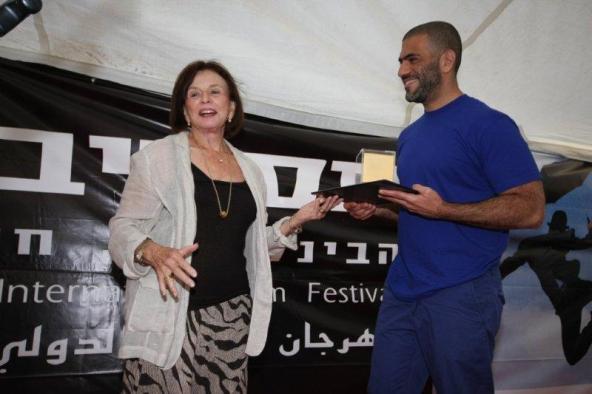 The Jack Naylor Award for Cinematography in a Feature Film was awarded to David Adika for his cinematography in the film Testimony. The jury's statement: "The competition in this category was fierce this year, between films with unique understanding and a well constructed manner of presenting a story. The winner displayed elegance and confidence that contributed to the presentation of the narrative, without distracting the attention from its performance. The film makes amazing use of soft light sources; compositions sharp as a scythe and daring in enabling the actor to fill the entire frame, allowing the acting take the lead."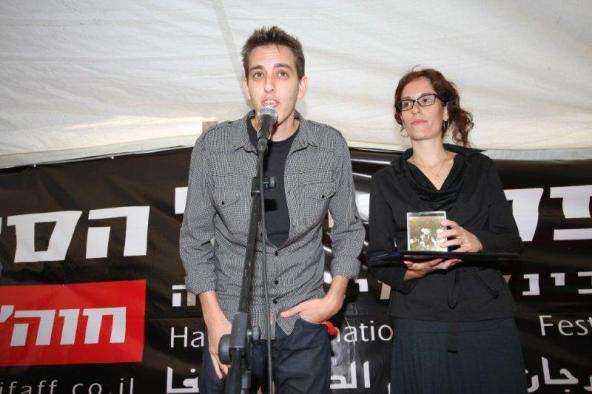 Wherever You Go, a documentary by Rony Sasson-Angel, produced by GREENProductions, Ramat Gan won the Makor Foundation for Film and Television Sharon Amrani Grant for Best Television Drama. The jury's statement: "A tight and well-performed drama. The fascinating story of a Jewish woman who gives a ride to an Arab woman who is fleeing a forced marriage. The film presents strong performances by Hila Vidor and Maysa Abed Alhadi. Rony Sasson-Angel's talented baton conducts the pace and suspense of the women's shared journey."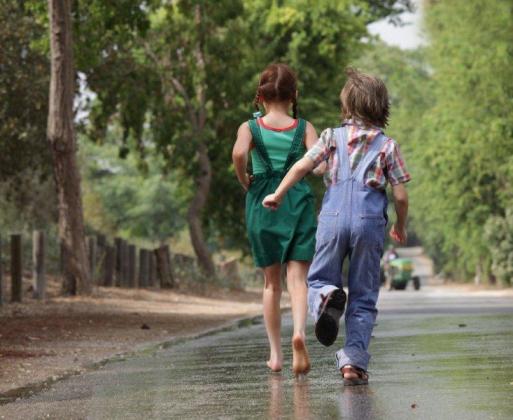 The Israel Film Center Distribution Award was awarded to Noa Aharoni's film By Summer's End, produced by Chaim Sharir. The jury's statement: "The winner of this award will receive support for North American distribution. Therefore, we selected a film that we believe will entertain and interest an international audience. The story of family life in the suburbs in the shadow of war is told against the backdrop of Israel in the late 1970s. This enchanting and witty film was a hit with the jury."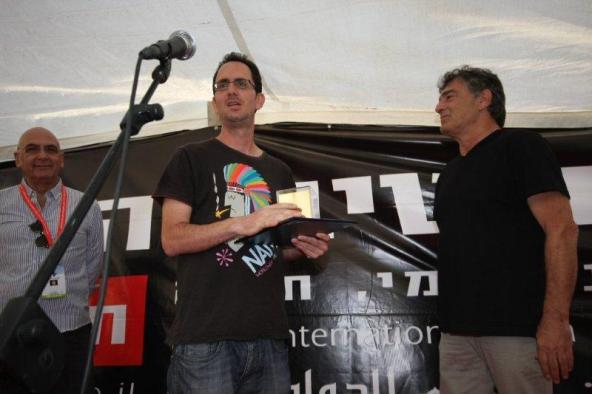 Alon Alsheich's documentary film Not Far From The Tree, produced by Yariv Mozer and Alon Alsheich, won the Documentary Film Award. The jury's statement: "It is a film that flows, with humor and humanity, the presents a narrative with characters that might appear to be stereotypical, who are transformed before our eyes into characters with depth, and who inspire respect. Not Far From the Tree is a wonderfully charming film, whose creators' empathy for their heroes, succeeds in bringing a broad smile to the face of the viewer that remains even after the film is over."
Members of the Jury for the Israeli Documentary Film Competition: Lena Chaplin (Israel) – recipient of the Education and Arts Ministry Prize 1999, Landau Prize 2006, and a Lifetime Achievement Award from the Forum for the Preservation of Audio Visual Memory in Israel 2011, the film and television director of roughly 50 documentaries, and with her husband, Slava Chaplin, three features, dramas and television series including A Trumpet in the Wadi and Weeping Susannah; Dr. Yael Munk (Israel) – Cinema and Culture researcher at the Open University; Eytan Harris (Israel) – documentary filmmaker whose recent films include: Mashallah, Abe Nathan – As the Sun Sets and As Lilith, teachers videography at the Wizo Design Academy in Haifa.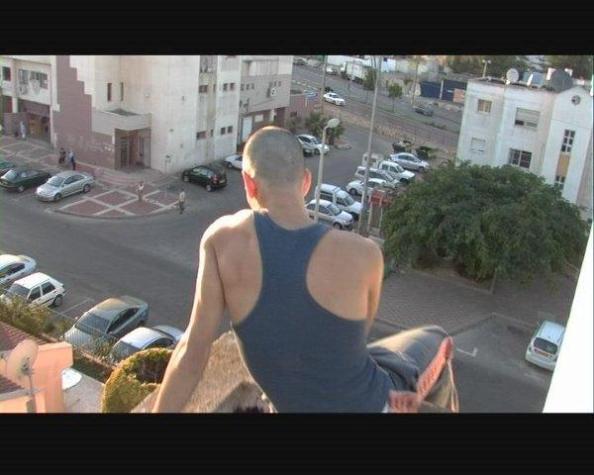 Free Flow, directed and produced by Rami A. Katz won the Other Israel's Award for an Israeli Documentary Film. The jury's statement: "New to cinema, yet mature, responsible and full of empathy for the characters he depicts: a mother of six in a provincial town, fighting with courage and wisdom to keep her family together despite the harsh violence against her from her abusive husband, and her eldest son who stands by her side."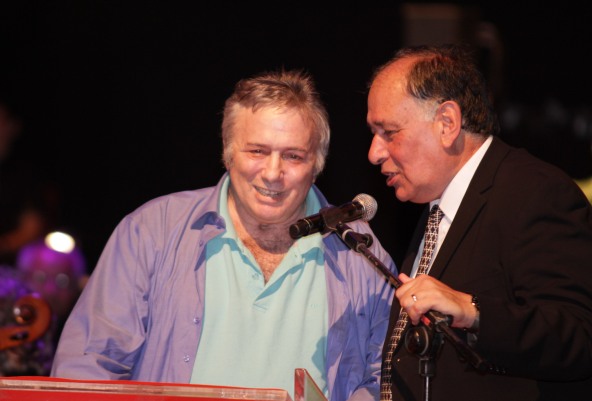 Assi Dayan received the Best Screenplay Award from the Israeli Screenwriters Union for his film Dr. Pomerantz, "a black comedy, sad, funny, and philosophical that raises existential questions in Assi's unique and witty manner." The prize committee included: Pnina Blayer, Ruth Lev Ari and Alon Garbuz.
The Golden Anchor Competition for Mediterranean Cinema awarded first prize to Once Upon a Time in Anatolia, by Nuri Bilge Ceylan. The jury's statement: "The Turkish director receives the prize for an outstanding cinematic achievement. With an artist's hand he transforms a slow, boring crime story into an unforgettable human drama and asks the viewers ethical questions for which there are no simple answers." A distribution prize was awarded to Le Havre, directed by Aki Kaurismaki, and an honorable mention to La Fin du Silence (The End of Silence), directed by Roland Edzard . Members of the jury: Raisa Fomina (Russia) – founder and Director General of Intercinema; Prof. Michal Friedman (Israel) – Film Professor, Department of Film & Television, Tel Aviv University; Irit Shamgar (Israel) – Israeli film writer and director.
Film Critics Association within the European Journalists' Union Fedeora Award for Israeli Creator was awarded this year to two films: Michael, directed by Markus Schleinzer (Austria), and Elena, directed by Andrey  Avyagintsev (Russia). Members of the jury: Gidi Orsher (Israel) – Chairman, film critic Galei Zahal, VP of Feodora; Shmulik Duvdevani (Israel), Y-net film critic; Sergey Lavrantiev (Russia) – researcher and film critic. Shay Goldman was awarded a prize for his special artistic contribution to Israeli feature cinema for his work in We Are Not Alone, The Exchange, and The Fifth Heaven.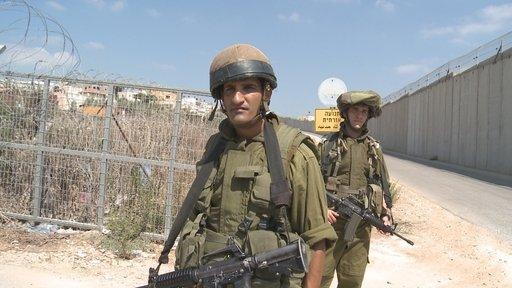 The Eli Gelfand Award for Best Short Film was awarded to Yoav Gershon's Eight Hour Shift. The Best Animation Film Award was awarded to Catherine the Great by Anna Kuntsman, with honorable mention to Howl by Natalie Bettelheim and Sharon Michaeli. Members of the jury: Daniel Mulloy (UK) – filmmaker and visual artist; Dr. Gila Shahar (Israel) – film lecturer; Roni Oren (Israel) – leading Israeli animator.
The Israel Film Fund Script Development Grant was awarded to screenwriter Guy Meirson, director Eitan Anner and producer Gal Greenspan for their film Here Comes the Sun.  The Makor Foundation for Film and Television Script Development Grant was awarded to the screenwriter and director Roni Kedar, and the producer Mosh Danon for their film Berlin 5.5. Haifa – USFilm Initiative Development Award sponsored by Stephen Greenwald was awarded to the film Efes Behitnahagut, written and directed by Talia Lavi, produced by Eilon Rachovsky, Yohanan Kardo, July August Productions. Second Haifa Cinemarket – Geyer Award by Cinepostproduction Berlin for work in progress was awarded to the film Menatek HaMayim, written and directed by Idan Hovel, produced by Eitan Mantzuri, Cinema Group.
Fringidaire – the independent film display, took place for the first time at the Beat Club in Haifa, awarding a prize to Babylon Blues directed by Gudis Schneider, Shunit Aharoni, Rony Oron and Ayelet Varshl. The prize is donated by Judith Shatz's Studio Yesh! and was awarded by Gur Bentwich, honored at the festival with the title of first ever Fringidaire Knight.