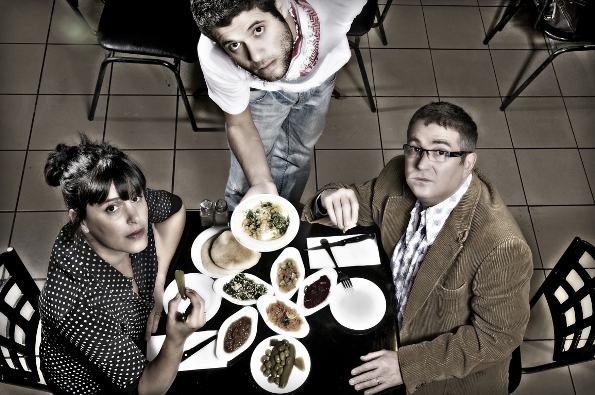 The Short Theatre Festival will take place at Tzavta from December 7 – 10, 2011, with 15 premieres, including 6 short plays, 9 ultra-short plays and the 14/48 project. Now in its 14th year, the traditional format for the festival includes programs with 3 plays, each 20 minutes long. This year for the first time, perhaps in acknowledgment of the short attention span of the internet-indulged viewer, there will be a special program of 9 five minute long plays in the Tzavta 2 Hall.
Avi Malka, Artistic Director of the festival, said that the plays submitted this year reflect a search for meaning among Israelis, but "the perspective is not defeatist or whining but rather ironic and amused. The playwrights are determined to try their hand at a variety of styles, from wild comedies to biting satire and sensitive realistic dramas. Festival goers will enjoy theatre that is daring, young, fresh, and thought provoking." Members of the artistic committee include: Mitko Bozkov, Gedaliah Besser, Roberto Polk, and Ilya Korkus.
The 14/48 project, initiated and directed by Roy Maliach Reshef, will present 14 new plays created in 48 hours – without the supervision of an artistic committee, and entirely uncensored. The theme for the plays is chosen by lottery, based on suggestions from the participants and audience members. The names of the participating writers, directors and actors will be disclosed 10 days before the start of the festival. Additional information can be found on the site: www.katzar.tzavta.co.il.
Two programs of 20 minute plays include:
Maalit (Elevator) – an absurd play by Amit Erez, directed by Yagil Eliraz, performers: Alon Dahan, Eran Sharel. A businessman hurrying to a meeting is trapped in an elevator. His only contact with the outside world is Eli, the elevator operator who has total control.
Bihlof Shana (A Year Later) – a poetic drama about love, by Michal Peles-Almagor, directed by Ilanit Ben Yaacov, performers: Avigail Arieli, Amos Shuv. A man and a woman meet by chance in the apartment of an old friend who has died. What began as a chance meeting turns into a struggle over memory and identity.
La – Briut (To Health) – a tragic-comic musical about old age, by Lior Sorroka, directed by Mitko Buzkov, music by Misha Blechrovich, performers: Albert Cohen, Hana River, Levana Finkelstein, Lupo Berkovitch, Tamara Galoz – Eli. At the La-Briut Senior Residence they live life to the very last minute – a lonely old man waiting for a visit from his children, Rosa who tried to remember who she used to be, and Ferdinand, whose great moment in life occurs after his death.
Credit – a social comedy without protest, by Nir Bikles, directed by Dor Peles, performers: Yehuda Mor, Karin Ofir, Daniel Moshes. Two men from the same system meet in a jail cell: a client and the CEO of his credit card company. As the web closes in on them, it appears that there is only one way out.
You Can Die From It – a comedy about the bitter and the sweet, idea by Moti Rahamim, writing by Avi Shaharon, directed by Josh Sagi, performers: Nina Kotler, Eran Ivanir, Raz Engelmeir. Yossi and Drora come to a restaurant to celebrate their anniversary, when they realize that they have mistakenly arrived at a hummus place in an Arab village.
Haflaga Ahrona (Last Voyage) – a black comedy about the fear of losing control, by Daniel Botzer, directed by Ohad Shahar, performers: Odelia Moreh-Matalon, Eyal Rosales, Daniel Botzer, Niko Nitai, Shlomit Adar.  Benny and Shuli feel that at their advanced age they are already past their peak, and so they decide to end their life. Now all they need to do is convince their children.
The third program will include 9 five-minute long plays in Tzavta 2. The full festival program is available on the Tzavta site: www.tzavta.co.il and tickets may be ordered online, or call: 03-6950156/7 ext. 2.
The Short Theatre Festival is produced by Tzavta with the support of the Ministry of Education, the Ministry of Culture and Sport – Culture Authority, the Tel Aviv Municipality and sponsored by Mifal HaPayis, the Rabinovitch Fund, Isracard – Time for Culture, Primor and City Mouse. Tzavta Director: Moshe Tene; Short Theatre Festival Founder: Shalom Shmuelov; Artistic Director: Avi Malka; Project 14/48 Director: Roy Reshef Maliach.