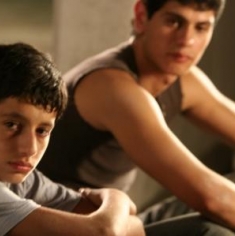 You might think that unlike other art forms, a movie is something that you can watch anywhere, and a film festival can be transported, content intact, from one city to another – after all, a movie, is a movie. Not so. The context in which we view a movie affects our perception. The Haifa International Film Festival is so intimately connected with the city of Haifa; there is a sense of anticipation, discovery and celebration in the air, from the heights of the Carmel Center to the shoreline. "Ima, ima, (mother in Hebrew), it's Chaplin!" a bright eyed-boy of about 8 called out to his mother, pulling her in the direction of the piazza where crowds gathered to watch Chaplin classics screened on the wall of the Haifa cinematheque, listening to music or grabbing a bite to eat between movies.
What better film to open the Israeli Feature Films Competition than "Zion and His Brother," which was filmed in Haifa, written and directed by Haifa filmmaker Eran Merav, and locates its energy and focus in the people of the city.
Zion (Reuven Badalov) is a 9th grader who lives with his smolderingly sexy and dubiously nurturing mother (the amazing Ronit Elkabetz) and handsome, aggressive, troubled older brother Meir (Ofer Hayoun), who in some sense is the one who raises Zion. The movie is driven by a struggle for survival – financial and emotional, the two fatally intertwined. The adult men in Zion's life are either absent – the brothers wait at a pay phone (remember those?) for their father's phone calls, or at best indifferent – Eli, (Tzahi Grad) the mother's boyfriend with whom the boys have a relationship based on barely concealed mutual revulsion and hostility.
The movie, Merav's first feature, takes place between the sea shore, billiard hall, abandoned buildings, and empty lots of the city. The city is an often harsh environment; the sea beckons with a vision of a wider horizon. Zion (a sensitive, intelligent performance by Baladov) is looking for hope and love, but will settle for temporary respite, as does Michelle (Lia Line, who hails from Haifa) the girl next door gathering crumbs of affection wherever she may find them.
After the screening, Festival Artistic Director Pnina Blayer introduced the movie's team: Producers Asaf Amir and Yoav Raveh, and Director Eran Merav. Merav addressed the audience congratulating Mayor Yona Yahev on his support of film in Haifa and saying, "I hope that we can begin to discuss establishing a local Haifa fund for films that will tell our story, the story of the people of Haifa."