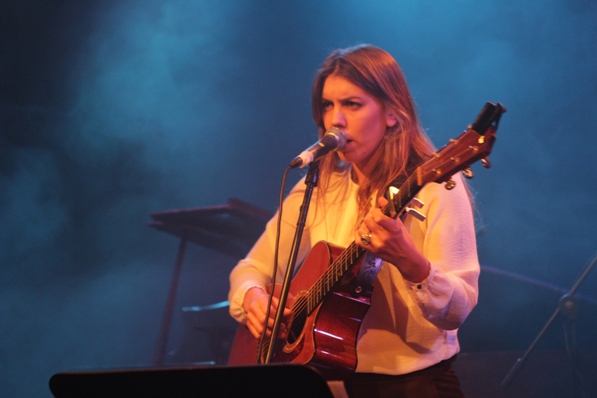 In the old days, when everything was better, parents had it easy: no internet, no cell phones, and when you wanted to amuse the kids, all you had to do was say: Go out and play.
In those halcyon days in Israel, of one state-owned television channel, there was one Children's Song Festival, and it took place once a year, on Hannukah. The format was simple: popular musicians (Avi Toledano, Yardena Arazi, Yehudit Ravitz, Gidi Gov, Tislam and Mashina) sang songs written for children by Ehud Manor, Matti Caspi, Uzi Hitman, Yoram Teharlev, Shaike Paikov and other well known songwriters. The glitter and pyrotechnics of large-scale productions and promiscuous proliferation of festivals led to its demise in the mid-80s, and all that remained of the Children's Song Festival in its heyday were the memories and the music.
Thirty – forty years down the road the Alma music gang decided it would be fun to look back at those songs with new arrangements from contemporary musicians in the alternative Israeli scene. This past Hannukah weekend, Indie-Yeled, a concert of songs from past festivals, took place at Tmuna Theatre, a fringe sanctuary located in the Montefiore neighborhood, where artists' studios and cafés keep company with the auto shops and strip clubs. Featuring Yehu Yaron, Yael Deckelbaum, Altneuland, Hadara Levin Areddy, Batsir 76, Adam Ben Ezra, Boris Martzinovsky, Haran Yaffe and Guy Dayan, the Saturday morning show was full to overflowing. This writer opted for the late night mid-week show aimed at slightly older children, as Batsir 76's lead singer Ohad Levy put it, "Tonight there's no cotton candy, no temporary tattoos, but we do have beer."
From the first electric blaze of sound to the final goodnight well past midnight, this show easily found its way into the post-summer of 2011 city dwellers, reluctantly stumbling their way through adulthood, all too often without certainty, income, security, or hope, and often with a child or two along for this bumpy ride.  "I'm still a kid," sang Altneuland, "it's a riddle and I have no answer" the rock arrangements taking the 1980s song (Edna Peleg/Nimrod Tene) into 21st century adulthood. Haran Yaffe gave an edgy guitar rhythm to tale of his imaginary friend Tin Tan (Miriam Yalan-Shteklis/Kobi Oshrat); imaginary friends are such a comfort during dry spells in one's social life. Each performer sang a song or two, with the original versions of songs from the festival played over the house speakers between sets, while the words were projected on a screen above the stage to facilitate participatory nostalgic singing.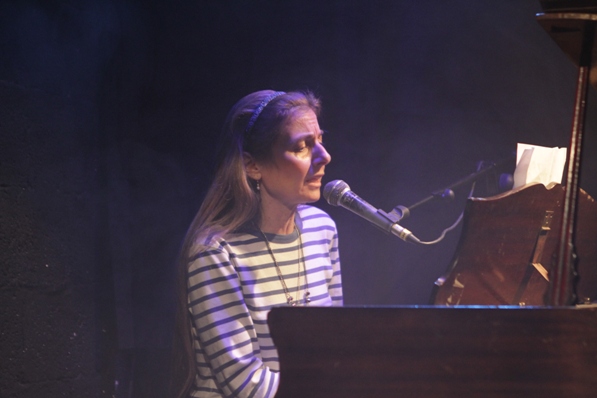 Good music is good music and even after 30 years the songs more than hold their own, in this musically diverse evening from Batsir 76's mellow folk-rock sound, to Adam Ben Ezra's playful percussion on the double bass or jazzy duet with Yehu Yaron as peas and carrots plea: "let us grow up in peace" (Avner Kanner & Yoel Lerner). Some, like Hadara Levin-Areddy, took it down and dark, with a gritty blues version of Ehud Manor and Matti Caspi's song about a search for a lost dog – Bunny. Recalling that in her acquaintance with Manor, he used to play with songs on the piano, moving between Hebrew and English, Hadara also added a verse in translation: "If you see her looking happy/I think you should know she is not/she is secretly sad and secretly crying/for something to eat and a friend."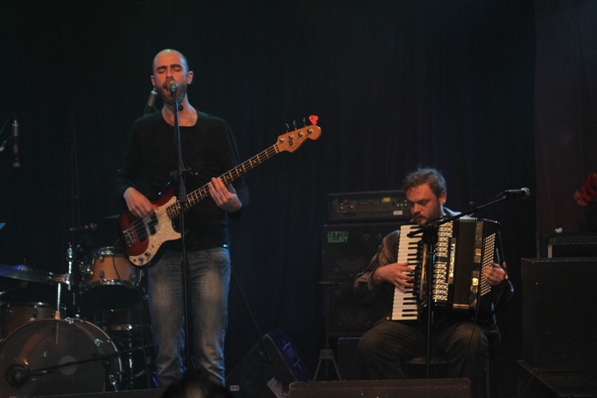 Yehu Yaron and Boris Martzinovsky went way out and took Shaike Paikov's song Ima (Mother) all the way back home to create a deranged poetic alternative Russian ballad hybrid with extravagantly playful rhythms. Then they put down their instruments and accompanied their chant of "Ein li Kesef" (I Have No Money – Ehud Manor/Ariel Zilber) with music stand and loudspeakers as percussion: "The situation is bad/I'm already mad…I have no money/That is what Dad says/It's the end of the month/and I'm stuck with only one shekel." No need to comment on the relevance here.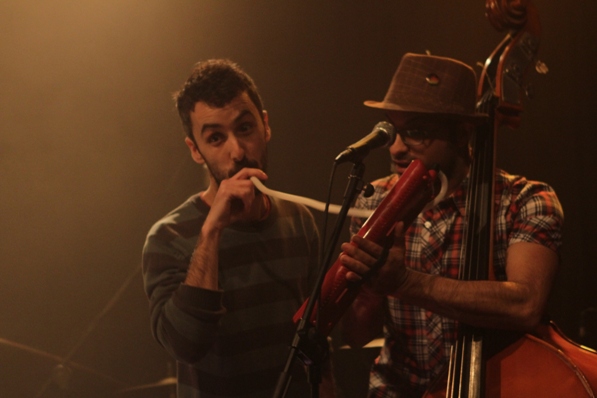 But hey, it's the holidays and these are children's songs – the overall atmosphere was one of fun and games, with the alt-rock arrangements giving the songs a delicious twist, like a swirl of dark chocolate. Adam Ben Ezra and Guy Dayan passed instruments back and forth with childlike zaniness with their interpretation of "Hopa Hey" on clarinet, kazoo and what you will. Yael Deckelbaum was a magical presence with an acoustic tale of moonlight, followed by a righteously BAD cover of the fun-to-sing "Yeladim Tovim Yeladim Raim" (Good Children Bad Children – Ehud Manor/Yehudit Ravitz) with Adam Ben Ezra. Young, old, good, bad and in-between – it was a fun concert for all children and a wonderful alternative holiday diversion that deserves repeated play.