Classic hits of Jo Amar, Tslilei Ha-kerem, Tslilei Ha-oud, Zohar Argov, Avihu Medina and other Mizrahi (Mediterranean style) music path breakers have been treated to new arrangements by pianist and arranger Ronen Shmueli, and will be performed by a super ensemble of musicians – Niv Toar on trumpet, Avi Lebovich on trombone, Ronen Shmueli on piano, Yorai Oron on bass, and Ben Aylon on drums – Monday, January 9, 2012 at Beit Avi Chai as part of the Hebrew Jazz Series.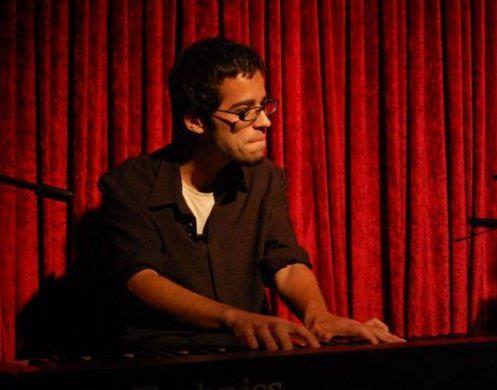 Mizrahi music and jazz may sound like an unlikely combination, but when Ronen Shmueli talks about his choice to focus on Mediterranean style music his enthusiasm is captivating. "As someone who has been closely connected to a wide spectrum of Israeli music throughout the years," said Ronen, whose musical background includes both the Berklee College of Music and the IDF Orchestra, "I began to feel that jazz arrangements of Israeli songs have become a little predictable, almost a sub-genre of their own, and it's a shame that we're missing out on what Mediterranean style music has to offer. I find great beauty in it, and amazing artists."
"I know this songbook very well," he said, "and I wanted to show that it is as rich as the familiar songs that are usually presented in concert. The classic Mizrahi songs written in Israel during the 60s – 80s reveal depth in their music and lyrics. Working with these songs opened so many doors for me – rhythm, melody, harmony and above all – freedom. I had so much fun putting myself into these songs."
Shmueli pointed out that the concert will be a tribute to great performers, rather than songwriters, praising their "expressivity and freedom, the trills, the way they play with the rhythm, each one has his own voice and presence." Among the songs that will be performed are: Margol's Naari Shuva Eli (Young man return to me); Zohar Argov's Sod Hamazalot (The Zodiac Secret); Jo Amar's Barcelona; YIshai Levy's Rikdi (Dance); Daklon's cover of Shalom LeBen Dodi (Shalom to my cousin – lyrics Ibn Gabirol); Avihu Medina's translation of Raya from the Greek original; and a tribute to the late Uzi Hitman.
As for the performing ensemble – Niv Toar, Avi Lebovich, Yorai Oron and Ben Aylon, Shmueli said that he wrote the arrangements with these musicians in mind. Each of the musicians performing is active in several different projects, which made joint rehearsals a challenge, but one that Shmueli took on gladly. "They all have such artistic, creative minds," said Shmueli, "when writing music you need to know and think about the musician for whom you are writing."
To get a feel for the possibilities of this musical merger, enjoy this clip of Ronen Shmueli playing at the Berklee College of Music:

and Zohar Argov singing Sod Hamazalot (The Zodiac Secret):

The Hebrew Jazz series, under the artistic direction of Barak Weiss, presents new interpretations to works from significant chapters in the history of Hebrew song, along with original compositions influenced by the latter. Concerts in the series will take place on Monday nights at 21:00 in room P7 at Beit Avi Chai,  44 King George Street, Jerusalem, 02-621-5900. Admission: NIS 50; students: NIS 30 – all tickets include a FREE drink! Four tickets: NIS 170 (instead of 200). Limit two tickets per concert.
Future concerts:
January 23 – New Orleans Function Sextet – Cabaret Music from Little Tel Aviv
The Dixie-style ensemble performs arrangements of the cabaret songs of "Little Tel Aviv." A fascinating musical combination of songs from a bygone era, dealing with immigration, employment, the Hebrew language, and the British Mandate, with New Orleans and Chicago. Guest artist: Yisrael Gurion; Eli Ferminger, trumpet; Arnon De-Boton, trombone and vocals; Koby Salomon, clarinet; Shimmi Gilad, banjo and vocals; Yoav Kolombus, bass; Yair Salzman, drums.
February 6 – Trio Millionaires – Songs from Ha-Keves Ha-shisha Asar
The ensemble, led by young and promising guitarist Yoav Eshed, performs original jazz versions of all of the children's songs in the classic album Ha-keves ha-shisha asar (The Sixteenth Lamb). Guest artist: Tomer "Tomash" Sharon; Yoav Eshed, guitar; Guy Levi, double bass; Ben Aylon, drums.
February 27 – Yuval Cohen Sextet, songs of David Zehavi.
The songs of David Zehavi—"We Went out Slowly, "The Road to Caesarea," "My Land, My Homeland," "The Flute," and dozens of others—are among the treasures of Hebrew song. Yuval Cohen, saxophonist, composer, music teacher, and 2010 Landau Prize laureate, leads the ensemble in original arrangements of Zehavi's work.