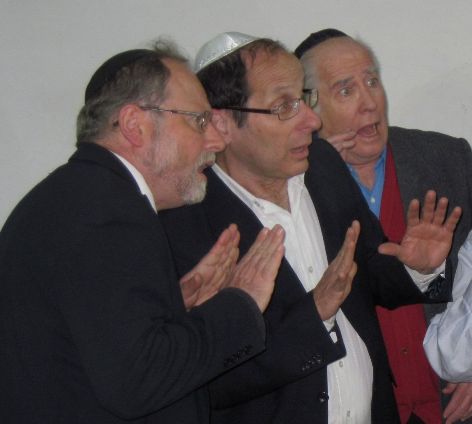 Theatergoers frequently fall into one of two categories: the cynic and the nostalgic. Jeremy Saltan, Assistant Director for JEST's "The Tenth Man," is confident that this play has what it takes to satisfy both.
MidnightEast: In a nutshell, what is this play about?
Jeremy: "The Tenth Man" is about a small group of people in the 1960s, living in Long Island, NY and looking for a minyan. During the wait, we begin to discover how unlikely a group they really are: There is a man who believes his daughter is possessed by a Dybbuk (evil spirit), a disconnected Jew who doesn't even really understand what is going on – he doesn't even know what tefillin are, there is a Kabbalist who is trying to seek redemption, a rabbi who is trying to find his place in the new congregation… I could go on… Each of the 13 characters is going though their own struggles. But it is really a story about redemption, a story about love, and most of all-  it's a story about what Jewish mysticism is all about.
What about members of the audience who aren't very familiar with Judaism or have varying beliefs in mysticism?
Jeremy: I think the show links us more to our tradition. I feel that regardless of their belief in Jewish mysticism, every person in the audience will find someone they are able to identify with. As the saying goes, "Two Jews, three opinions" – really, I think that within these 13 characters, everyone will find something. Each character represents various outlooks on things ranging from Judaism to politics, and it is all still relevant today.
What are your impressions of working with JEST, versus your more independent work at Center Stage Theater?
Jeremy:  The main difference I've found between JEST and Center Stage Theater is that JEST, being the original English speaking theater in Jerusalem, has a precise structure. There is a reputation they care very much about, and they have an incredible attention to detail, way beyond anything I ever encountered – down to the details of every minor character's wardrobe. This is definitely a new standard for me, and I've been doing my best to live up to it.
You also worked on "The Chosen," which is a similarly heavily philosophical Jewish play. Are there at all any similarities between the two?
Jeremy: Well, I've done many other plays with Jewish  spins –  in 2007 I directed "Sure Thing" at Center Stage as part of "Matchless" which was four different plays…, However,  if you are looking to find a connection between "The Chosen" and "The Tenth Man," you'll definitely find them. For one, there are many similar actors:
I'm getting the chance to work again with Neil,  Rabbi David, the Goldstein twins, who play the Kessler boys in "The Tenth Man": secular kids who are tricked by the Shamash of the shul to get them to show up forthe minyan, because their father has a yahrzeit that day.
So "The Tenth Man" has a lot of recurring actors?
Jeremy: Yes, including those I've worked together with in other plays. It's a very tight cast. A great group of talented individuals. I'm very proud of the work they put into this play. Back to the previous subject, I think if you look at the theme of both plays, it's about the place of Judaism in their respective times. [The Chosen was about] what it means to be Jewish in NY in the late 1940s, and "The Tenth Man," is about what it means to be Jewish in Long Island in the 1960s. You have the dwindling population of modern Orthodoxy and this is when it all started happening. I think "The Tenth Man" speaks more to the average Jew of today.
Put it this way – anyone who enjoyed "The Chosen" should enjoy "The Tenth Man." If they liked the directing or the acting, Rafi Poch[Co-Director] and I are directing again and we have many of the same actors as well as the same commitment to excellence.
On that note, thank you for your time.
Jeremy: You are very welcome. I'll see you on January 19th for opening night.
The Tenth Man, by Paddy Chayefsky, performances:
Thursday January 19th 8 pm,
Tuesday January 24th 6 pm,
Wednesday January 25th 8 pm,
Thursday January 26th 8 pm,
All performances held at Kibbutz Ramat Rachel's Hotel auditorium:
For tickets call:
JEST: 02-642-0908
or Bimot:02-623-7000
Tickets are also available online at www.bimot.co.il
Tickets cost 80 NIS regular, there is a 10% discount for groups of 10 people or more.
More about Jeremy: http://il.linkedin.com/pub/jeremy-man-saltan/11/521/669
Jeremy's blog about the Knesset  –  http://knessetjeremy.com/