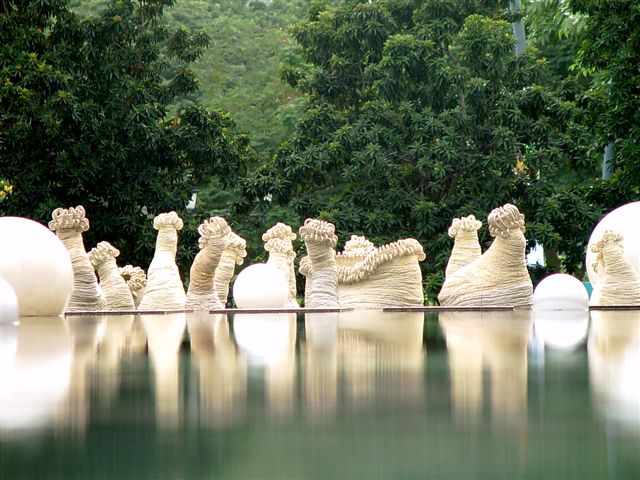 [Press Release] Jason Lim – Leading Ceramic artist from Singapore and internationally acclaimed Performance artist at the Benyamini Contemporary Ceramics Center.
Combining Performance Art and Clay
Master Class: Sunday, January 15th at 20:00
Workshop: Thursday, January 19th at 16:00
Rhythm, repetition, sound and duration will be the focus of the workshop.
The inherent characteristics of clay – soft, malleable and responsive combined with basic movements associated with clay work – will be the starting point for the exploration of performance possibilities within a time frame, a space and the performer's body.
About the artist: Jason Lim was born in Singapore in 1966. He studied at Central St Martins College of Art & Design, 1989-1992. He attained his Master of Fine Arts Degree from Royal Melbourne Institute of Technology (LaSalle College of the Arts), 2001-2003. His repertoire of works encompasses ceramics, video art, installation art and performance art. He has organized and created various platforms for alternative art practitioners to meet and collaborate. He was co-Artistic Director of Future of Imagination 2 & 5, an international performance art meeting held in Singapore in 2004 and 2008 respectively. In 2007, he presented his work, Walking Sticks, at the 4th World Ceramics Biennale in Korea winning the Juror's Prize. In the same year, he presented Just Dharma and Light Weight at the Singapore Pavilion in the 52nd Venice Biennale. In 2010, He was invited as guest artist to join performance art collective, Black Market International, in their 25th Anniversary celebration in a tour of Poland, Germany and Switzerland.
For more details contact: Marcelle Klein – 054-5449942
The aim of the Benyamini Contemporary Ceramics Center is to promote ceramic art and design in a vibrant atmosphere of creativity for professional artists as well as the general public.  Through the on-going activities we wish to create a dialogue between the various aspects of ceramics and extend its scope in the broad spectrum of material culture.
For further information: 03-5182257     www.benyaminiceramics.org
Address: 17 Ha'amal Street, Tel Aviv
Open hours:
Sun:               11 – 13 (gallery closed)
Mon – Thurs: 11 – 19
Fri – Sat:        11 – 14