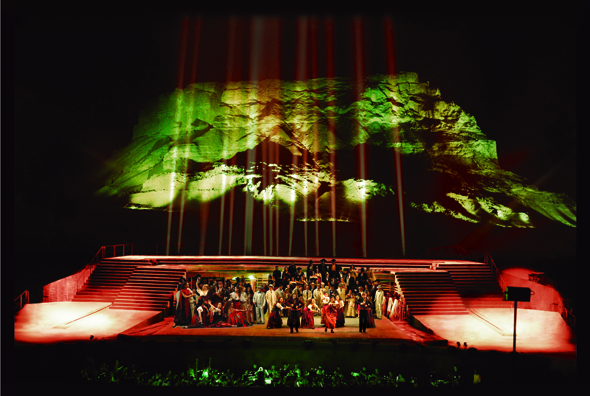 The Israeli Opera Company is busy setting the stage for what is perhaps its most ambitious and impressive production so far – Geroges Bizet's "Carmen" at the foot of Masada. "Carmen" is to be the main focus at this year's International Opera Festival, to be held June 7-12, 2012 at Masada, the Dead Sea.
Following the success of Verdi's "Nabucco" (2010) and "Aida" (2011), the Israeli Opera Company chose to continue its tradition with this magnificent and larger-than-life production of Bizet's masterpiece, conducted by maestro Daniel Oren and directed by Giancarlo del Monaco-Zukerman.
Leading "Carmen" will be Georgian soprano Anita Rachvelishvili (Carmen). Joining her will be Italian tenor Marco Berti (Don Jose), who delivered a wonderful performance as Radames in the Company's production of "Aida" during last year's festival. They will be accompanied by the Israel Symphony Orchestra Rishon LeZion, the Israeli Opera Chorus, as well as hundreds of dancers and extras.
Tickets and further information online, or call: *6226 – Bimot