The Tel Aviv Jazz Festival will warm up those late winter nights from February 21 – 24, 2012 at the Tel Aviv Cinematheque. There's an array of enticing performances to anticipate from leading international and Israeli musicians, with several special productions unique to the festival.  Music will fill the air with free performances every night in the festival tent to get the entire city in the mood for jazz!
Tel Aviv Jazz Festival Program: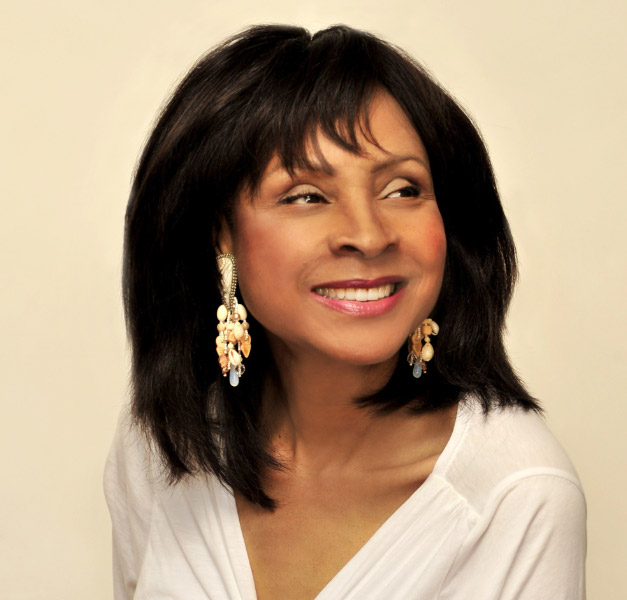 Tuesday, February 21, 2012
20:00 Hall 3 – Mary Stallings Quartet "Remember Love"
The venerable jazz vocalist Mary Stallings makes her Israeli premiere at the festival. The 70 year old diva has performed and recorded with jazz greats Dizzie Gillespie, Ben Webster and Wes Montgomery. Returning to the stage after a 20 year hiatus, Stallings released a new album last year – Dream. Mary Stallings – vocals; Udolf David – Piano; Tal Ronen – double bass; Gasper Bertoncele – drums.
20:15 Hall 4 – Yuval Cohen and Yonatan Avishai "Art of the Duo"
Special festival production: a dialogue between the soprano saxophone and the piano, a musical conversation between two artists who have been playing together for twenty years.  Yonatan Avishai hones his sound in a small village in France, in October 2010, Yuval Cohen was awarded the pretigious Landau Prize in jazz. Yuval Cohen – saxophone; Yonatan Avishai – piano.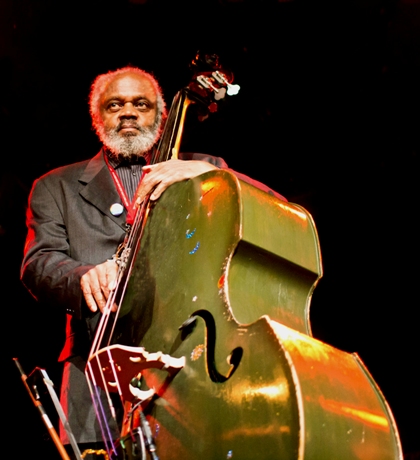 22:30 Hall 3 – Henry Grimes Sublime Communication Trio "Opus de Life"
Living legend Henry Grimes disappeared mysteriously for 40 years, returning to the stage in 2003. Trained at Julliard, Grimes performed with Anita O'Day, Charles Mingus, Thelonious Monk, Gerry Mulligan, Miles Davis, John Coltrane and Sonny Rollins when he was in his 20's. He went on to play on some of the seminal albums of the free-jazz era, by such musicians as Cecil Taylor, Albert Ayler, Don Cherry and Pharoah Sanders, before disappearing entirely from the music scene in the 1960s. Grimes is in Israel for the first time! Henry Grimes – double bass; Andrew Lamb – saxophones; Newman Taylor Baker – drums.
22:45 Hall 4 – Baptiste Trotignon Trio "Jazz from the Left Bank, Paris"
38 year old Baptiste Trotignon is a many faceted pianist who has recorded a lot in recent years with American artists such as Mark Turner, Donald Harrison, Archie Shep, Tom Harrel and Jeremy Felt. Baptiste Trotignon – piano; Matt Penman – double bass; Dré Pallemaerts – drums.
Wednesday, February 22, 2012
20:00 Hall 3 – Afro-Jazz Orchestra starring Jerry Gonzales, Kirk Lightsey and Simo Balilty
An international allstars ensemble performing a fascinating combination of Latin, jazz, African music and Moroccan Gnawa. Each musician brings an individual sound to the musical fusion a la Dizzie Gillespie, with whom several of these musicians played. Jerry Gonzalez – trumpet & percussion; Itai kric – flute; Simo Balilty – guitar; Dodo Balilty – percussion & guitar; Kirk Lightsey – piano; Omer Avital –  double bass; Ami Balilty – percussion; Sangoma Everett – drums.
20:15 Hall 4 – David El-Malek meets the Baptiste Trotignon Trio
An Israeli premiere – Modern French jazz meets ancient Jewish traditional music. El-Malek's music reflects the influence of classical music and Andalusian Jewish music. Born in France, El-Malek grew up in Israel until the age of 9 and began to play sax only at the age of 20. David El-Malek – saxophone; Baptiste Trotignon – piano; Matt Penman – double bass; Dré Pallemaerts – drums.
22:30 Hall 3 – Omer Avital Quintet with Avishai Cohen, Omer Klein and Jeff Ballard – "Asking No Permission"
Special festival production. Maestro Omer Avital plays everything from mainstream jazz to Andalusian, Yemenite, free jazz, funk, reggae, Afro-beat, Israeli pop and Middle Eastern music.  An incredible ensemble of musicians who have played together for years! Omer Avital – double bass; Avishai Cohen – trumpet; Omer Klein – piano; Jeff Ballard – drums.
22:45 Hall 4 – Kobi Israelite  and Oren Marshall "Composition for iPhone, Accordion and Tuba"
Creating provocative and innovative music Koby Israelite and Oren Marshall's shared experience includes working with John Zorn, Charlie Hayden, Bobbie McFerrin, Madonna, and the London Philharmonic to name a few. Their music is eclectic and touches on many genres: funk, rock, classical, jazz, Balkan, Eastern European and Jewish Piyut. Oren Marshall  – acoustic tuba and electric tuba; Koby Israelite  – accordion, drums, percussion, iPhone.
Thursday, February 23, 2012
20:00 Hall 3 – "New Middle East"
A special festival production. A tribute to Mediterranean music with special guest Yehuda Keisar and guest singer Ravid Kahlani. Zohar Argov, Tzlilei Hakerem and other Middle Eastern performers are part of the musical heritage of any jazz musician who grew up in Israel hearing this music, whether or not it has directly influenced their own sound. Omer Klein, Omer Avital, Itamar Duari and Ravid Kahlani will show how Mizrahi (Middle Eastern) music became an inseparable part of their creation and musical experience. Connecting the present with the past, will be special guest guitarist Yehuda Keisar. Omer Klein created new arrangements for the songs. Yehuda Keisar – guitar; Omer Klein – piano; Omer Avital – contrabass; Itamar Duari – drums; Ravid Kahlani – vocals.
20:15 Hall 4 – Amit Friedman Sextet and String Quartet "Sunrise"
Original Israeli jazz connects to classical music. Saxophonist Amit Friedman launched his debut album Sunrise on the Origin Records label (US), his music connects to jazz roots and corresponds with world music. In this performance, a super ensemble of Israeli performers meets with a talented string quartet to explore new terrain together. Amit Friedman – tenor & soprano saxophone; Amos Hoffman – oud & guitar; Nitai Hershkovitz – piano; Gilad Abro – double bass; Roni Ivrin – percussion; Ofri Nehemia – drums; Hen Shenhar – violin; Avner Kalmer – violin; Noam Haimovitch Veinshel – viola; Hila Epstein – cello.
22:30 Hall 3 – Wayne Escoffery and the "Uptown" Quartet
British saxophonist Wayne Escoffery is a prominent presence on the New York jazz scene, performing in the Mingus Big Band and Tom Harrell's Quintet and Ben Riley's Monk legacy Septet as well as with his own quartet. Escoffery will perform at the festival with the Organ Quartet with whom he recorded Uptown, including Israeli guitarist Avi Rotbard who composed and arranged some of the songs on the on the album. Wayne Escoffery – saxophone; Avi Rotbard – guitar; Pat Bianchini – Hammond B3 Organ; Jason Brown – drums.
22:45 Hall 4 – Dida
Dida Peled, a member of the young generation of Israelis in New York, released her debut album this year on the prestigious Italian label Red. Working together with bass player Tal Ronen, the two have a repertoire that spans standards and popular classics, blues, Israeli songs, Rock 'N Roll, and have recently began writing their own materials with an American folk influence. Dida will host special guest Shlomi Shaban. Dida Peled – electric guitar; Tal Ronen – contrabass; Aviv Cohen – drums; Shlomi Shaban – vocals.
Friday February 24, 2012
12:30 Hall 3 – Avishai Cohen, Yonatan Avishai and Jeff Ballard
Leading jazz trumpeter Avishai Cohen, a member of the SF Jazz Collective and Cohens3 with his brother Yuval and sister Anat, will be joined by Yonatan Avishai and Jeff Ballard (Brad Mehldau Trio) for an evening of originals and covers. Cohen and Avishai have been playing together for over 20 years, together they are 2/3 of Third World Love.  Avishai Cohen – trumpet; Yonatan Avishai – piano; Jeff Ballard – drums.
14:30 Hall 4 – Nurit Galron "From Jazz to the Present"
Nurit Galron released her debut album to great acclaim in 1977 and has performed in every musical genre from pop to classical music, and now returns to jazz with a trio, musically directed by Guy Weingarten. Nurit Galron – vocals; Ofer Peled – wind instruments; Guy Weingarten – piano & keyboards; Adam Ben Ezra – double bass; Tal Cohen – drums.
14:30 Hall 3 – Dimitar Bodurov Trio with the flautist Theodisii Spassov "The Mystery of Bulgarian Soul"
An Israeli premiere. Bulgarian folk music in jazz adaptation with Bulgaria's famous kaval player. Dimiter Bodurov – piano; Theodissi Spassov – Kaval; Jens Duppe – drums; Mihail Ivanov – double bass.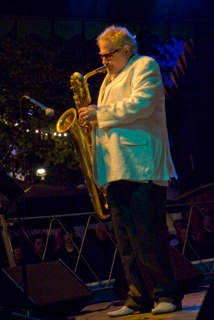 21:00 Hall 3 – Ronnie Cuber Septet "The Hippest Cat"
Special festival production. Baritone saxophone legend Ronnie Cuber plays the immortal music of Horace Silver in an Israeli premiere. Cuber has enjoyed a versatile 53 year career as jazz leader and accompanist (George Benson, Eddie Palmieri, Steve Gad and the Gaddabouts), and has played with pop and rock musicians Paul Simon, Eric Clapton and Frank Zappa. Cuber studied for many years with pianist and composer Horace Silver, with whom he also recorded, and refers to as "my mentor." This world premiere performance dedicated to Horace Silver brings together an Israeli all-stars ensemble. Ronnie Cuber – saxophone and baritone; Assaf Hakimi – double bass; Avi Leibovitz – trombone; Niv Toar – trumpet; Yonatan Grinstein – saxophone; Shai Zeldman – drums; Ronen Shmueli – piano; Roberta Arnold – Ronnie Cuber's manager and producer.
21:15 Hall 4 – Dori Ben Zeev and Swing de Gitanes "Gypsies Stole the Night"
Gypsy jazz meets Dori Ben Zeev's favorite songs in a festival premiere. Dori Ben Zeev is jazz – on the radio, as a broadcaster, moderator, on television, as an actor and singer. They'll be performing his hits – Leah, Ganavim (thieves), Lemon Tree, Sof Shavua BaKfar (a weekend in the country), and new arrangements to jazz hits, as well as originals from Swing de Gitanes. Dori Ben Zeev – vocals and host; Yaakov Hoter – gypsy guitar; Uri Ben Zvi – gypsy guitar; Oren Sagi – double bass.
23:30 Hall 3 – "Wake Up Africa" Western African Jazz
Special Festival production. An 8 person ensemble playing traditional African rhythms roots groove with a jazz feel. Israeli/American musician Oren Etkin released his album Kelania in 2009 connecting music from Mali with Jewish music and modern jazz. Etkin will be joined by Bala Koita and Black Guru. Koita plays the balafon, a percussion instrument resembling the xylophone. Oren Etkin – clarinet, saxophone; Bala Koita – Balafon; Ben Elon – African drums: Mali, Senegal; Yair Hashachar – guitar; Itamar Shatz – tenor saxophone; Yehonatan Cohen – soprano saxophone; Ian Ayalon – guitar; Guy Levy – double bass, electric bass & vocals.
On Friday afternoon everyone is invited to enjoy jazz outdoors in the Tel Aviv Cinematheque Plaza from AndraLaMoussia, playing a Jewish, Balkan, rock, Israeli, jazz amazing mix of music "from the streets of Jerusalem." Ittai Binnun – wind instruments (ney, clarinet, sax), baglama and vocals; Uriel Sverdin – drums, cajon; Moshe Nuri – percussion; Boaz Reinsreiber – electric guitar; Vitaly Podolsky – accordion; Victor Ezus – bass guitar.
There's a lot to look forward to! Keep updated on the Tel Aviv Jazz Festival facebook page, and web site.