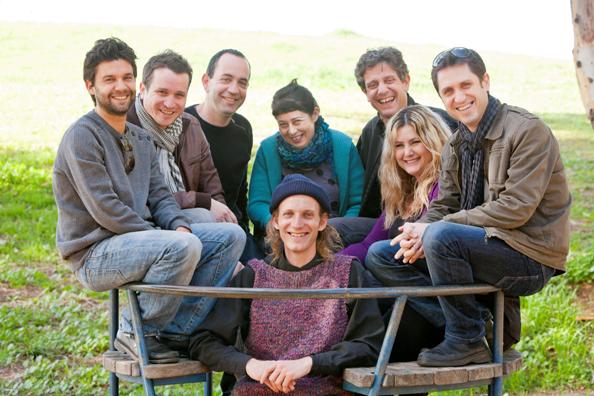 Six plays have been selected for the 22nd Haifa International Children's Theatre Festival to take place April 8 – 10, 2012 at the Haifa Municipal Theatre. The artistic committee, headed by Zvia Hoberman, chose the following plays to premiere at the festival:
"Aba Shel Amalia Nosea LeAustralia" (Amalia's Father is Going to Australia) by Lior Gerty, based on the book by Eshkol Nevo, directed by Ori Amnuti, performers: Avigil Arieli, Ziv Meir, Naama Shitrit and Yuli Saker. The play is about a young girl's longing for her father.
"Corduroy" – an object-theatre creation by multidisciplinary artist Shahar Marom, inspired by the by Don Freeman's wonderful book "Corduroy."
"Eretz Hagarbayim Ha'avudim" (The Land of Lost Socks) by Shai Lahav and Yoni Zicholtz, directed by Ra'anan Ferrera and Moshe Ben Shoshan, performers: Albert Cohen, Noga Roth-Gur, Avri Arbel, Yair Mossel, Or Mashiach and Noga Milstein. An adventure story – a boy arrives in a magical land whose residents are all socks.
"Hachamim baLayla – Legends of Chelm" by Naomi Yoeli and Galia Vered-Levi, directed by Naomi Yoeli, performer: Galia Vered-Levi. Funny stories from Chelm with a unique paper-theatre approach and klezmer orchestra of Eyal Talmudi of Oy Division.
"Shchenim" (Neighbors) by Roy Segev, Yuval Cohen and Amnon Wolf, directed by Roy Segev, performers: Amnon Wolf and Yuval Cohen. A humorous story without words of two neighbors who learn that together can be better than alone.
"Hamachshefa Babayit Mimul" (The Witch in the House Across the Way) by Yoav Bar-Lev and Irit Kaplan, directed by Yoav Bar-Lev, performers: Irit Natan Bendak, Roni Merhavi, Itay Shor and Yakir Portal. An amusing and suspenseful adventure – three lonely kids discover the power of friendship.
The festival's opening performance will be an original musical with actors, dancers and acrobats, weaving stories from around the world to reflect this year's theme of "international theatre." In addition to the six plays in competition, the festival will also host plays from the repertoires of Israeli children's theatres, as well as international performances from Spain and Italy. The area surrounding the Haifa Theatre and Gan Benyamin will be transformed into a theatrical journey encompassing Classic Greek Theatre, Commedia dell'arte, and Medieval British Theatre.
Haifa International Children's Theatre Festival is produced by the Haifa Municipal Theatre
Festival Director: Nitza Ben Zvi.
Haifa Theatre, 50 Pevzner Street, Haifa. Tickets and information: 04-8600500. www.haifakids.co.il