Still don't like Mondays? Shaon Horef may change the way you think with these February Monday night events – each week in a different neighborhood, with music concerts, art exhibitions, theatre and other events as well as discounts in local restaurants and bars. All the info for this coming Monday, February 23rd, can be found (in Hebrew) on their site with a map, to make it easier to find your faves, Midnight East is running the list of events in English, numbering the events so that they can be found on the map: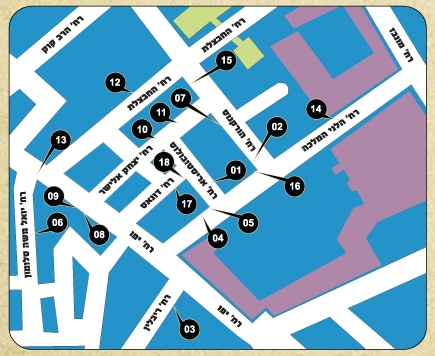 Shaon Horef events are POPULAR and fill up quickly, so Midnight East recommends – get there early!
Shaon Horef #3 Program:
1 AFTERIMAGE  – an art exhibition on Aristolbolos Street by anonymous street artists. Curators Shlomit Yaakov and Yaniv Yur collected works by street artists and altered their dimensions and colors. Wonder what the artists have to say about that? The works will be displayed on the white fence built around the construction site.
2 HaGaleria HaKtana BaIr  – Jerusalem's smallest gallery at the Kassata Bar, 1 Horkenus Street. Paintings in different techniques by Pika Magrik; live music by AmazonaKuss, Magrik and Shloshet Hakru'im; video art by Moran Gutman on the wall of the Russian Compound. From 19:00.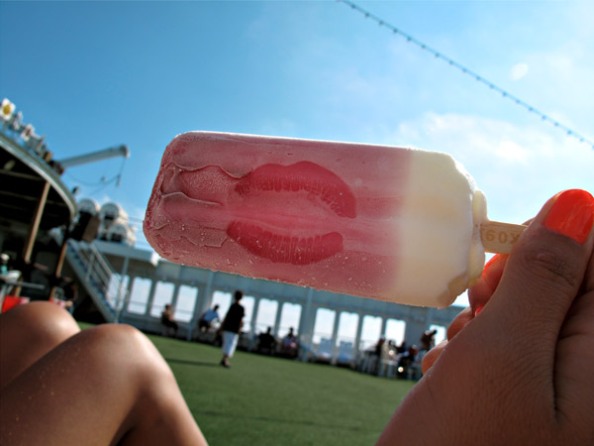 3 Artists & American Apparel – the commercially successful American Apparel store left its Jerusalem location with a note saying "We'll meet in Tel Aviv." The current exhibition takes place in the now-abandoned store, with contemporary Jerusalem artists' works reflecting the relationship between art and fashion with performance, video, fashion/anti-fashion installations and a tattoo corner. The second floor will host a tribute to the Baroque. 3 Rivlin Street, 20:00.
4 Oud BaNiguv – Gad Tidhar, of Faran Ensemble will perform live oud music at Heleny, a new hummus place. 1 Heleni Hamalka, 19:30 – 22:30.
5 Master Tattoo – clothing inspired by tattoos and free hot cider, 3 Heleni Hamalka Street, 20:00.
6 On Inspiration & Cinematheque in the Salon – at 20:00 4 speakers, each discussing inspiration from a different perspective, followed by films created by Sam Spiegel students at 22:00: Yoav Gershon, Yarden Carmin, Dana Kedar, Benjamin Friedenberg and Yael Kayam. Hagov, 1 Yoel Moshe Salomon Street.
7 Yavan Kahol Lavan  – The Yavan Kahol Lavan ensemble led by Asher Amoyal will perform at Zosha, 3 Horkenus Street from 20:00 – 23:00.
8 Mana Rishona & Balkan Rave – a workshop on Balkan cuisine with Chef Yossi Ben Dayan, followed by music from DJ BALKADAN  (Gal Kadan)! Tel Aviv Bar, 30 Yaffo Street. Workshop at 20:30, music from 22:30.

9 Showcase – 12 Band Marathon – Jerusalem Music Scene 101 – one after another, each group will perform two songs: Elephant Love  new indi-rock-pop band; Arie Burshtein & Netta Nimrodi, partners on and off stage, originals and new arrangements to Israeli songs; Ala Esh,  founded in 2008, originals by frontman Shmuel Zeltser in surreal arrangements; Sober October a new Jerusalem band, blues, rock & 90s grunge; Ohad Eilam,  soloist of missFlag and bass player touring with Michael Greilshammer will perform new originals in Hebrew, פאנקס, a hip-hop group with a broad perspective on music; Michal Lotan,  singer/songwriter with a recently released debut album produced by Adam Sheflan in an intimate performance, AmazonaKuss,  an ArsPunk-ElectroTrash band, 3/33  indie-rock 4 member  band, each with a different musical background, recently recorded a single with producer Ori Winokur; Redwood, founded two years ago, violin, drum, guitar & keyboards classical background influences their sound, much like Pink Floyd, Porcupine Tree, etc; Yehonthan Shlomo,  singer/songwriter graduate of the Jerusalem Music Academy, currently recording his first EP with Oren Eitan; Amy McKnight, Australian folk singer who has been gracing Jerusalem with her presence for the past two years. Mike's Place, 37 Yaffo Street, from 19:30.
10 Drumbite Jam Session – Bring your instruments and join other musicians in a jam session at Drumbite music store, 5 Elisar Street at 21:00.
11 Abandoned Storefront Installation – Daniel Zini will screen video art on abandoned storefront windows in Aristobolos Square. 21:00.
12 B Side – Ariel Horovitz will host musician Eran Tzur for an evening of music and discussion on heresy and spirituality at Traklin, 9 Havatzelet Street at 21:00.
13 Video Building #3 – VJ Felix Offermann will screen video art on the walls of Beit Yoel on Yaffo Street, 21:00.
14 HaBahala leBasar – workshop on making corned beef & stand up comedy from the waiters at Ha'Aliya Bar, 9 Heleni Hamalka Street, 21:00.
15 Bira Beitit  – Learn how to make your own beer from Aram Dekel of Ela Knight Brewery at Mitte Bar, 9 Horkenus Street, from 21:00 – 23:00.
16 Rutsi Buba  & Kids with Spikes  at Hataklit Pub – Rock 'N Roll from 21:30, 3 Heleni Hamalka Street.

17 Atem Ahla Hamudim Beni Bashan at the Toy Bar  – the inimitable Beni will open the 4th anniversary celebrations at the Toy Bar with a free performance – Midnight East recommeds: get there EARLY!!! Better yet, reserve a place: 02-6236666. 6 Yosef Du Nawas Street, 22:00.
18 DJ MESH @ Uganda Bar, 3 Aristobolos  Street  – Israel's leading scratch master DJ MESH will host a master class, talking about his gear & technique, followed by a PARTY!!! 22:00.
Many area restaurants and bars will offer discounts throughout the evening. Most Shaon Horef activities are free, some performances have an admission fee of 10 – 20 NIS.
Shaon Horef artistic directors and producers: Shlomit Yaakov, Yaniv Yor, Eyal Levit, Tamar Klein, Emil Bader, Israel Hess, Ido Levit, Miri Kapitolino, Shai Wohl, Yaela Sklar, Hadar Lavie, Leo Liberman.