The exhibition I am a Berliner provides strong evidence that the medium of painting, despite fierce competition with installation and video art, is alive and thriving. . Featured in this vibrant show are works by 18 painters living and working in a city that two decades after unification has become a cultural and artistic magnet for artists from all over the world.
The range of themes, materials and approaches represented in this show is huge – and overwhelming. Moving round the galleries, one locates many paintings whose lift off point is a clearly identifiable art movement from the past. But that does not mean that these works fit neatly into a single category. Many of these painters are pushing this medium into unchartered territory.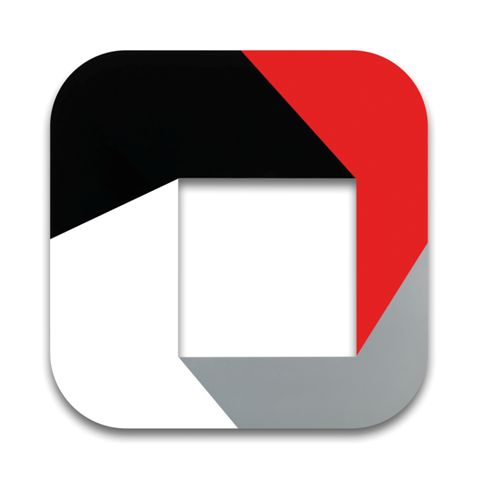 Take the contributions of Gerold Miller and Michelle Jezierski for instance.  Both artists draw on abstract and constructivist traditions, but take their paintings to another level. Miller shows wall constructions in lacquered aluminum that are part painting, part sculpture. In them, the frame of a painting has become all important, the expected focus of one's eye, a picture, replaced by empty wall. Perfectly designed and finished, Miller's objects bring to mind the casing of a computer or TV screen, or allude to the sleek finish of contemporary design.
Jezierski's landscapes give a modern twist to Alberti's concept that paintings should be a "transparent window" to the visible world. Employing a psychedelic palette she constructs deep spaced scenes from nature perceived simultaneously in both natural light and artificial lighting.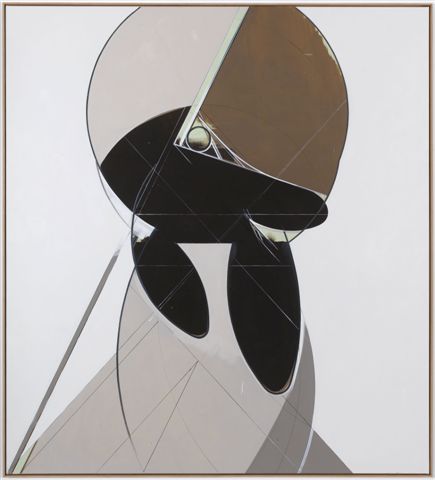 Contrasting with the richness of Jezierski's paintings are Frank Nitsche's cool, semi-abstract compositions conceived as linear outlines or as smooth areas of white, grey and black paint. Inspired by computer-generated imagery, his forms appear to be close-ups of mechanical structures. In the painting DSY-19, for example, there is an apparent likeness to the propeller of a plane. While the impression is of weightlessness, these paintings nevertheless convey a sense of harnessed speed and power.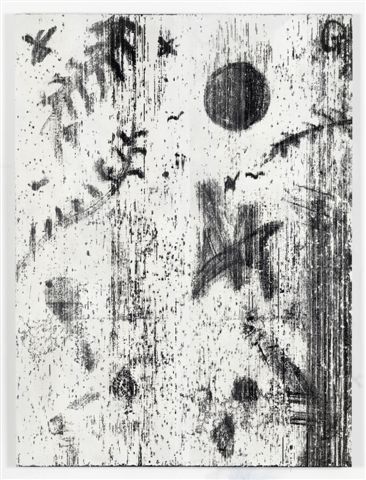 Many of these artists have drawn on various Expressionist modes of painting. For example, a source of inspiration for Gregor Hildebrandt appears to be the black on white abstract expressionist canvases of American painter Franz Kline. But Hildebrandt only simulates splatters of black paint. He does this by affixing segments of cassette and video tapes to his canvases. Some examples of his work on view are over-rigidly contrived. However, The Hanging Garden is a fine piece. It title may have been taken from a song cycle composed by Arnold Schoenberg who, like Hildebrandt (through his use of atonality) broke away from the traditions of his medium. The hanging garden in the original poem by Stefan George, is the setting for a love affair, but it and the romance eventually disintegrated. This seems to be the scene expressed in this softly lyrical work.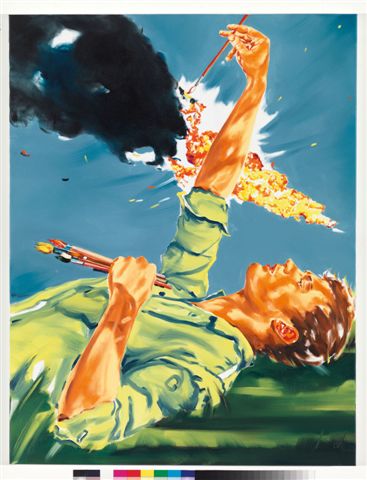 German expressionist painters early in the last century, particularly those working out of Berlin, often alluded to a violent world, or one of the brink of chaos. These features surface, to a greater or lesser extent, in the work of many of the participants in this show, among them Peter Stauss and Norman Bisky. Stauss's employs wax as well as paint to conjure up the darker side of humanity in which monkeys and dogs and human faces set in relief, are caught up in a whirlwind of wild color. Bisky, an artist born in Leipzig, moves in another direction. Raised on the socialist values of East Germany, he produces figurative imagery that seems to be a cynical response to promises of a better world.  Schwarzmaler is an example of one of his more ambiguous works, (another painting of his on display is a realistic depiction of a corpse).  Executed in bright, clear colors, 'Painter of Darkness' shows a beautiful youth lying on his back, wielding a paintbrush. He appears to be creating, or maybe attacking, the head of a black monster.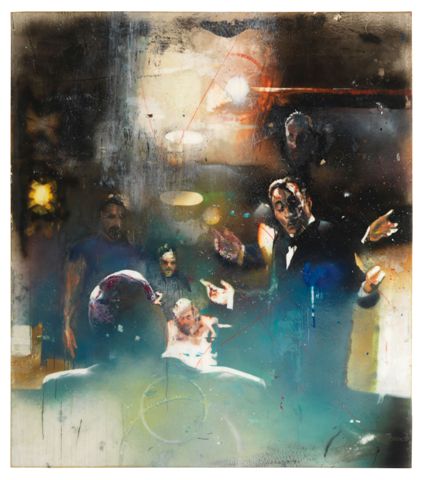 There is a strong element of experimentation in this show, best exemplified by the paintings of Christian Hoischen. Like several other artists showing here, he draws on stills from famous movies, or other well known media sources. But his work is distinguished by a unique work process whereby coats of lacquer are applied to a transparent fiberglass surface and images become mirror-inverted. The resultant effect is of figures and scenes blurred by the presence of a shiny semi-opaque screen that freezes a moment in time.
This exhibition is recommended. But, the visitor needs time, or else several visits to this show, to appreciate the extraordinary variety of works that curator Mark Gisborne has chosen to represent 21st century painting in Berlin.
Helena Rubinstein Pavilion of Tel Aviv Museum
6 Tarsat Boulevard, Tel Aviv (closed Sundays)