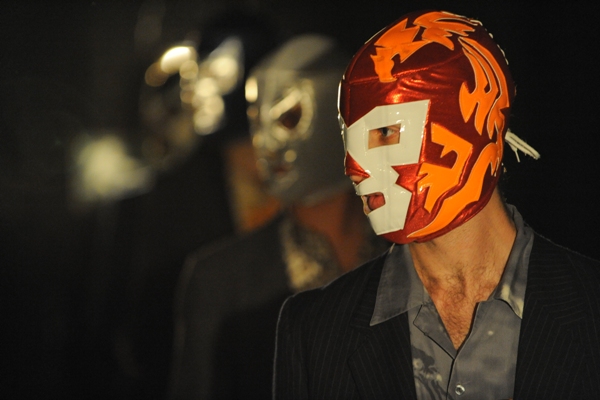 Who was that masked man? The flashback from mythical past of pop culture flickered in my mind as four men in masks entered the high school gym in chorus line formation, with street ease and a lusciously Latin swing in their step to begin a studio run of Yossi Berg and Oded Graf's new work: 4 Men, Alice, Bach and the Deer. Created in Dresden, the Israeli premiere takes place this week at The Lab in Jerusalem, followed by the Inbal Theatre in Tel Aviv. Replacing two members of the original European cast are two expressive and powerful Israeli dancers who are both choreographers in their own right – Hillel Kogan and Irad Matzliah – the four performers coming together to create an experience of emotional, physical and intellectual intensity.
Taking place somewhere between dance and theatre, the work explores and questions the concept of the male, leaving a trail of deconstructed fairy tales, images and myths in its wake. Encompassing everything from Power Rangers to power suits and New Age rituals, the abundance of symbolic images and associations is tightly held together by precisely timed dramaturgy, creative use of space, humor that dances on the narrow border between mischievous and malicious, and visually compelling movement.
Each moment, image and gesture generates multiple associations beginning with the masks worn by the dancers as they first appear onstage. The colorful masks give the dancers an animalistic aspect recalling tribal hunting rituals. Entirely covering their heads with openings for the eyes – executioner or victim – hinting at relationships of bondage and domination, the colorful shiny fabric makes them look like animated superheroes, while the synchronized steps create an associative context for the social mask, the one we all wear.
The communication between the dancers is palpable in the charged looks and changing configurations as the balance of power constantly shifts. Sexuality and aggression are opposite poles on a fluid continuum of movement, intimately connected. Embedded in the choreography is a narrative of four men living in complete harmony with nature, hunting, drinking, hugging trees and watching porn, whose idyll is disrupted by the arrival of Alice.
Masks are removed, set down, taken up again and removed once more as layer upon layer of myth is exposed and exorcized, with the silent deer as witness. Opening question after question into a black abyss of query and endless inquiry, the search for a new definition of manhood is permeated by a sense of loss. 4 Men, Alice, Bach and the Deer is a fast-paced, funny and emotionally eviscerating look at the contemporary condition of that cultural construct called "man".
Image credit: Matthias Krotziger
4 Men, Alice, Bach and the Deer
Choreography: Yossi Berg and Oded Graf
Dancer/creators: Yossi Berg, Oded Graf, Hillel Kogan, Irad Matzliah
Co-production: The Lab, Jerusalem, SemperOper Ballet Dresden, Lipsiusbau Museum of Modern Art, Dresden
Performances:
October 14 – 15 at 21:00
The Lab, 28 Derech Hevron, Jerusalem
Tickets: 02-6292000
October 16 at 22:00, October 17 at 21:00
Inbal Theatre, Suzanne Dellal Centre
5 Yehieli St, Neve Tzedek, Tel Aviv
Tickets: 03-5105656