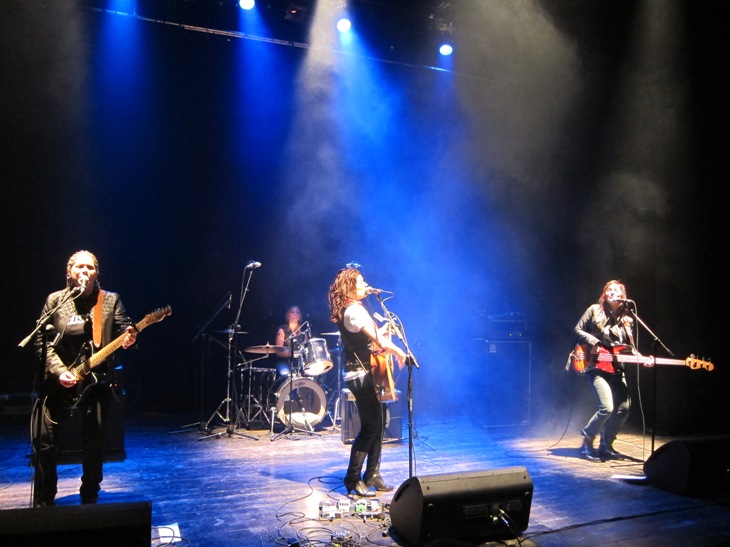 "I'm in the Holyland ladies," Kristen Henderson called out to her fellow band members onstage at Beit Mazya in Jerusalem. Antigone Rising, an all-female rock band toured in Israel from February 21 – 23, 2012 as Art Envoys, an initiative sponsored by the U.S. State Department. Antigone Rising – sisters Kristen Henderson (bass) and Cathy Hendreson (lead guitar), along with Nini Camps (lead singer) and Dena Tauriello (drums) – has toured with The Rolling Stones, Aerosmith, The Allman Brothers Band, Lucinda Williams and The Bangles among many others. They have a terrific new album just out, 23Red; hearing them perform the songs live in Jerusalem was an exhilarating and moving experience.
The band's whirlwind tour included a concert for Bedouin and Jewish high school students in Beer Sheva, workshops for kids at Beit Issie Shapiro conducted by drummer (and certified therapist) Dena, concerts in Jerusalem, Tel Aviv and Kadima Zoran, a concert for Jewish and Arab students in Jaffa as well as concerts and workshops in the West Bank.
Opening the concert at Beit Mazya was Tarantina, an all-female Jerusalem indie band that performs original material in Hebrew. Eti Bibi – guitar and vocals, Din Aharony – bass and vocals, Sigal Nahum – lead guitar and vocals, and Noa Segal got the evening going in a good direction with songs like Asurim, and Ani Afa.
"Well I've been mixing hope and doubt/I've been changing and I don't know how," hearing Antigone Rising felt like home to me from the first song they sang: "Everywhere is Home." I love all kinds of music, but these are the sounds I grew up on, rock with a strong bluesy current running through it, and Antigone Rising knows how to deliver.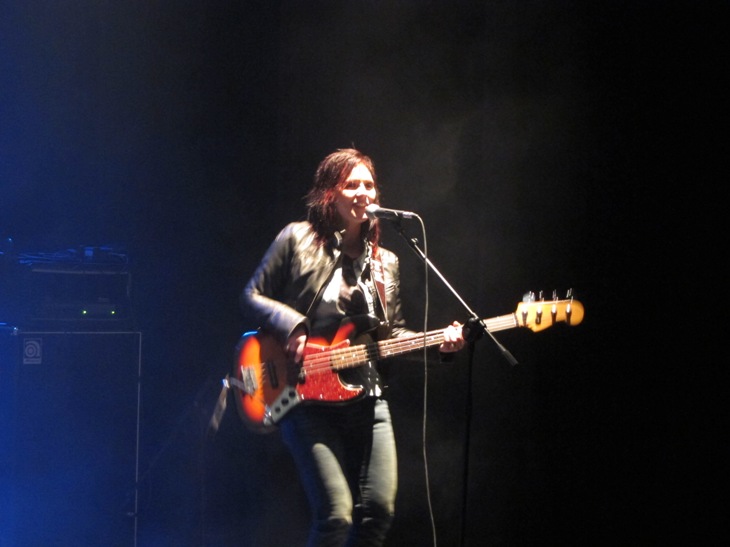 Founding member Kristen Henderson said that they chose the name while in college, after reading Sophocles' Antigone, "We were inspired by her actions…she was the first woman in recorded history to stand up and be strong and say: I'm not taking any crap." It was a hard-rocking set with some great blues guitar and lots of energy, with the audience joining in for a chorus or two. Noting that female rock bands are still something of a rare breed, Kristen recalled their recent tour with The Bangles, saying, "They thought they were blazing the trail and that there would be more female bands by now…I'm not sure what's happening on planet Earth."
Antigone Rising are inspiring in their music and they way they walk the walk and show it can all be done – raising children, writing music, performing and touring. They closed the show with a beautiful song "Borrowed Time" that Nini said is about the legacy we leave – "What do we leave for our children, what you take from your ancestors," and Kristen added, "We're all just here for a little bit of time."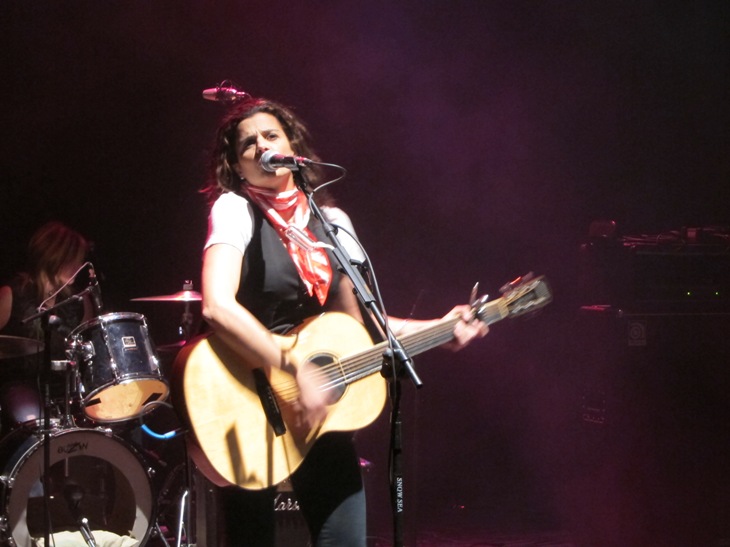 After the concert, I joined the throng of people crowding the band and talked to Nini about the band's tour in Israel. What did they think about coming to Israel?
"My first thought was – it will never happen. There's too much politics, too many moving parts to make it happen," Nini replied, "Then we started getting more information and more people started getting involved and it seemed like there was more interest, as opposed to just an idea, and we took a moment, we got together and we said: Look, how do you feel about this?
I have a son at home and Kristen has a boy and a girl, two little babies and I thought is this good? and that was honest …but the more we thought about it, the more we realized this is the opportunity of a lifetime. You know the climate in our world is very unstable, but you know, there's areas where there's a wealth of history, culture and life that you just gotta go, you gotta take a chance, and this is one of those places. It didn't take us very long. Within 5 or 10 minutes we were saying – There's no way we won't do this."
Although this was only the second day of the band's visit, they had already had an opportunity to experience the diversity of Israel's cultural mix. Nini said, "This morning we played at a community center with a mixed group of kids, brought from different areas. There was a young woman who was covered completely next to a girl that looked very western. It's such a cultural blend within a small area that it's ecstatic, it's really overwhelming. I'm meeting people, I'm talking to people… there's so much that separates us, and yet there's really nothing that separates us. We're the same."
Follow Antigone Rising on their website, and on their facebook page.