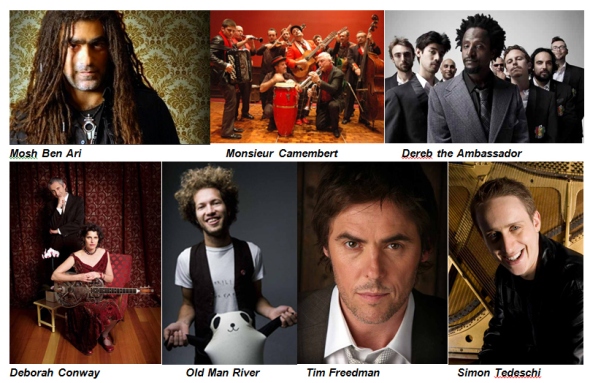 SHIR MADNESS is coming to Sydney on Sunday, March 25, 2012 with over 40 bands on five stages, with Israel's Mosh Ben Ari heading to Australia to perform in the festival. Now in its second edition, SHIR MADNESS, the Annual Sydney Jewish Music Festival will take place at the Bondi Pavilion from 11:00 – 22:00.
In his music, Mosh Ben Ari expresses the diversity of the Israeli music scene. Coming from a Yemenite and Iraqi Jewish background, his music originated in traditional liturgical and ethnic chants, developing and opening up to embrace a multicultural abundance of instruments and influences. In addition to the pop-rock music that surrounds us all, Mosh Ben Ari has travelled to India, Sahara and the Sahara to study music and plays several string instruments: Indian sarod, Persian tar, Turkish jumbush, Moroccan ginberi and bass, in addition to acoustic and classic guitar. Bringing his rock/reggae/world music groove to the festival, Mosh Ben Ari will perform on the Beautiful Noise stage at 21:00, as he sings: "life is beautiful…Elohim ehad…Jah is one."

SHIR MADNESS celebrates the diversity of Jewish music with a dizzying array of performers, featuring Australian rock singer-songwriter Deborah Conway, conscious-rock-pop-Indi-psychedelic sounds from Old Man River (mostly Ohad Rein and sometimes Danny Heifetz, Cameron Bruce, Tim Curnick, Evan Mannell, Rosie Henshaw, Xani Kolac and others), alternative rock from Tim Freedman,  and triple Aria-Award-winning gypsy jazz legends Monsieur Camembert. New to the festival this year are: Melbourne's wild gypsy pop Barons of Tang, Ethiopian-born now Sydney-based cult star Dereb the Ambassador, famous New York a capella choir The Western Wind, the London Klezmer Quartet and Australian classical music crossover star Simon Tedeschi. With outstanding local performers as well as guest artists from Israel, England, America, New Zealand, regional NSW and Victoria, the festival offers something for everyone, with Klezmer, choral, ladino, chassidic, Israeli, jazz, cabaret, folk, blues, pop, rock, funk, reggae and rap!
Check out the SHIR MADNESS® website and facebook page for more information and updates.
SHIR MADNESS® – Sydney Jewish Music Festival
Sunday 25 March 2012 – Bondi Pavilion, Queen Elizabeth Drive Bondi Beach
Tickets – available via all Ticketek outlets and online www.ticketek.com  or Call 132 849
Advance sales till March 20, 2012: Standard Ticket: $62 / concession $52
VIP Area Tickets (incl compl. food & drink): $102 Family Tickets: $164 (2 adults + 2 children <18)
Children under 6: free!  Note: $5.50 transaction fee per order. Save $ by buying multiple tickets in the one transaction. Tickets on the Day: Standard $70, concession $60, Family $180.
Visit www.shirmadness.com   for more info and advance booking