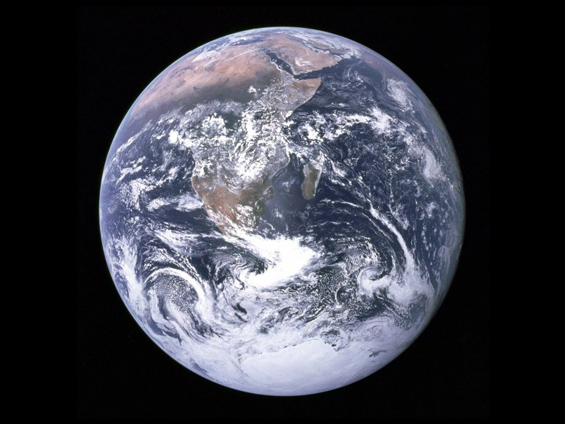 In Tel Aviv, when the lights go out, the party begins – and Earth Hour will be no different. Festivities planned for April 22, 2012 in Rabin Square include performances by Riff Cohen, dancers of the Vertigo Dance Company junior ensemble, Ivri Lider and TYP – all powered by renewable energy sources, an electric stage and bio-diesel generator.  Cities throughout Israel will be observing Earth Hour with fun and educational activities. So turn off your lights on April 22nd for the sake of the earth, but don't sit home alone in the dark – come out and celebrate!
Earth Hour began in Sydney, Australia in 2007, as a call to take a stand against climate change and has since spread its environmental message worldwide. The world observed Earth Hour on March 31, 2012 – but Israel will be sending its official environmental message out on Earth Day, April 22, 2012. The first Earth Day was observed in the U.S. in 1970. Gaylord Nelson, then a U.S. Senator from Wisconsin, inspired by the growing public involvement in the anti-war movement, he initiated a "national teach-in on the environment" with Denis Hayes as national coordinator; and 20 million Americans came out to demonstrate. Earth Day went global in 1990, uniting environmental activists worldwide in recognition of a common cause: a sustainable way of living on Earth.
What to expect on April 22nd in Israel?
Each of the 22 cities participating will be turning lights off for an hour, maintaining all the lights necessary for city safety. Here are the participating cities:
In Eilat, Earth Day events will take place at Park Hashachmon from 17:00, with recycling workshops, build your own lampshade for energy saving-bulbs, Zomba dance and learn how to create a sun-operated oven! Lights will be turned off at 20:20.

Holon will hold discussions on environmental awareness in the schools, and students will do their part on the beach – weeding out invasive plants to protect the natural habitat. A green design workshop will take place at the Puppet Theatre Center (13 David Remez Street, 03-6516848) at 17:00.
Much farther north, in Maalot – Tarshiha lights will be turned off at 20:10, and during the day Earth Day workshops will take place in all public schools from preschool to high school.
Lights will be turned off in Yeruham at 20:00; Givat Shmuel and Kiryat Yam at 20:10; Givatayim, Herzliya and Ashdod (where students will be walking to school rather than riding the bus) at 20:20; Hod Hasharon and Rosh HaAyin at 20:30. A joint Modi'in, Maccabim, Reut Zomba party will take place at Hayeridim Square near the mall, entrance is free, and lights off at 20:10.
In Haifa lights will be turned off at 20:10 in major city venues including the Bahai Temple, Electric Company Building and Refineries, with Earth Day events starting early in the morning as students walk to school, and take part in activities at the Madatech. Nature lovers unite for a walk on the beach at Park Hecht from 15:30 – 16:30.
Bat Yam, before turning off their lights at 20:30, will have workshops, theatre performances and storytelling at the Bat Yam Mall lower lever from 17:00 – 19:00.
In Dimona there will be lessons on saving energy and environmental issues in the schools throughout the day. Lights will be turned off at 20:20 and city students will hold a "Walk in the Dark" with glow in the dark bracelets (eco-friendly, I hope).
Yavneh will have an artistic take on Earth Day with recycling workshops for kids at 17:00, and at 19:00 an exhibition on "Wheels" and related issues at the Municipal Gallery (25 Duani Street) with Mayor Zvi Gur-Ari in attendance. There will be a gallery talk with curators Batsheva Granit and Roni Reuven, and a performance of the Conservatory Chorus before a collective count-down to lights out at 20:00.
Lights off in Acco at 20:10, and a performance of "Ecological Music" on instruments made of recycled materials and workshops at the Musical Garden at the Early childhood center in Hakerem Bet neighborhood and in the schools.
Students from Ben Gurion High School and Eliezer Ben Yehuda High School in Nes Ziona are creating large scale installations from recycled materials to promote awareness of recycling and encourage trash separation in Nes Ziona. Lights off at 20:30.
Natanya will celebrate Earth Day with a Solar Wi-Party from 19:30 at the Moadon Hanoar LeOmnuyot (9 Giborei Israel Street) – entrance free! Lights off at 20:20.
In environmentally aware Raanana more groups will join the city's recycling program – hurray! Lights off at 20:30.
Students will be walking to school in Tel Aviv-Yafo on Sunday as well, but the green action begins this weekend with free tours run by the Society for the Protection of Nature in Israel on Friday and Saturday (03-6388688). The main event will take place in Rabin Square from 20:00 on, with Green Globe awards for environmental work, performances by Riff Cohen, Ivri Lider, Vertigo Dance Company junior ensemble, and TYP. Green Wheels rule in the Square at 21:30 – bring on the bikes & roller blades facebook.com/bike.org (meet near the olive tree)!
A complete list of activities is available on the site in Hebrew: http://www.e-h.org.il/articles/event.pdf