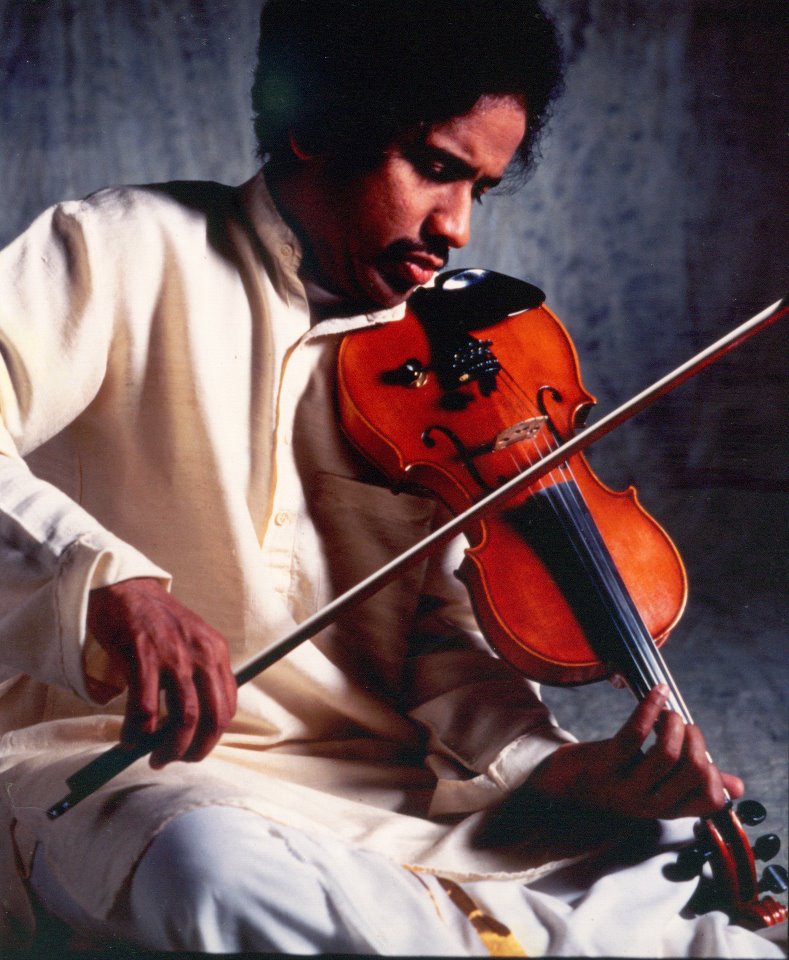 Dr. L. Subramaniam is a poet. He has created, through his violin, a language that transcends the boundaries of the spoken word. His fluency, eloquence, and humbleness set him apart from the disposition of the Western music I have encountered, bundling us up on a magic carpet ride straight into the heart of the rainbow that is, India.
The master and his ensemble sat poised, Dr. L. Subramaniam and Ambi Subramaniam on the violin, K. Sekar on tavil, B.K. Chandramouli on mridangam and G. Satya Sai on morsing, the latter two instruments variations of hand drums. The Dr. and his young violin protégé smiled unassumingly at each other, embraced their instruments, and began. The first few moments began as a ripple, like a leaf falling from a tree onto a silent lake, miniature, almost imperceptible movements oscillating in the vast body of water. It was slow. So slow it was nearly painful in its unfamiliarity. So slow, so cavernous, that it forced one into a reverie of emotional depth we seldom allow ourselves to encounter. I felt at once pacified and alert, as each member of the group merged seamlessly yet distinctly into a profusion of powerful, meditative sound.
The ensemble gave way to a delayed and erratic applause; so deep inside our reverie that the finality of music seemed out of place, jolting. Dr. L. Subramamiam leaned into the microphone and explained in a soft, even voice the complex simplicity of his art. The ancient kriti form of violin, which combines three sets of improvisation followed by composition, illustrates one's ability to find balance between the unencumbered and the structured. Without any indication of a shift, the musicians undulated through organized chaos and beautiful angst, sweeping us along with them as if we were all mere grains of sand in the endless desert contained by their music.
The ensemble's extraordinary ability to pick up on one another's hidden language, despite the individuality of the improvisational pieces, was masterful. Each instrument, influential in its own right, stood out separately yet remained synchronized, no one sound beating out the others. The effect was humbling.
Towards the end, each musician gave way to a solo performance. While all four artists deserve credit in their own right, the one who stood out most was the unpretentious young Subramaniam, a disciple of the seasoned master. Amongst musicians at least twenty years his senior, his solo was elegant and intense, his fingers blurry by the impressive rhythm in which he played. At the applause he smiled, putting his hand together in front of his face and bowing slightly. I was won over.