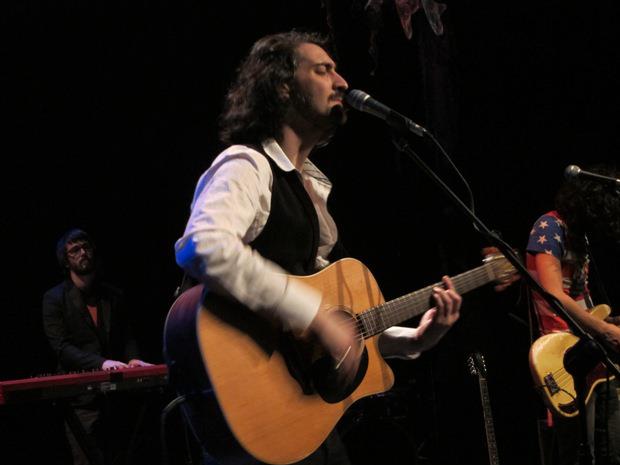 "I look like a happy person…it's misleading," smiled Ran Nir, who will be launching "Tales of a Drunken Man" – the debut album of his new project L.F.N.T. on May 30th at the Barby in Tel Aviv. Listening to the album, one is immediately struck by the strong rock feel, to go by the lyrics, one might expect Ran (who wrote all but one track) to be a rather morose character. Talking to Ran about his music and career, it was hard to reconcile the relaxed, open man sitting before me with the sense of malaise reflected in the songs. But the former bassist for Assaf Avidan and the Mojos is no stranger to the extremes of the rock and roll life, and has many a tale to tell.
Born in Jerusalem, he began playing guitar and age 15 and soon started a band. A week after finishing the army, the band re-grouped and they moved to Tel Aviv where musical careers are made. Just before they were about to record their first EP, Ran had an unpleasant surprise. "They threw me out of the band," he recalled, "It was the first serious crisis of my life. I was living with the drummer, and I had to move out. I lived with my cousin for two months. He worked in the day and I worked at night, so we lived in shifts, sharing a bed…my best friends, my band – everything disappeared at once, and I had just moved to a new city."
That crisis led Ran to adopt the elephant as a symbol of his conviction that "you need to rise above everything to continue, to go on living." A year later he had a stylized elephant tattooed on his arm. At the time, says Ran, "I didn't even think that someday there would be something called L.F.N.T. (which also represents the band's motto: live free not troubled), but it's there to remind me that whatever comes we shall overcome."
At the time, Ran had been playing bass for a couple of months with another musician, Assaf Avidan, and that band – Assaf Avidan and the Mojos soon began its rapid trajectory. Eventually disbanding in 2011, the band enjoyed quite a following both at home and abroad, spending about half their time on international tours. During his time with the Mojos, Ran continued writing songs, as things began to unravel from within, he found himself writing more. Looking back, Ran says, "This whole period feels so far away… but I am very emotional, I experience things very deeply… and it was all wrapped in the experience of drinking a lot, it takes you down that path…it wasn't 'oh my god you're an alcoholic' but 'oh my god you drink way too much' – maybe I ought to take a step back. I live at night, I worked in a bar before, and we'd drink a lot at performances and being on the road is hard: we're in this city – what is this place and when do we leave and knowing that the next day we have a 10 hour journey ahead of us." These songs of emotional extremes and disillusionment eventually became the core of "Tales of a Drunken Man."
Once the Mojos disbanded, Ran knew that he wanted to embark on a solo project with the songs. At first intended as a "low-fi homemade EP, Ran invited  his friend and fellow musician Yossi – Jospeh E Shine – Mizrahi (Acollective) to record guitars for one of the tracks. When Yossi suggested taking the songs into the studio, and came in as co-producer, the project expanded. Of L.F.N.T. Ran says, "I don't want people to just play the songs, I want artists. I always say I have a mega-group, not a super-group, because all of these musicians come from super-groups." L.F.N.T. has an impressive roster – Ran Nir & Joni Snow (formerly of the Mojos), Idan Rabinovici & Joseph E-Shine (Acollective) and Daniel Benhorin – each bringing a different musical background and feel – jazz, classical, rock and hip hop.
When asked whether in his move from the Mojos to fronting his own project, represents a choice to move in the direction of singer-songwriter, Ran is emphatic: "No. Now that I am a front man and writing the songs I chose not to call the band Ran Nir – I'm not in that place. I want that band thing and the influences of the musicians. I'm really old fashioned and rock and roll for me is a life style and it's very romantic, there's something transcendent about it. Dylan is Dylan, but how cool was it when Dylan played with The Band? Young is Young but with Crazy Horse it's all the way, Hendrix and the Experience….there are certain structures that attract me, like the Doors even though they are very much Jim Morrison, it's the Doors and there it's even more extreme because he wrote all the words but not the music and I write both, but I wanted something like that – it's mine but … I wrote the songs but I like to let them move on and let things happen. I like it. I feel that my music is shaped by the band; I think they don't understand the extent of their influence. When I write drums I think Yoni, I know ahead of time how I want it to be. You think about the people who will be playing with you, and sometimes when I write I don't write in the drums because I know I'll be playing with Yoni and he'll bring the vibe, the groove."
In addition to writing songs (at least one new song will premiere at the Barby) and recording "Tales of A Drunken Man," Ran Nir has also co-produced Umlala's debut album StandGoShowShout, but his first love remains performing: "I really want to perform; I feel the most real onstage. People say 'it's not real, it's just a show' but for me it's the opposite – everything other than being onstage is a show, because you portray a certain persona in an interview like this, and a different persona with family, and a different persona with friends, and a different one when you are alone with yourself; but on stage I can be myself. That's the real thing. When I sing my own songs, that's the most Ran Nir you can get if you can handle it…. I feel like I'm writing songs differently now that I put myself at the front, I can put myself out there and take it even farther."
L.F.N.T. will launch "Tales of a Drunken Man" at the Barby on May 30, 2012 at 22:00. Tickets can be ordered at https://www.tixwise.co.il/he/lfnt. Link to L.F.N.T. bandcamp here, and L.F.N.T. facebook page here.