Drawing on the Margins, newly opened at the Israel Museum showcases the 45 year long career of Joshua Neustein. Born in Poland, he lived for many years in New York prior to immigrating to Israel in 1964. (In 1979 he again took up residency in the US.)
As a result of living and studying in New York, Neustein was familiar with avant garde trends which he and other Israeli artists who had lived and worked in the States for longer or shorter periods brought to Israel in the 1960s: in particular New York minimalism and  conceptual practices. Neustein appears to have been personally influenced by the work of the American artist Sol LeWitt that featured geometric structures, simple constructions, monochromatic colors and wall drawings, all characteristic – as one notes here – of Neustein's past and present work.
The earliest drawings in this exhibition which is curated by Meira Perry-Lehmann, do refer to Neustein's years as a purely conceptual artist, but there is little reference, except in the catalog texts, to the variety of media he experimented with. This show is all about drawing, but there is no doubt that Neustein's conceptual approach continues to illuminate all his work up to the present time.
His increasing fascination with paper has led him to redefine the parameters of drawing. Treated as a material rather than a support, he subjects it to intricate tearing, folding and cutting processes. The lines and shapes so produced have both a formal and an expressive character.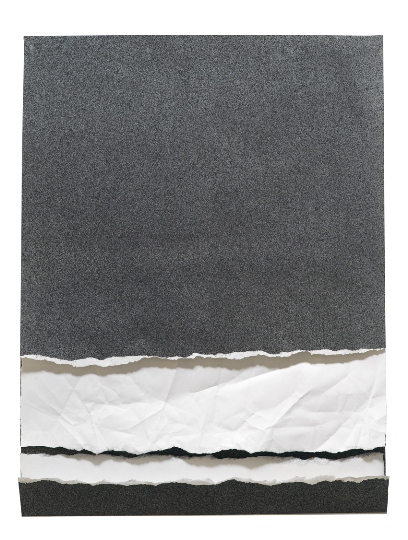 Dating from 1974, the year that the Israel Museum mounted the seminal exhibition Beyond Drawing. Included in it was the work titled Folded, Torn, Sprayed and Crumpled in which acrylic paint was sprayed on to torn and creased sheets of paper.  This was  followed over the decades  by many similar works involving paper, as well as other pieces that utilize unusual methods or materials; steel-brushed paper, for example, or his Carbon Copy Series (1970-1985) in which images are engraved directly into carbon papers and then affixed them to white paper, before folding into many-layered bundles.
Within the realm of drawing Neustein has found ways to comment on socio-political realities without resorting to texts or figurative images. One striking example is his Taped Map of Israel 2006, a contour map created from strips of masking tape loosely attached to the wall and floor, its unstable outline being a metaphor for the shifting nature of this country's borders.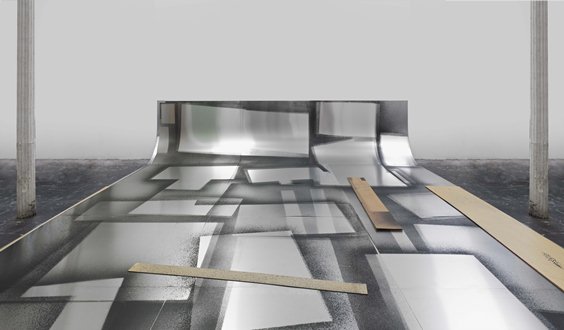 The showpiece of this exhibition is Aluminum Sweep, a huge installation made up of sheets of aluminum sprayed with acrylic and Plexiglas that roll down from wall to the floor. Here, in Neustein's hands, drawing takes on a monumental, three-dimensional aspect.
The exhibition will be open through October 27th 2012
Israel Museum, Jerusalem