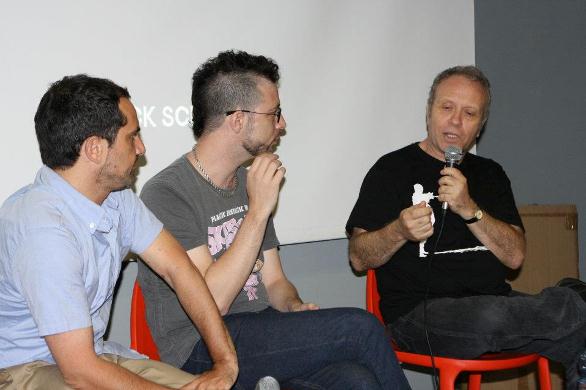 "My existence depends on being heard," Israeli music editor Yoav Kutner expressed the essential issue for musicians and other artists working in today's post-digital revolution era. Creators and users alike have almost unlimited access to everything from music, video and film to the means of production, distribution and critique. Anyone and everyone can make music; being heard and noticed is another matter entirely. What's a musician to do, and where is the music scene going?
"You & I Are Changing with the World" offered opinions and insights on the changing music scene from musician Gilad Kahana (The Giraffes, The Walking Man), music editor and presenter Yoav Kutner, and DJ/Producer Eyal Rob (Soulico). The lively, no-holds-barred conversation took place on Wednesday, June 13th in the context of the Print Screen Festival 2012 at the Holon Mediatheque. The talk was followed by a round of beer for all, and the screening of Press, Pause Play, a documentary directed by David Dworsky and Victor Köhler, exploring the digital era of art through interviews with creators such as Moby, film director Lena Dunham (Tiny Furniture), music producer Hank Shocklee (The Bomb Squad), and Napster co-founder Sean Parker.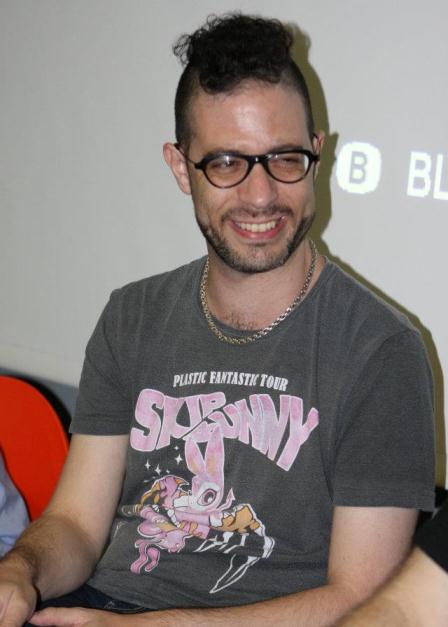 "Everything happens on facebook," said Kahana, "people are obsessed with finding the right tag words and how to get more 'likes'…what makes me sick is that musicians only talk about marketing."
"I disagree with you," said Kutner, in what was to become his trademark phrase for the evening, "the basic things have not changed. There are more technological tools available, but that only makes people more connected to the real thing: hearing musicians perform live."
While Kahana concurred that "performances are always the heart of the matter… a one-time event, a dialogue with the audience like the relationship between a man and a woman," the outspoken musician went on to add, "I don't like the begging that goes on [when musicians promote their concerts] – promising special guests and 'I'll pull a piano out of my ass, just come to my show.'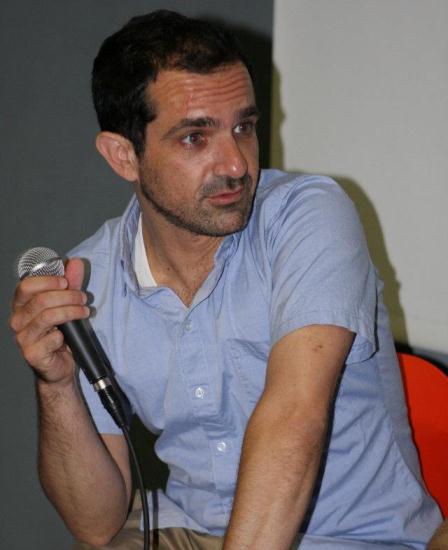 Recalling the halcyon days of desperately wanting to hear an album or song and saving up the money to buy a CD, Rob deplored today's "unbearable lightness of wanting a song and hearing it immediately.  You used to release a product and if someone wanted it, they had to buy it – that link has been broken. There is a point of no return that took place when we all stopped buying music."
"Why should you buy a song? Listen to a song," Kahana responded, noting that music is a thing of the spirit, rather than a commodity, "It should be free for everyone."
"I don't agree with you," said Kutner, presenting an alternative perspective on the creative vision of the musician, saying that "an album makes a statement that is different from a single song. If everything is free then people will only download single songs."
YouTube came on the scene in 2005, about the same time as Facebook began its heady trajectory, with the same enormous impact, as Kahana noted, "YouTube demands a clip." As any YouTube user knows, there are few things quite as disappointing as encountering a YouTube version of a favorite song with a lame video, or worse, no video, just a static photo.  Kahana went on to say that he is not overly fond of watching clips that do not visually contribute to the song's message, adding, "Unless it has kusiyot." The term is the plural form of "kusit," Hebrew slang for "hot woman" derived from Arabic Kus (or koos) meaning "cunt."
Kutner challenged Kahana's use of the term with panache, saying, "Have you become just like everyone else?"
Kahana, not to be outdone, responded, "I've been just like everyone else since I was born."
The panel discussion was the perfect platform for presenting Kahana's clip to a new song, called "Dafni, Dafni," dedicated to Dafni Leef, one of the main leaders of last summer's protest movement in Israel. Kahana said that he felt the protest was a "benchmark in Israeli history"  and the song was inspired by the realization that "summer has begun and nothing is happening." The accompanying clip is very digitally au courant, with appealing stop motion animation filmed entirely with iPhones.

The digital music scene is replete with contradictions. The ease of producing music and the new independence from record labels empowers musicians, and makes entering the music industry in some way accessible to all; yet the chances of 'making it' and earning a living as a musician appear more tenuous than ever.  The proliferation of free music on the internet would appear to be a great gift to music fans, but has its downside for listeners as well, who need to find a way to navigate through the random files of music to find something they like.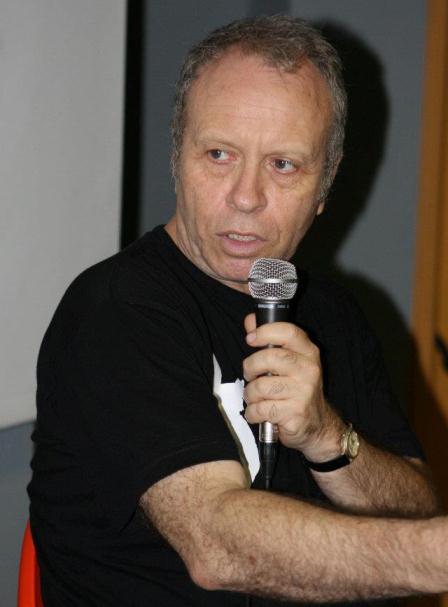 "I believe that we are in an interim stage," said Kutner, giving his own experience as a music editor and radio presenter as an example, "Three or four years ago I was in despair, thinking: who needs me? My historic role is obsolete. But people want someone to help them, someone whose taste they trust."
Curation, the process of selection and commentary, is crucial in this era of over-information, yet this issue as well is deeply tangled, if not ensnared, in the digital net where everyone comments on everything. What do you think?