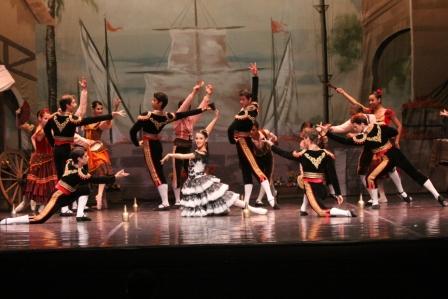 This August Israel will greet one of Brazil's most distinguished dance companies, CIA Brasileira De Ballet, who will be performing here for the first time as part of the Karmiel Dance Festival. Brasielera de Ballet will be hosting a 26-dancer ensemble that combines uniquely Brazilian elements of dance and music. Special performances will include selected segments from the beloved classics, including  "Don Quixote" with music by Minkus, and Alexander Glazunov's "Raymonda".
Brasielera de Ballet was founded in 1967 as a project dedicated towards promoting and developing young and talented dancers. One of their most significant objectives was to track talent among residents of low-income neighbourhoods, and offer scholarships for young dancers to establish themselves in the field. Today, it has become the second most influential company in Brazil in the field of classical ballet.
Artistic director Jorge Texeira founded the Brazilian Conservatory of Ballet in 2001, going on to win various awards for his distinct methods of teaching. His students have also received several international commemorations, among them the prestigious Lausanne Dance Company Forum in Monaco and the International Ballet Competition in New York.
Performances will take place throughout the country between August 3rd – 10th:
Friday 3/8 at 14:00 at the Israeli Opera – Tel Aviv Performing Arts Center
Saturday 4/8 Sherover Hall, Jerusalem Theatre
Monday 6/8 Beer Sheva Cultural Center
Tuesday 7/8 Performing Arts Center Karmiel
Wednesday 8/8 Performing Arts Center Karmiel
Thursday 9/8 Performing Arts Center Herzliya
Friday 10/8 Performing Arts Center Kiryat Motzkin