Hubbard Street Dance Chicago's new artistic director Glenn Edgerton generously found the time to talk with Midnight East's Ayelet Dekel on the eve of HSDC's opening performance at the Israeli Opera in Tel Aviv. Edgerton comes to Hubbard Street after an international career as dancer under the mentorship of Robert Joffrey at the Joffrey Ballet, and as dancer and later, artistic director of The Nederlands Dans Theater.
Ayelet Dekel: Hubbard Street is known for an eclectic program with diverse choreography. What are you looking for as an artistic director?
Glenn Edgerton: I'm always looking for choreography that's individual. That each one has his own unique style, stamp – whatever you want to call it. So that dance doesn't become homogenized, that it has completely new language, new choreography. That to me is fundamental from a choreographer. If it looks like they're influenced…influence is fine, but it needs to have its own voice that gives it validity.
 AD: When teaching new choreography to the company are you trying to create an exact replica of the piece?
GE: [Shakes head from side to side] It's not about replicating, it's about finding through the movement and the personalities of our dancers and what they bring to the work.
So if you see a piece from Batsheva and you see a piece from Hubbard Street Dance Chicago it could be vastly different. But they're doing exactly the same movements and its been given the seal of approval lets say from Ohad, but the dancers are different, the personalities are different, and it has a totally different feel to it. Every time you see it, it should feel different. It's like people, everybody's different and should be, and those personalities come through the work.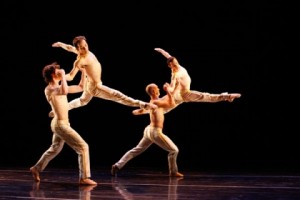 AD: HSDC is currently working with Ohad Naharin on Tabula Rasa. Naharin works with his dancers using Gaga, the movement language he developed, I imagine that HSDC prepares differently, does that pose any difficulty?
GE: You know, you work it out in the piece in the choreography. The company has experienced gaga. Of course they're not as completely versed as the Batsheva dancers.
Our day starts with a ballet class. But when you get to the actual work and the choreography that's were you get to the root and essence of the piece. You just keep working and delving into it and getting further and deeper into the work as you rehearse.
AD: How is the work transmitted to the dancers, how hands-on are you as an artistic director?
GE: Sometimes I am hands-on with the work, many of the pieces I'll be rehearsing or pieces from my past that I have known that I have set on the company. But it's always good to go to the source. Even though we have had experience with different choreographers and a long history with those choreographers. It's more about the experience for the dancers that they get that first hand information, or as close to first hand information as possible.
So for me, that's why we are bringing Tabula Rasa here that Ohad can rehearse it so that when we go back to Chicago we're ready with with his piece for our performances in December.
AD: Are there works from the past that you would like to bring to HSDC?
GE: Oh sure, there's so many pieces of Ohad that I would like to bring, there's a lot of Kylian's work that would sit very well with Hubbard Street we've had some Kylian,
Nacho Duato, Mats Ek, William Forsythe, the list goes on and on and on….I think those choreographers are phenomenal.
I also want to find a young choreographer, a new choreographer who hasn't been saturated into all the other companies around the world. I want to tap into young talent and give them opportunity, give them a chance to improve their skills so that they will be the next generation of Kylians and Naharins.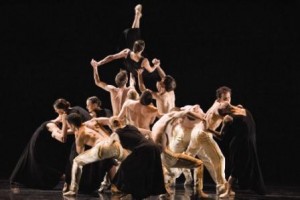 AD: Do you have anyone in mind yet?
GE: I'm working on it. We have a resident choreographer, Alejandro Ceruudo [whose "Off Screen" is part of HSDC's program in Israel] who's important to the company  He's been doing work now for a number of years, he's created three pieces for the company. He's going to be doing another one soon for the main company and working on one for the second company. He's someone we've been able to grow from within. He still dances in the company. I want to find others as well.
AD: Will you have a chance to see Israeli choreographers.
GE: I'm hoping to. You have an extended festival so I have to search out our times and how I can see them.
AD: In terms of the International dance scene are we entering an era of multicultural fusion, or can you detect different cultural tendencies?
GE: I can say, arriving here and feeling the culture of the people perhaps is an example of Israeli dance. You see the people very strong, very passionate…living life to its fullest. An obvious passion for life that I feel just in being here the last couple of days and that I think I think is an obvious influence in the dance that I've seen from Israel.  Whereas the dance in America – there is a general sense in some instances… a conservatism. I'd like to find a way that we can open those barriers within my own country.
It's not even so much the dance it's what the public are looking for, it's the public that are designating what they're seeing.
AD: How do you deal with that?
GE: You just forge ahead and you have to…that's why this company is an eclectic company. There's something in the program that hopefully will resonate with everybody in the audience. If the first piece doesn't speak to them, then perhaps the second piece will, and if not the second then the third or fourth. You should have diverse programming that will speak to everyone in the audience. You have to have something light, at the same time something with some weight, some passion and everything in between. That way you can present something that's a little more avant-garde, a bit more pushing the boundaries.
AD: Your dance background at The Joffrey Ballet was classical…
GE: Joffrey is known now to be a classical company and yes, it was a classical company but if you look back in the time that I was dancing there Robert Joffrey presented Twyla Tharp for the first time, we presented William Forsythe before he was famous. We presented a host of choreographers that were unknown before they became famous. Yes we did full length ballets, Romeo and Juliet, the Ashton repertoire…That's my background. We did La Fille Mal Garde (Sir Frederick Ashton), but also Twyla Tharp and everything between that as well. Since moving to Chicago it's become expected to be a more classical company. Then we can be more innovative and alternative.
The intent that Robert Joffrey put into the Joffrey is what I take with me more so than the specific styles of dance, in terms of cultivating new work, new choreographers, new innovations.
AD: Do you feel that the boundary between classical and contemporary dance is becoming more blurred?
 
GE: Kylian is the best example. He has a ballet aesthetic but goes beyond the typical movements of ballet. That kind of work resonates more of an emotional imagery. It becomes in my mind richer.
AD: The NDT had a company for older dancers, what is your opinion on that?
GE: Fantastic idea – no reason a dancer should stop at 40. Many dancers have a lot to offer, and experience that they could bring to a performance. I would love to come to that point where we would have dancers who wanted to do other type of work than the usual heavy physical dance. Dancers we can't bear to have them leave the company. And start something from that, more in an obvious transitional type rather than copying a format. It would happen holistically and naturally.
AD: As your dancers are currently learning Naharin's choreography, what do you think of a joint project involving HSDC dancers and Batsheva dancers?
GE: It would be a dream of mine to work on a joint project with Batsheva.
Hubbard Street Dance Chicago Performances:
Israeli Opera
19 Shaul Hamelech St, Tel Aviv
www.israel-opera.co.il
Gnawa, Off Screen, SlipStream
October 28, 29 & 31 at 21:00, October 30th at 13:00
Tickets: 03-6927777
Jerusalem Theatre, Sherover Auditorium
20 Marcus Street, Jerusalem
www.jerusalem-theatre.co.il
Bitter Suite, Gnawa, Off Screen
November 2 & 3 at 20:30
Tickets: 02-5605757
Haifa Auditorium
138 HaNassi Avenue, Haifa
Bitter Suite, Gnawa, Off Screen
November 4 & 5 at 20:30
Tickets: 04-835-3555
Image credit: Karen Knauer