Hebrew is not the language of rock and roll, but there we were: I Got the Hotties – a four person rock band that sings in Hebrew, a digital recorder, me, the Mediterranean sun and the noise of a crowded café in Tel Aviv. Something about speaking at full volume creates a no BS zone for this conversation: if you're talking that loud, you may as well say what you think.  Which goes a long way towards saying what I think about this band: their music is raw and exposed, fragile intimate moments and feelings ripped out of the fabric of everyday life, something very tender and resilient hurtling through the streets, intelligent, honest, funny, open, dirty, ugly, awkward, beautiful, they make no allowances and they don't let anyone get away with anything, not even the interviewer.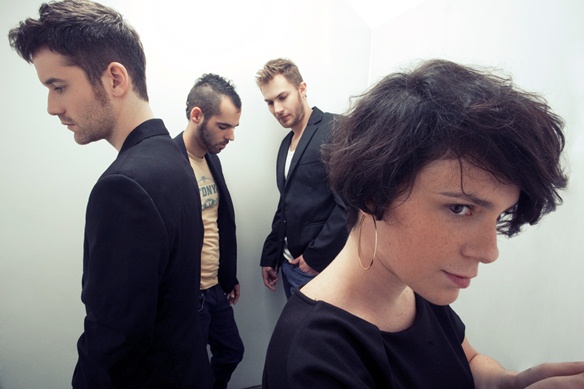 I Got The Hotties have just released their eponymous second album, I Got The Hotties #2. The very hot album launch will take place at the Barby Club in Tel Aviv on Saturday, June 23, 2012.
Aya Zahavi Feiglin (vocals, guitar), Gilad Meir (guitar, vocals), Nimrod Lavid (bass, vocals), and Hod Sarid (drums) studied together at the Rimon School of Jazz and Contemporary Music, getting together as a band to perform in a school competition in 2007, where they won first place. Aya had a brief but memorable stint on "Kochav Nolad" (Israel's version of American Idol) that year, and they released their first album I Got The Hotties in 2010.
The band's name is much cooler in Hebrew, which was the language in which this interview took place, with the band's casual permission to translate, subvert and invent at will.
Rock bands that sing in Hebrew are rare, as are bands fronted by a woman; the combination makes for a great band, and a pretty good conversation starter.
Aya: "We live here in Israel and make music, and our music is directed toward people who live here. I speak Hebrew, I don't know how to write in English, if English were my mother tongue, then maybe things would be different but that's not the situation  …there aren't many young rock bands that play rock and roll in in Hebrew that communicates to a local audience, and we deserve to have it [rock in Hebrew]."
Gilad: "It's not something we decided, that we would be a band that writes in either Hebrew or English, Aya writes lots of texts in everyday slang, it's Israeli."
Hod: "There are many songwriters who write in English and it's something amazing, it has an organic quality, but some bands seem to hide behind the English, because Hebrew is somehow more exposed, it's very direct, because it's our native language and because it is Hebrew. There is something in this language that is very direct especially for someone who writes rock and roll, which is in its origin American or British. It's easy to hide [writing in English] or not so much to hide as to be in a safe place. I'm glad that we're coming from a different place."
Aya: "You need to live on the street that speaks the language, for me, what Hod said connects to the question of our being a band fronted by a woman. The choice to make rock and roll in Hebrew is clear to all of us. Hebrew is not a language of rock and roll, and a frontman who is a woman is also not the most likely configuration – that's what we're about,  that search, the desire to play with limits, to give something more, something different, to move… to be in a place that is not necessarily comfortable or expected."
Hod: "None of us are champions of the Hebrew language, but when I go to a concert and the band sings 'I love you so much' and then say to the audience in Hebrew 'ma koreh hevreh, nehenim?' [what's happening guys, having fun?] there is a kind of dissonance – not in the songs or songwriting, but in their connection to the audience."
Gilad: "I don't agree."
Nimrod: "I have nothing against any musician from a country that is not an English speaking country who writes in English – its good for us, it opens us up to the world …but it has to be natural. If it doesn't come naturally, then you won't be able to make it through, not live and not on the album."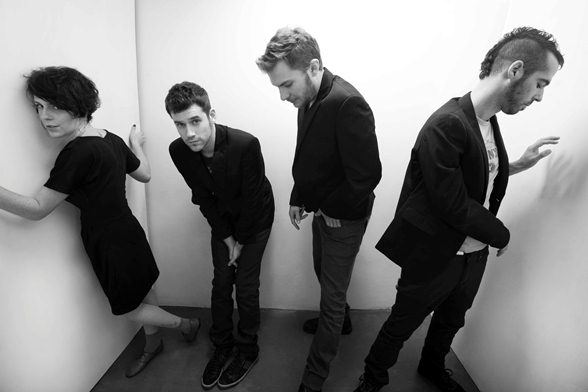 The dynamics of the conversation in the café seemed to reflect the dynamics of the band with lots of energy, and divergent opinions and moments of irreverent hilarity.
Aya: "Ultimately, in the everyday dynamics of the band, it's not a girl confronting three guys. We are four people."
Hod: "It's everyone against everyone."
Aya: "Right – we all hate one another…each one brings his or her individual thing to the band."
Gilad: "None of us thought – with a woman fronting – will I or won't I be in this band… it was a natural process that just flowed. With our second album, we're even more of a band, if I look at it from a musical perspective, there's less a sense of individuals playing together and more of all of us singing together. Aya's songs communicate something that we all could connect to, the energy of the songs. We all grew up on rock and roll, more than Aya, but something in the songs created a connection."
Ayelet: "When I first heard the album I felt…"
Nimrod: "That the songs speak to women."
Ayelet: "Not so much speak to women, as express a woman's consciousness."
Gilad: "Our audience tends to be very equal, women and men."
Nimrod: "It's funny because after all, you are a woman so it was easier for you to take it in your direction. Maybe someone else, a man or a teenage guy would listen to the same songs and you can't know how he would take them to his own direction."
Gilad: "The lyrics, because a woman says them, speak to women but the encounter with us, with this contrast …"
Nimrod: "It's less common, but it's just like male singers sing in male gender-marked language and women connect to it. The fact that she says 'ani yoda'at, ani ohevet' [I know, I love – in Hebrew, all verbs are marked by the gender of the speaker] it doesn't mean that only women can connect to it because of the feminine gender-marking of the language."
Aya: "The counter force that the guys bring into this story brings it to a kind of equilibrium. If the texts I write are very feminine then the music the guys bring is very masculine."
Hod: "I don't think that's it…in art or writing songs…I read recently that when you write a song you take the personal to a universal place, and when you write a story you take something universal and make it personal. It doesn't matter if it's a woman or man writing, it will connect to people because it contains something beyond Aya's personal experience. Without saying whether the song is good or bad, if it gets through to people then it is because there is something communicative about it. The songs have honesty and openness, and that moves us to create the arrangements."
Aya: "Take the TV series House – what connects me to House? I don't identify with him, but it moves me, it makes me laugh."
Nimrod: "Just like I watch Xena the Warrior Princess…what connects me to her?
After confirming that band member Nimrod watches Xena, Beauty and the Geek and other programs purely for feminist ideological reasons, the conversation moved on to music. As one might expect, the band members have somewhat different musical tastes and backgrounds. Asked what kind of music they like, Nimrod said he was into 90s grundge and metal which slowly made way for the English rock scene – Radiohead, Suede, Nick Cave, Stonehenge. Gilad and Hod grew up together, listening to classic rock of the 60s and 70s. All three guys had fun teasing Aya for her taste in music, which they described as "Madonna, Lady Gaga, next year's winner on American Idol and the jingle for 'Bisli' snack food."
Gilad's reminiscing over sharing albums with Hod, generated a discussion of the difference the internet has made in listening habits.
Gilad: "In the past few years I hardly ever listen to music anymore, but people give you videos of new songs and that is how I become acquainted with new music."
Nimrod: "Gili gets percentages from,the internet, he promotes them everywhere. Personally, I'm still in mourning for the old days. We have book week now [an annual event in Israel], I'd love to have something like that for music, with people wandering and browsing among the shelves…getting excited about the music itself."
With their new album, the band has found a way to enjoy the best of both worlds. Their 10×10 project releases the entire album on YouTube, one song at a time; each song is accompanied by a video of the band in a different setting, frozen in a pose that lasts throughout the entire song. In this way, the songs are out there and available to the public, with a visual that evokes associations yet is not too much of a distraction from the music.

How did their second album come together?
Aya: "We're a band that needs to be active, and we need to work. We toured with our first album for two years and yalla, OK, we get it… we booked a studio even before we had all the songs for the album."
Nimrod: "We've had a studio in Florentin for five years. Aya brought the songs, with more than one option…"
Gilad: "We see which songs we connect to…"
Hod: "We'd start to play something and see if it catches on…"
Gilad: "First we choose the songs, then we all work on the arrangements… there is a flow, one idea leads to another."
In keeping with their working band image, most of the songs on the new album have been tested on the road, in their live concerts. Listening to the songs over the past couple of weeks, they never fail to hit a nerve, make me glad I understand Hebrew and make me want to dance. Indulge in the I Got The Hotties website, bandcamp, twitter & facebook. And, dear reader, in case you are wondering: yes, they are hot. But don't take my word for it; check them out at the launch concert.