Jonathan Greenstein is in Israel to jazz up the scene with friends Ronen Shmueli (piano), Tal Ronen (bass) and Yonatan Rosen (drums) at Levontin 7 on Sunday, June 24, 2012. The NY based saxophonist will be performing songs from his album Thinking, as well as new material. Jonathan took a break from the frenetic pace of his visit home (he's performed at the Tel Aviv Museum, the Dancing Camel with Gilad Chatsav, and at Radio EPGB with Or Gurfinkel) to chat with Midnight East about the upcoming performance, where there will be at least one surprise guest, and with jazz on the agenda, as Jonathan said, "anything can happen."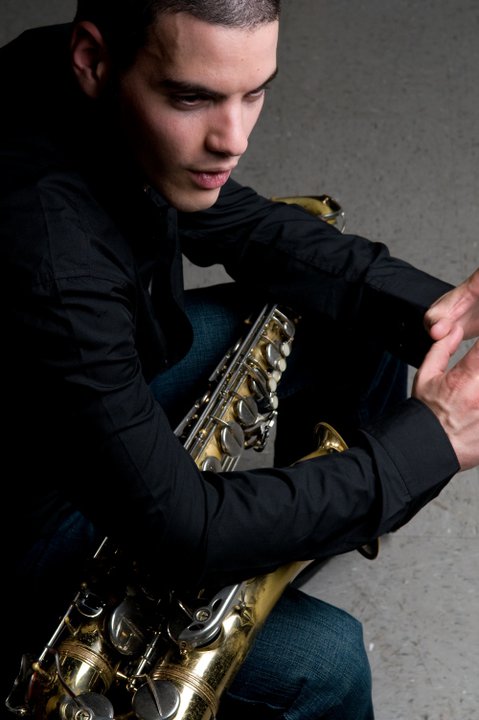 Thinking was recorded with Jonathan's NY ensemble – Ilan Bar-Lavi (Guitar), Victor Gould (Piano), Dan Carpel (Bass), and Jeff Fajardo (Drums) – all friends from Berklee School of Music. The friendships in Israeli ensemble that will play at Levontin go way back to high school, and will be a reunion of sorts as it's been a while since all four have performed together.
Asked to describe his sound in a single sentence, Jonathan says: "Contemporary jazz with catchy melodies." What does that really mean? The best way to find out is to come to the show at Levontin, but in the meantime, talking to Jonathan about his process of composing provided some insight into his music.
Jonathan: "It starts with a melody played on the piano. I drive my friends crazy because I don't write it down. If I can't remember the melody, then it must not be strong enough. I may write down a few words, describe the atmosphere of the song. I'll play for an hour or two until it stays in my head. I'll expand it, turn it around, play with it…until I break down and say ok, it's finished…or until it really is complete. There are some songs I was stuck with for so long…sometimes you don't reach a full stop, with a period at the end, sometimes you end up with a question mark.
I sing a lot. In the physical sense the voice is like the sax, it's almost the same action. Singing is the role of the sax in a jazz ensemble. We are the singers of the jazz world. We play the melody. I shout at the top of my lungs, you can't really say that I know how to sing. I like to keep the sense of song in my music. Sometimes jazz becomes so complex that you can't sing it anymore, with lots of information, lots of sounds. Singing helps me narrow it down.
The people I play with are in my head from the start, they are the first to hear the songs. I may come in with 8 bars I just wrote the day before. Sometimes I want something specific to happen, for example one of the new songs was written after I had a strange dream and woke up really angry. I'd been reading too many newspapers and was in a rage. And we [the ensemble] talk a lot too, politics etc. So that one started out as an angry song. It may change as it develops.
Putting the album together was a long and painstaking process, in which each song arrived at the final structure that Jonathan envisioned. "Performances," he said, "are much more organic. Sometimes we may take a song apart completely. From the moment we begin performing, it's a lot looser. It's a question of trust. If I trust the musicians, then as far as I'm concerned, anything can happen."
"Benacotish I" from the June 24th concert at Levontin 7: