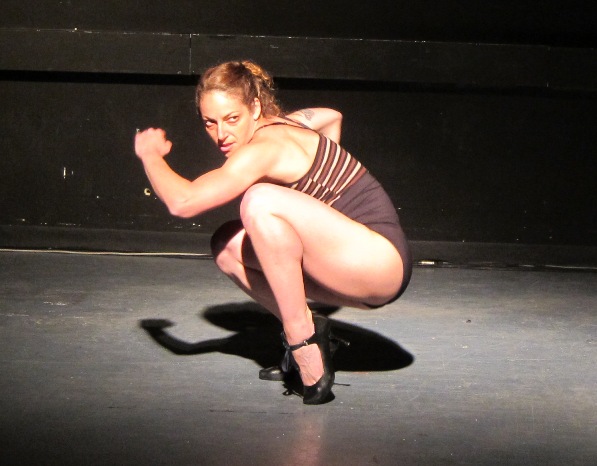 Dolos – a festival of dance, performance and visual theatre, will take place at Jaffa Port from June 27 – July 18, 2012. Initiated by Moshe Shechter and the Zik Group, with the support of the Jaffa Port Administration, the festival aims to create a platform for works that connect to contemporary dance yet are involved in exploring and experimenting with the limits and means of expression.
The complete list of events with dates & times is available in Hebrew (with lots of video clips), on the Dolos site: www.dolos.co.il. Tickets are 50 – 80 NIS, with a 10% discount for purchases of three +. To order, call: 03-5284763.
A taste of this visual/kinetic feast:
Experiencing sculpture as performance in Zik Group's Kokutzu is a moving and mesmerizing event; one of the most beautiful and unusual performances I have ever seen. Performances will take place on July 27, 29 & 30th at 21:00, and a free performance (registration required) at 23:00 on July 28th in the context of Layla Lavan, Tel Aviv White Night.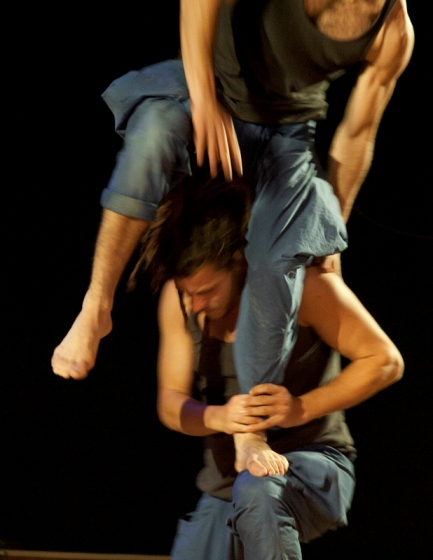 Liat Dror and Nir Ben Gal will premiere Up Chi Down Chi (if you know Hebrew, this is a cute play on words – "up chi" is the onomatopoeic sound that Hebrew speakers make when they sneeze) on July 6th & 7th. The Adama Dance Company was founded in Mitzpe Ramon by artistic directors Dror and Ben Gal, in their search for a way of creating, practicing and performing dance that connects to life and healing. In Adama one can see a movement language that reflects their alternative approach and way of life. "Up Chi Down Chi" marks Dror and Ben Gal's return to a collaborative creative process, after a long period during which each worked individually.

Arkadi Zaides' Quiet, created in response to the tensions and conflicts of this region, brings together four men from different cultural and performance backgrounds, reflecting the difficulties and the desire for communication. "The contact between the men is intense at times, tender at others, about to erupt into violence at other moments. Their movement often takes place at the edge of touch, the space between them replete with emotional tension as if what must be said is almost too much to bear…" (read the full review) Choreography and direction: Arkadi Zaides; artistic collaborator: Joanna Lesnierowska; cast: Muhammed Mugrabi, Rabie Khoury/Yuval Goldstein, Ofir Yudilevitch, Arkadi Zaides; music: Tom Tlalim; additional tracks by: Ziv Jacob, Domenico Ferrari, Ran Slavin; set: Klone; lighting: Firas Roby; costumes: Salim Schada; production: Hila Kaplan; co-produced by: Arts Station Foundation, Poznan, Poland. Performance: July 2nd at 21:00.

Ship of Fools, by Niv Sheinfeld and Oren Laor is a dance work that refers to the allegory of passengers on a ship without a pilot, people who have been set adrift by society, considered fools or madmen. Three characters, performed by dancers/creators Uri Shafir, Anat Grigorio, and Sascha Engel, each very different from one another, existing together in the same space – yet apart.  Music: Didi Erez, costumes: Inbal Lieblich, lighting design: Neta Koren. Performance: July 11th at 21:00.

Rotem Tashach's A Paved Life is a performance that I have yet to see, but based on previous experiences with Tashach's work, is one that certainly intrigues. Tashach describes the work thus: "In the piece five dancers talk about the physical, cultural and mental implications of living on a two dimensional surface. (read more on the facebook event page)" Merging the verbal, conceptual, visual and physical in an innovative, provocative and entertaining way, Tashach never fails to engage my interest. A bonus for English speakers – this performance will take place in English. Text and Choreography: Rotem Tashach in collaboration with the dancers; collaborating dancers: Sharon Backley, Daniel Gal, Omer Astrachan, Tsuf Itschaky, Olivia Court Mesa (and Karmit Burian); stills: Shimrit Avraham, Ran Shevi and Roy Herzlich; lighting: Amir Castro; academic advisor: Dr. Orly Shevi. Performance: July 13th at 22:00.

Sahar Azimi's Cell in a Human Scale is a visual dance work with a mission: to raise awareness of AIDS… Speaking to the senses and emotions it has the ability to go beyond statistics and logic to open minds and hearts. (read the full review) Co-creators and performers: Sahar Azimi and Tamara Erde; lighting design: Dani Fishof; original music and sound design: Didi Erez, Japan by CocoRosie, Kiss Kiss by Yoko Ono; art and costume design: Anna Waisman. Performance: July 18th at 21:00.