Cityism, a group exhibition, was due to open on June 28th as part of White Night (Layla Lavan), a happening instigated in 2003 by Tel Aviv Municipality to celebrate UNESCO's designation of the city with its profusion of International style buildings as a World Heritage site. But following the arrest of 80 people participating in a social protest demonstration, the opening was cancelled and the gallery closed for the night. This action was in line with a decision not to participate in this Municipality-sponsored event taken by many of the city's galleries, as well as other venues slated to host cultural events.
This gesture, coupled with the choice of subject – artists' reactions to life in the city – make this newly opened show even more relevant at this time. Featured in it are paintings, installations, photos and video pieces by five artists, all first 'discovered' – at least by this writer – when exhibiting in Fresh Paint, the annual Tel Aviv Art Fair for young talent. Participating too, is Team Etc., a group of architects who are also dedicated social activists.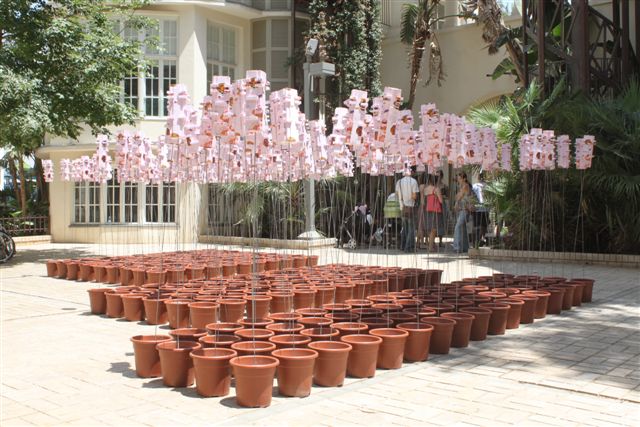 Most of the works are displayed on the second floor of the gallery where from the bay windows one can glimpse fragments of the city: a water-tower, a crane, the roofs of buildings and a partial view of the street – images that via some of the artworks are brought into the gallery.
In the patio directly below the building, Team Etc. has installed a field of artificial potted plants on metal sticks. Fashioned from the pink pages of a Chinese restaurant menu, their 'flowers' are miniature models of the Akirov Towers, one of Tel Aviv most expensive residences. Plants identical to these were carried through the streets of the city by Team Etc. during last summer's social protest, an expression of their disgust at such luxury at a time when young people cannot afford to buy or rent apartments in the city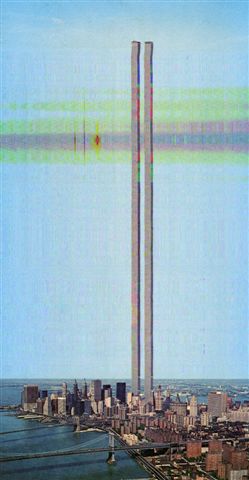 These paper models of a local skyscraper swaying outside in a light breeze project a sense of vulnerability – a vulnerability that is felt today concerning many landmark buildings in the light of the Twin Towers disaster. This hazardous possibility is also projected through Assaf Shaham's American Dream series where old postcards of US national monuments have been digitally transfigured to stretch skyward against a background of celestial blues. But, perceived through the eyes of an Israeli, Shaham's monumental forms – more impressive and more formidable than in reality- may rather symbolize the power and unabated lure of the 'Golden Medina.'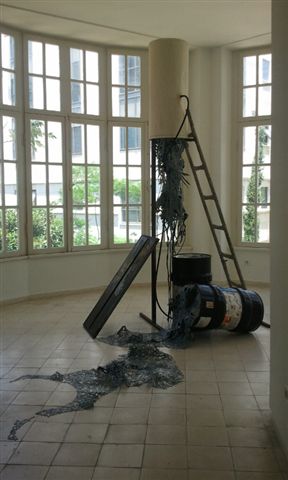 Sub-Land, a mixed-media assemblage by Nivi Alroy also carries a social message. In general, this artist's ideas are drawn from phenomena in Science or Nature. On this occasion algae are her inspiration, photosynthetic organisms that require the light of the sun for survival. Using a knife, Alroy has cut out strands of green PVC to resemble these plants. They stream from out from scrap objects: a defunct water heater and barrels that once contained toxic waste. On the floor these lace-like forms become a road map of Tel Aviv connecting the city with its periphery via a path marked by rubbish dumps and zones of pollution.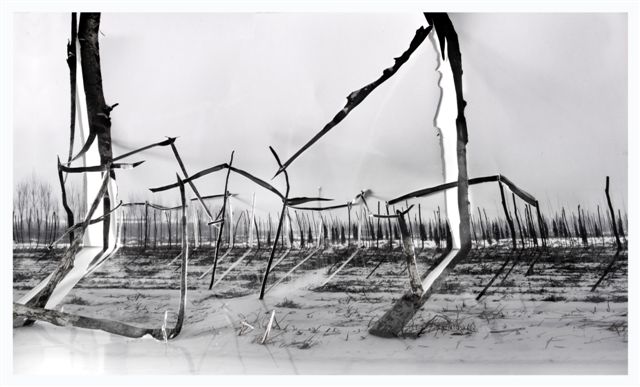 Landscapes of the imagination, far removed from the reality of living and working in Tel Aviv, are the theme of Irit Tamari's prints which derive originally from hundreds of snapshots taken while   living in China. Back in Israel, she builds two-dimensional scenes from cut and folded photographs, finally re-photographing the new scenes that she creates. Of the two prints on view here, one brings together a miscellany of pictorial fragments to suggest the ruins of an old house such as might be found in any big city. The other, Snow Forest (illustrated above) presents a terrain quite alien to the Israeli eye. But perhaps for the artist it serves as a nostalgic reminder of China and its paddy fields.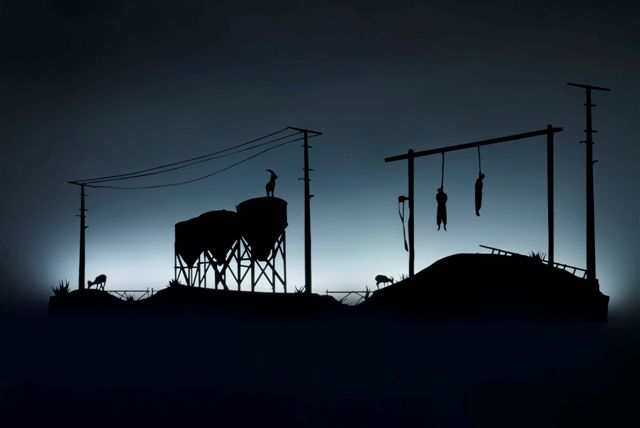 Nir Adoni 'sculpts' with thin sheets of laser- cut metal to produce  intriguing, eerily-lit panoramas that combine objects associated with building construction with elements representing Nature. On display are two quite similar vistas. One features wild goats on a hilly terrain dotted sparsely with plants. The other, devoid of animals, depicts earth moving equipment and cranes in silhouette.  However, the inclusion of human figures hanging from a cross-bar introduces an incongruous and unexplainable feature into these otherwise captivating scenarios.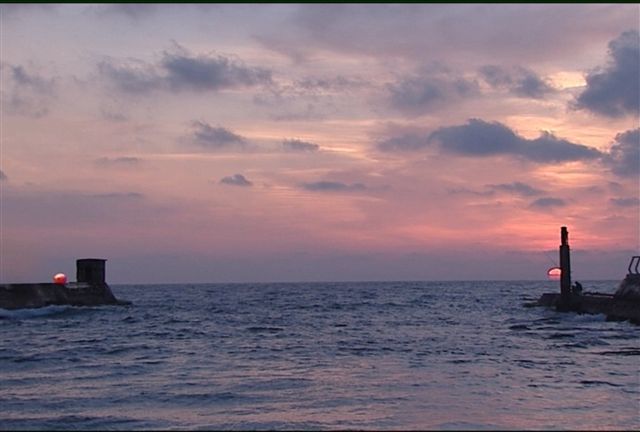 Offering a romantic view of the city is Sunset Demo/Sonya, a video produced by Tom Pnini, an Israeli living and working in New York. For his part-realistic, part-staged scenes filmed at the waterside in Jaffa, he built an artificial sun: a flaming ball that passes behind the rooftops of Tel Aviv to find a home, at sunset and sunrise, on the far horizon out at sea. In one clip (illustrated above), the real sun and its fabricated image appear simultaneously; the result is a powerful, if momentary, suspension of belief.
This exhibition is as cool and refreshing as summer wine. Its curators Adi Artsi and Shani Werner are specially to be commended for seeking out artists who are endeavoring, each in their own way, to extend the boundaries of the medium in which they work.
Open till August. Chelouche Gallery for Contemporary Art, 7 Mazeh St., Tel Aviv.