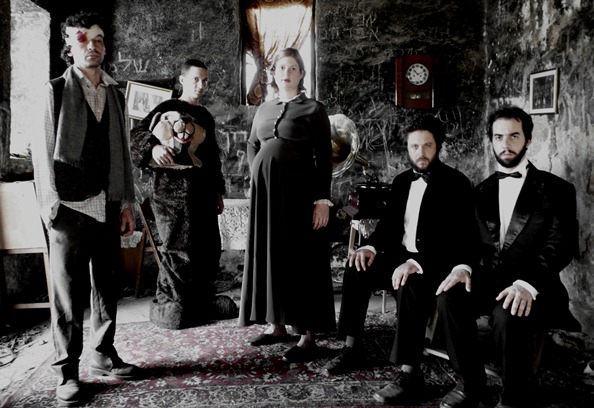 Habiluim are back! The band that began as a cult-phenomenon, known to music connoisseurs for their biting cultural critique and seductive Klezmer-dance sound, went on to release an immensely popular second album "Breakdown and Bereavement" in 2007 and stopped performing in 2008, have announced their reunion with a series of concerts leading to the release of their 3rd album sometime in Spring 2013.
Founded in 1996 by friends Yammi Visler and Noam Inbar, their first album "Habiluim" came out in 2003, and was produced by Berry Sakharof. There are several gems in this album, including "When Napoleon Will Conquer Acco" and "It's Wonderful Here," which earned the band a dedicated following early on for introducing no-holds-barred intelligent social criticism with humor and a subversive cachet. Their second album "Bereavement and Breakdown" (named for the 1920 novel by Joseph Haim Brenner), produced by Tamir Muskat, brought the band to the forefront of the contemporary Israeli music scene.
Habiluim band members have come and gone over the years, past members include: Shlomi "Kruvi" Lavi, Maya Dunitz, Shahar Haziza, Shiko Sinai, and in their last years of performing the gifted Talmudi brothers – Eyal and Assaf. The current incarnation of Habiluim includes founding members Yammi Visler and Noam Inbar, Maya Dunitz, Gershon Waiserfirer and Shiko Sinai.
Habiluim made a statement to the press: "Like any self-respecting guerilla force, Habiluim have spent the past 5 years underground, licking their wounds and collecting intelligence, power and weapons. Now – when it appears that reality has reached the level of grotesque and pessimism depicted in the band's songs – we feel ready to emerge from hiding for another attack, in the hope that we will return with great plunder and a few new scars as a memento."
In the summer of 2011, as the tent city spread its social protest from Rothschild Boulevard to the collective Israeli consciousness, Habiluim made a spontaneous appearance in solidarity and support, revealing some new songs – intimations of things to come. In this clip, Habiluim sing "It's Wonderful Here" from their first album:

Yes, you heard it here: Habiluim are officially back!!! Performance dates:
InDNegev 2012 October 18 – 20
Friday, October 26, 2012 – The Barby Club, Tel Aviv
Thursday, November 1, 2012 – The Beat Club, Haifa
Wednesday, November 7, 2012 – Hahalutz 33, Beer Sheva
Thursday, November 8, 2012 – The Yellow Submarine, Jerusalem
While you're waiting, check out the Habiluim facebook page.