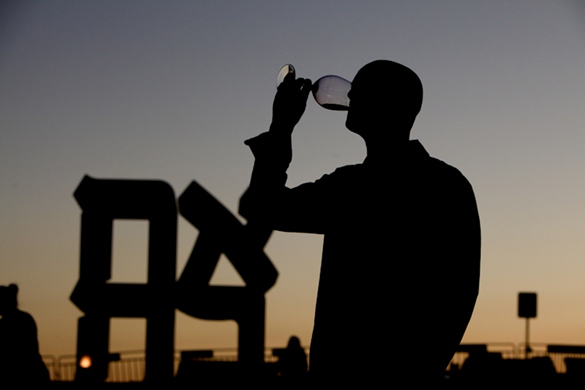 The evening air is soft and breezy, acoustic and jazz bands lend their cool sounds throughout the garden, and, most importantly, wine is generously flowing in fine spirit from bottle to glass all around – what could be a more fitting conclusion to a hot summer day in Jerusalem?
The annual Jerusalem Wine Festival, held last week from Monday, July 30 to Thursday, August 2, proved, for the ninth time, to be a huge success.  The event brought thousands of Israelis and tourists alike to the Israel Museum's tranquil Sculpture Garden to taste wines from over two dozen wineries all throughout Israel.  This year's wine talent included Golan Heights, Tishbi, Binyamina, Dalton, Ella Valley, Shilo, Amphora, Galil Mountains, Tulip, Odem Mountain, Boutique Hagalil, Chillag, Barkan, and many more.
Knowing quite little about wine, I wandered from station to station, tasting both red wines and white wines, dry and sweet, expensive and cheap, trying my best to follow along as the representatives from the wineries would explain to me the wine's composition: "This one is 40% Merlot, 40% Cabernet Sauvignon, and 20%…."  Besides the wine, I tasted a wine jelly (recommended to use for marinades) from Zichron Yaakov that was delightfully delicious, as well as smooth, luscious olive oils and fresh sun dried tomatoes from Ramat Hagolan and all throughout Israel.  The other tasty treats and snacks at the festival (including chocolates from France and assorted cheeses) nicely contributed to the enlightened and worldly wine culture the Festival is trying to promote – a culture which in France and Italy, for example, is always accompanied by food.
Later in the evening, feeling a bit exhausted from wine – I did not use the spit buckets like some of the guests at the Festival did – I discovered Busters Apple Cider.  The Neilson family, who immigrated to Israel from California nine years ago, started making cider in Mevaseret Zion four years ago.  The son, serving the cider at the festival alongside his father, remarked, "It took us three years to get the right cider recipe.  It took a lot of patience and good spirit – you end up making a lot of cider, waiting a long time, and dumping a lot out."  It seems to have paid off, however, because both ciders that the father-son team make, one dry and one sweet, are surprisingly exquisite, with crisp and full flavors, not to mention unique to the Israeli palate, providing the country with an alternative alcoholic beverage.  The son called the sweet, non-traditional cider, "Israeli cider," because Israelis like everything sweet, a theme I encountered more than once throughout the night as I spoke with various wineries: "Israelis don't like wine.  So we made this one sweet," said one representative from the Arza Winery, one of Israel's oldest wineries, producing wines since 1847 in the Old City in Jerusalem.
There isn't such a thriving wine culture in Israel, but Israel's wine industry is nevertheless growing.  The Jerusalem Wine Festival is helping to alleviate the disparity between the two and teach and expose Israelis to the culture surrounding wine.  Whether succeeding in bringing a more sophisticated wine culture to Israel or not remains to be seen – only time will tell.  However, the Jerusalem Wine Festival most certainly provides Israel with an elegant, tasteful wine event, if only for an evening…