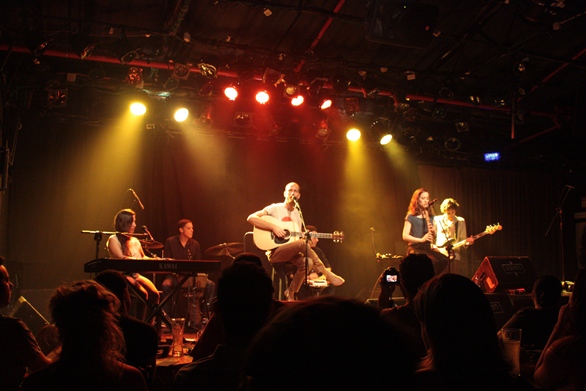 Three young Israelis, Eitan, Moran, and Tali, met each other in the army about 9 years ago.  Little did they know, however, that in the years to come, these three talented musicians would reunite at the Rimon School of Jazz and Contemporary Music in Ramat Hasharon and eventually form into the sensational band they are today: Shalna Alecha, an eclectic Israeli folk band with Oriental influences that resonate with the variety of instruments used, bringing a special sound to the Israeli music scene.
Gathered in a small concert venue at Tel Aviv's Tmuna Theater, a crowd of about 60 people, young and old, waited for the night's performance as beers and french fries scattered about the tables.  Finally, the anxiously awaited Shalna Alecha greeted the clapping and cheering audience with a sunny, spirited song, complete with "badadabadas" and other funky mouth-made noises that add not only to the band's Oriental pop flavor, but also to their commitment to music that has a humorous flare.  Other amusing aspects of the evening included comic song endings, such as a fade-out that sounded like a crashing airplane, as well as unpredictable introductions that kept the audience on their toes, for example one song that unexpectedly changed gears into a fast, vibrant song after a rather slow and calm beginning.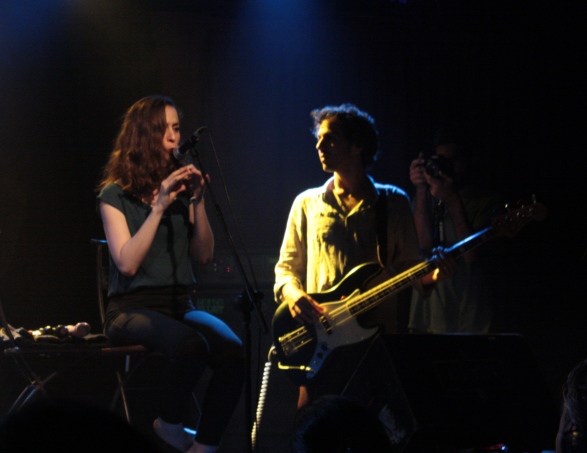 The band's energy is evident in every band member (Eitan Ginzburg on guitar and lead vocals, Tali Rubinstein on recorder and vocals, Moran Meisels on piano and vocals, Maayan Doari on percussion, and Yaron Mitalman on bass), but especially in Tali Rubinstein.  Tali switched off between six or so different recorders in what I noted during the concert as "serious flute playing."  Tali's musical enthusiasm and expertise resounded from the stage every time she played the recorder, adding that Far East texture to the band's music, with each recorder incorporating a different character to the particular song.  A rather large recorder contributed a full sound to one song, almost resembling a wind calling or some sort of nature whistle, while another small recorder was used for a swifter, buoyant song.  Whichever recorder Tali used, she had the remarkable ability to essentially tell an entire story merely with the sound of the recorder alone.
A delightful interlude to Shalna Alecha's music came when the Israeli comedian, Avi Granik, joined the band on stage.  Avi jammed with the band for a few lively songs, and then followed with his own piano solo, cooling the audience's mood with a slower, more relaxed number.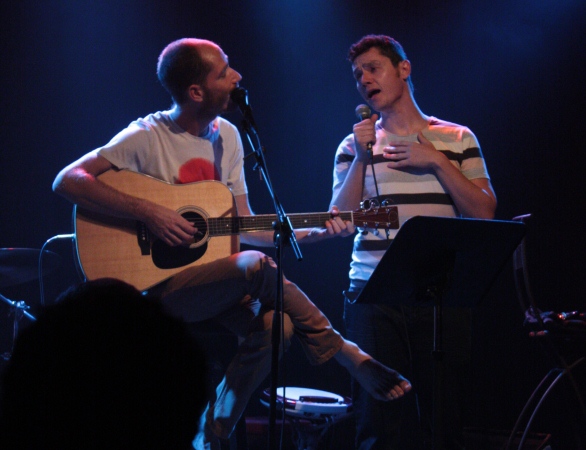 The night concluded with the crowd begging for more, and Eitan returned to the stage for an encore.  He switched from his comfortable position at the guitar and took to the piano for a calm solo before the rest of the band joined him on stage for a few more songs.  Right up until the very last song, Shalna Alecha gave the audience beautiful harmonies and unique, radiant songs, unlike any band I know.  Eitan commented backstage after the show: "I grew up listening to all types of Israeli music because my parents always had the radio on, so I listened to whatever the radio was playing – a diversity of musicians."  This diverse range of influences was discernible during the concert with the band's openness to all kinds of sounds, instruments, and types of lyrics, many of which were rich with Jewish references (for example, one song talked about "Shir Hashirim.")  Eitan continued, "I am inspired by Idan Raichel, Yoni Rechter, Danny Robas, and Aviv Gefen, just to name a few."  These are quite a list of Israeli names to live up to, indeed, but the way the band is sounding, Shalna Alecha may just be Israel's next big thing.
See more photos of Matan Aderet's photos of the concert on Midnight East's Facebook Page!