Midnight East is looking forward to the Haifa International Film Festival 2012 and you should be too, there's a great line-up of Israeli films!
Israeli Feature Films in Competition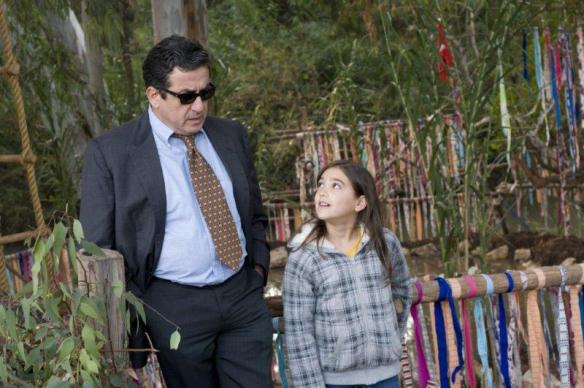 Igor and the Cranes – Director: Evgeny Ruman; Writers: Dita Gerry, Eitan Londoner; Producers: Hilik Michaeli, Avraham Farhi, Pyotr Molorek, Magdalena Nefreitz, Emily Christianes.
When Tanya informs her 11-year-old son, Igor, that they will be leaving their home in Russia to start a new life in Israel, the boy's world falls apart. He is desperate to stay, even to the point of imagining himself living with the father he hardly knows, Peter, an avid ornithologist. Peter, however, is too obsessed with tracking the annual crane migration from Russia to Africa to care for his son. Like the cranes on their long and perilous journey, Igor too must overcome the hardships and tribulations of migration and reassess his relationship with his father.
Evgeny Ruman was born in 1979 in the Soviet Union and immigrated to Israel at the age of 11. Evgeny is a director and editor, a graduate of the Film and Television Department of Tel Aviv University. His short films Nes (2006) and A Piece of News (2007) won awards at festivals in Israel and abroad. He is also the creator, head scriptwriter and director of In Between the Lines, the first Russian language series to air in Israel. Ruman was the editor of Five Hours from Paris, winner of the Best Film Award at the 2009 Haifa Festival, and directed Lenin in October, winner of a Special Mention in the Drama Competition at the 2010 Haifa Festival.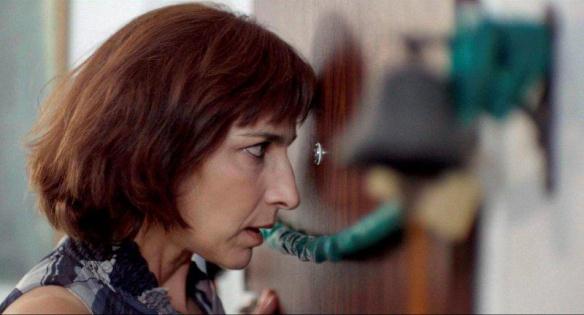 Present Continuous – Director/Producer: Aner Preminger; Writers: Orit Kimmel.
The year is 2002, the height of the Second Intifada. After two years of suicide bombers and many casualties, Israel is a society in crisis. One Friday afternoon, while everyone is asleep, an Israeli mother barricades her home. Ruthy is unable to deal with the stress and anxiety she suffers as a result of the continuous political situation. She decides to protect her family: her 20-year-old soldier son Offer, her 16-year-old daughter Noa, and her husband Yoel. They all wake up to find the house locked, disconnected from the outside world. "For how long?" ask the surprised family members. "Until there is peace," comes the motherly response.
Prof. Aner Preminger (PhD) is an independent filmmaker and a film scholar. Associate Professor, The Hebrew University, Jerusalem; Head of Film department, Sapir Academic College. Director, producer and writer, since 1986. Books: François Truffaut-The Man Who Loved Films, Hakibutz Hameuahad, Tel-Aviv University and Sapir Academic College Publication, 2006; Enchanted Screen: A Chronology of Media & Language, The Open University, 1995. Filmography: Front Window (1990), Blind Man's Bluff (1993), On My Way to Father's Land (1995), Learning and Teaching Mathematics (1998), Ransom of the Father (2000), Moscobia (2001), Last Resort (1999), One Eye Wide Open (2009)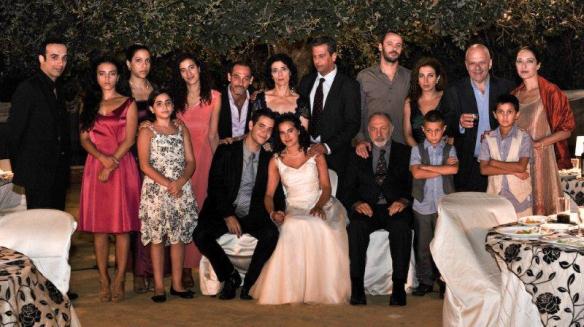 Inheritance – Director: Hiam Abbass; Writers: Ala Halihel, Hiam Abbass; Producers: Arik Bernstein, Dudi Zilber, Nicola Blan, Faruk Ozerten, Ander Savim; Producers: Moshe Edry, Leon Edry, Yariv Mozer.
Summer, 2006. A Palestinian family living in northern Galilee gathers to celebrate the wedding of one of their daughters, as war rages between Israel and Lebanon. Internal conflicts explode within the family – secrets are revealed and lies are unmasked. The battles between different family members become as merciless as the outside war once the father falls into a coma and inches toward death.
Hiam Abbass (Nazareth, 1960) lived in Israel until the 80's when she moved to Paris and began her acting career in movies. Her feature films have since included Rashid Masharawi's Haïfa; Raja Amari's Satin rouge; Hany Abu-Assad's Academy Award-nominated Paradise Now; Amos Gitai's Free Zone and Disengagement and Steven Spielberg's Munich. Abbass also performed in two films by Eran Riklis, The Syrian Bride and Lemon Tree. She was acclaimed for her performance opposite Academy Award nominee Richard Jenkins in Thomas McCarthy's The Visitor. She has written and directed two short films, Le pain and La Danse éternelle.
Room 514 – Director/Writer: Sharon Bar-Ziv; Producers: Sharon Bar-Ziv, Bibi Arbel Rekhes, Michal Rubin.
When a young, idealistic Israeli military investigator confronts an elite soldier with accusations of unnecessary violence against a Palestinian man in the Occupied Territories, her integrity and determination are put to the test as the case proves less black and white than it originally seemed. Taking a stand against a perceived abuse of power in spite of her colleagues' advice to back off due to the political complexities of the case, her increasingly zealous quest for justice ends up having far-reaching consequences for everyone involved. Interrogation room 514 – where the majority of the film is set – stands in for a microcosm of contemporary Israel.
Sharon Bar-Ziv's debut feature is a gritty minimalist drama that provides a raw, direct look at the psyche of a generation of young Israelis shaped by the effects of the ongoing conflict. Sharon Bar-Ziv studied filmmaking at Tel-Aviv University and began his career as an actor and script writer. Room 514, his first feature film, was screened in leading film festivals around the world and received a Special Jury Mention at the 2012 Tribeca Festival for Best New Narrative Director.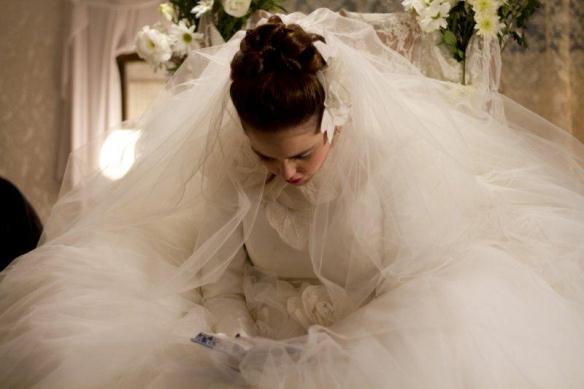 To Fill the Void – Director/Writer: Rama Burshtein; Producer: Asaf Amir.
Eighteen-year-old Shira is the youngest daughter of the Mendelman family, an Orthodox Hassidic family from Tel Aviv. She is about to be married off to a promising young man of the same age and background. It is a dream-come-true. On Purim day, her twenty-eight-year-old sister Esther dies while giving birth to her first born, Mordechay. The pain and grief that overwhelm the family delay Shira's match. Everything changes when an offer is made to match Yochay, the late Esther's husband, to a widow from Belgium. When the girls' mother finds out that Yochay may marry the widow and move to Belgium with her only grandchild, she proposes another match – this time between Shira and Yochay.
Rama Burshtein was born in New York in 1967. She graduated from the Sam Spiegel Film and Television School in 1994. During those years Burshtein became deeply religious and upon her graduation dedicated herself to promoting film as a tool for self- expression in the orthodox community. Rama wrote, directed and produced films for the orthodox community and also taught directing and scriptwriting in various film and television institutions within the orthodox community. To Fill the Void is her feature debut.
The Cut-Off Man – Director/Writer: Idan Hubel; Producer: Eitan Mantzuri.
Gabi cuts off the water supply of people who don't pay their bills. There's no choice, it's either that or unemployment. The more he cuts off, the more money he makes. Like a thief he sneaks into back yards, where the water meters are, and like an executor he roams the neighborhood streets. When people see him they curse and humiliate him. They blame him for their troubles. Gabi keeps cutting people off of their water supply, he has a family to support. How long can it be before he breaks?
Idan Hubel grew up in the town of Nahariya in northern Israel. Idan graduated with honors from the Sam Spiegel school of Film and Television in Jerusalem. He wrote and directed two student shorts that have screened at festivals all over the world, and won several awards. The Cutoff Man is his first feature film.
Out in the Dark – Director: Michael Mayer; Writer: Yael Shafrir, Michael Mayer; Producers: Lihu Roter, Michael Mayer.
Nimer, a Palestinian student and dedicated son, dreams of studying abroad and of a better life. One fateful night he meets Roy, an Israeli lawyer, and the two fall in love. As their relationship deepens, Nimer is confronted with the harsh realities of a Palestinian society that refuses to accept him for his sexual identity, and an Israeli society that rejects him for his Palestinian nationality. When his close friend is caught hiding illegally in Tel Aviv and sent back to the West Bank to be brutally murdered, Nimer is sent hurling down a path of personal sacrifice and mortal danger. Now he must choose between the life he thought he wanted and his love for Roy.
Michael Mayer studied film at the University of Southern California in Los Angeles. In 2010, Mayer directed the short film Fireworks that played the Manhattan Film Festival, River Bend Film Festival and Lucerne International Film Festival among others. Out in the Dark is his first feature film.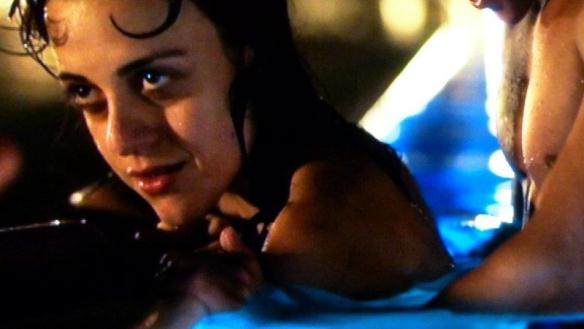 Six Acts – Director:  Jonathan Gurfinkel; Writer: Rona Segal; Producer: Udi Yerushalmi.
Six Acts is a realistic paraphrase of a classic teen-movie, a deep dive into the "grey zone" of sexual abuse, told through the story of average suburban adolescents. The story takes place right now, next door. Gili is a teenager who decides to change schools. She is determined to improve her fumbling social status. Over the course of a few weeks she hooks up with several different boys, all from her new school. Their encounters get more and more sexual, each time exploring their limits a little further. The boys are eager to take what is so generously offered, and Gili is thrilled with the attention. No tears, no complaints, no consequences. No adults. No one who says that maybe something is wrong…
Jonathan Gurfinkel's directing credits include the TV dramas Choose Me (1996) and My Son (2000) and co-direction of the documentary The Arena (2001). Gurfinkel also directed five seasons of skits on Rak BeIsrael (1996-2000), three seasons of the award-winning Eretz Nehederet (2002-2006) and the drama series Masahim (2007). This is his feature debut.
Israeli Documentary Films in Competition
The Lesson – Director/Writer: Anat Zuria; Producers: Anat Zuria, Sigal Landsberg
After some 200 driving lessons and numerous failed tests Layla, an Egyptian-born Arab, is about to give up on her dream. An encounter with Nimar, the leading Palestinian driving instructor in Al Quds, rekindles her hope. Nimar and Layla, two strangers in one town, embark upon a mutual journey to teach Layla how to drive. Gradually, the car turns into a "confessional," and Layla shares her secret life story. However, Layla's broken home and her musician daughter's doomed love story may thwart her chance to drive when the journey hits a rocky road.
The Lesson follows this exceptional drama for two years: the story of an Arab woman fighting for her independence in a city where the drive for independence has become, for many, an impossible dream.
Anat Zuria is a graduate of the Midrasha Art School in Ramat Hasharon and the Maaleh Film School in Jerusalem. Her debut film Purity won a Special Jury Prize at the Yamagata Festival, the First Prize at the FIPA Festival, the BestDirector Award at the Munich Festival and more. Sentenced to Marriage won the Best Documentary Award at the Jerusalem Festival, an Honorable Mention at the IDFA Festival and the First Prize at the Hot Docs Festival. Black Bus won the Best Documentary Award at the Haifa Festival. Selected filmography: Purity (2002), Sentenced to Marriage (2004), Black Bus (2009)
Hunting Time – Director/Writer: Eran Barak; Producers: Eran Barak, Yael Shavit
Three high-rise apartment buildings are under construction in Haifa's Tchernichovsky Street. A Photograph of two smiling adolescents, killed in a car accident, is taped on a small monument. A lonely Nazi Hunter collects hundreds of photographs and seeks some recognition. Hunting Time is a journey between memories and remembrance, between history and documentation, reality and imagination.
A graduate of Wizo Academy (photography department) with special merit, an MFA from Tel Aviv University (film and TV department), Eran Barak is an artist, photographer and filmmaker of documentaries, experimental films and video art. Barak is based at the Pyramida Art Center in Wadi Salib, Haifa and his work explores the relationships between Image, Time and Memory. His credits include the short films Dialogue (2007) and Bloomfield or Childhood Memory (2008). Hunting Time is his first feature-length Documentary.
Ponoevezh Time – Director/Writer: Yehonatan Indursky; Producers: Einat PInsky Goldscmidt, Talia Klinhelder
Ponevezh Time is an unprecedented glimpse into the best ultra-orthodox seminary in the world. In this closed, unfamiliar world we discover, amidst constant prayers and scholarly studies, a fragile and confused young man, with hopes and dreams and worries not so different from our own.
Filmmaker Yehonatan Indursky, a graduate of the Yeshiva, documented for two years the lives of its students and rabbis. The accumulated moments of joy, sadness, loneliness and routine, present an authentic view of this scholarly and competitive world.
Yehonatan Indursky is a graduate of the Haredi Yeshiva Ponevezh in Bnei Brak and the Sam Spiegel Film and Television School in Jerusalem. His documentary Ascending and Descending participated in the official competition at the Cinema South Festival 2010 and the Jewish Film Festival in Jerusalem 2010. His graduation film Driver won the Best Film, Best Acting and Best Soundtrack Awards at the Sam Spiegel Film and Television School in Jerusalem 2011 and was screened in the 2011 Jerusalem Festival. Indursky is currently co-writing (with Uri Alon) the script for a new 12-episode drama series called Shtisel which will be broadcasted on Yes during 2013. Filmography: Ascending and Descending (2010)
Enlistment Days – Director/Writer/Producer: Ido Haar
Enlistment Day follows recruits in the USA and France, both countries with Professional armies, and in Israel and Russia (Tatarstan), where military service is compulsory. It aspires to create a cinematic "dialogue" between those who choose to enlist and those for whom the choice is made by others.
Ido Haar has worked in the Israeli film and television industry, directing, shooting and editing social, political and cultural documentaries. His films 9 Star Hotel and Melting Siberia have enjoyed worldwide success. Most recently, he served as editor for the forthcoming Jonathan Demme documentary I'm Carolyn Parker, a post-Katrina profile of a community activist from the Lower Ninth Ward. Filmography: Melting Siberia (2004), 9 Star Hotel (2006)
Lyrics By Rothblit – Director: Deva Melman; Writers: Danny Varta, Deva Melman, Ron Ofer; Producers: Yehuda Bitton, Liat Kamay Eshed.
The five discs that Yankeleh Rothblit put out during the period of 1978-2011 tell the story of a dual life; a dialogue with the daily reality of Israeli society alongside the personal development of an artist. Lyrics by Rothblit examines these parallel lines.
Yankeleh Rothblit rose to fame mostly as a result of texts that he wrote and that were set to music and performed by others. These songs, as beautiful as they are, tend to be on the lighter side. They are not especially complex or demanding of the listener in the way of his independent work. The film exposes the audience to the entirety of his work – from the writing of the texts, to the composition of the music and to the performance of his own songs. His is a rich, complex and thought-provoking oeuvre.
Deva (Oz) Melman, filmmaker and film lecturer, is a graduate of the Film and TV Department of Tel Aviv University. His documentary Shooting Days participated in film festivals around the world. Filmography: Stain of Sun (2001), Shooting Days (2005).
Mom, Dad, I'm Muslim – Director: Anat Tel Mendelovich; Screenplay: Anat Tel Mendelovich; Producers: Sasha Klein, Anat Tel Mendelovich.
22-year-old May Davidovich converted to Islam 4 years ago. Since then she has been living under threat in her childhood neighborhood in Carmiel. She is very religious, learns the Qur'an and prays five times a day. At the age of 14 May developed an interest in Islam. She was searching for truth, something to believe in and hold on to. Her mother is a religious Jew who keeps the Shabbat and goes to the Mikve for the ritual immersion while her father believes in the transfer of Arabs out of Israel. They all share a house and May hopes to find a good match that will be able to accept both her and her unusual family.
May lives between two worlds. She longs for a husband, children and a life within the Arab society but remains close to the family that pays dearly for her choice and fears losing her.
Anat Tel Mendelovich holds an MFA from the Film and Television Department of Tel Aviv University. She worked as a producer on Israeli Channel 8 and as script manager/assistant director in several productions. Her documentary debut I'm not Filipina was broadcast on Yes and on Channel 2, screened at festivals around the world and received several awards. Filmography: I'm not Filipina (2010)
To Be Like Avi – Director: Inbal Shprinzak; Writers: Inbal Shprinzak, Noam Pinhas, Kobi Netanel; Producer: Noam Pinhas
To Be Like Avi is the coming-of-age story of three friends, refugees who fled Africa and left their families behind. They study in the Galilee and dream of following in the footsteps of Avi (formally Ibrahim), the only refugee who somehow obtained an Israeli citizenship and enlisted in the IDF. The film follows them during their senior high-school year. At the end of the year they will find out whether they can achieve the impossible and join the IDF or be deported back to their countries – and to a certain sentence of death.
The trio deals with familiar teen-age topics like falling in and out of love, tradition and progress, idealism and reality. However, their story unfolds in a complex social and political reality and highlights the problems of the African refugees' in Israel.
Inbal Shprinzak graduated from the Communications Department of Kinneret College and teaches cinematography at Kaduree High-School. In 2009 she directed, edited and shot the short documentary Reality 48 that was presented in Green Movie, a joint project of the Gesher Foundation, Channel 8 and the Haifa Festival.
Baloney and Cheese – Director/Writer/Producer: Assaf Sagi Gafni
Peter immigrated to Israel from Moldova and Kim from Brazil. They are both Christians and study in the Na'amat High School in Jaffa. The film documents their two lives over the course of one year, exposing a society divided into social "ghettos" and rife with racism. They are discriminated against and they discriminate against others. In the backdrop of the entire story, a school trip to Poland is being organized in which they will visit the concentration camps in Poland. It is a journey of two teenagers who are trying to find their way into the heart of Israeli society.
Assaf Sagi Gafni graduated the Bezalel Academy of Art and Design. Sagi Gafni led the creative of a number of TV channels in Israel and in 2009 made his directing debut with the documentary We Said No Crying. The film was broadcast on Israeli Channel 2.
Filmography: We Said No Crying (2009)
The Holy Gathering – Directors/Writers: Naamit Mor Haim, Nahum Greenberg; Producer: Nimrod Shanit.
Udi, Yair and Arnon grew up in Kibbutz Beit Zera, one of the first in the Jezreel Valley, and were part of the last generation to share communal children's homes in the 1980s. With the collapse of the kibbutz ideology on which they were raised, they were left to seek an alternative that would fill the void and provide some answers. We follow them in their constant search as they return time and again to the kibbutz, to their parents' houses, that were never really their homes.
All three are in the process of turning orthodox. This goes against their parents' wishes and everything they believe and yet Udi, Yair and Arnon continue to live within the secular kibbutz society. The Holy Gathering is a film about the relationship between parents and children and about the definition of Home.
Naamit Mor Haim studied for a time at the Sam Spiegel Film School in Jerusalem and worked as video and text editor. She is currently working on two documentary films and is writing a feature-length script. Nahum Greenberg studied film at Hadassah College. His credits include editing a documentary, a documentary series and short programs for the History Channel.
Lola – Director/Producer: Eytan Harris; Writers: Eytan Harris, Kinneret Hai Gilor
Galia Pardo lives happily and quietly with her family, a husband and four children, in the tiny provincial town of Zichron Yaakov, where she is very popular and well-known as the local florist and as a singer in the local choir. One day Galia makes a dramatic decision: she closes the flower shop and opens a sex shop. How are the allegedly conservative inhabitants going to accept her and shop? Will the new shop flourish? A humoristic documentary that might give you a new perspective on sex shops and especially on their owners.
Eytan Harris is an award-winning cinematographer and has worked on numerous films. One of the leading documentary filmmakers in Israel, Harris began to direct his own films a few years ago, using his vast experience and knowledge. His films have been screened in leading festivals around the world and have won prestigious awards. In 2006 Harris was the recipient of The Israeli Ministry of Culture's Excellence Award. He teaches film making at the Wizo Design Academy in Haifa. Filmography: Mashallah (2004), Abe Nathan-As the Sun Sets (2005), As Lilith (2009)