Jerusalem has inspired centuries of prayer and song, this year, the Jerusalem Season of Culture inaugurates the Jerusalem Sacred Music Festival, an international celebration of music from September 6 – 7, 2012.
The festival seeks to reflect the many faiths and cultures of Jerusalem, through music and song. The Tower of David will sound out the heartbeat of the festival, with musicians taking turns to beat the rhythm on a huge drum placed on the roof of the building throughout the 24 hour marathon of sacred music.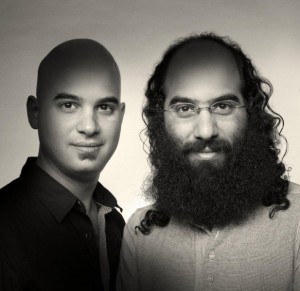 Opening on Thursday, September 6th at 18:00, will be "Mania: Mania:  Constantinople Ensemble" (Iran–Canada–Israel) featuring Zohar Fresco at the Tower of David. The brother-musicians Kiya and Ziya Tabassian strive to create a state of religious ecstasy through ancient Persian music, infused with contemporary creativity.
Featuring: Kiya Tabassian – vocals and setar, Ziya Tabassian – tombak and percussion
Special Guest: Zohar Fresco – percussion
Later that night, the world premiere of Maqam Yerushalem: The New Jerusalem Orchestra will take place at 21:00. An amazing ensemble of local and international composers, arrangers, musicians, vocalists and a liturgical choir have come together to perform songs of yearning for Jerusalem in Hebrew, Arabic and Amharic.
Featuring: The New Jerusalem Orchestra, Artistic concept and direction: Yair Harel and Omer Avital, additional composers and musical arrangers: Peretz Eliahu, Rabbi David Menachem, Rai Hagai, Rafi Malkiel, Itamar Borochov, Elad Levi, Mark Eliahu.
Choir: The Yad Ben-Zvi Liturgical Choir.
* An additional performance of "Maqam Yerushalem" will be held on Saturday, September 8 at 9:30pm as a joint initiative of the Jerusalem Sacred Music Festival and the Piyyut Festival (which will take place from September 10-13).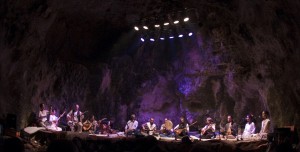 Venture beyond the Tower of David to explore "Unfathomed Depths: Diwan Saz" in Zedekiah's Cave, featuring Rabbi David Mencahem, Said Tarabieh and Amir Shahasar, at 21:00. The Diwan Saz group play and sing the musical traditions of Central Asia. The melodies and the words combine the Sufi spirit with the melody, musical tradition and liturgy of the Holy Land. The songs are performed in different languages such as: Hebrew, Aramaic, Arabic, Persian and Turkish. "Unfathomed Depth" is the fruit of a five-year creative collaboration that came to life in the depths of a huge bell-like cave in the ancient Yodfat Hill.
Special Guests: Said Tarabieh, Rabbi David Menachem and Amir Shahasar
Featuring: Tal Karo – vocals, Said Tarabieh – vocals, Rani Lorentz – bass, Eyal Luman – kanun and percussion, Itamar Doari – percussion, Roi de Mayo – vocals and percussion, Yochai Barak – musical arrangement and direction, saz, baglama, jura, Udi Benknaan – lyre and saz, Aviv Bahar – guitar and kopuz, Yitzhak Ventura – ney, Tzipi Dagan – vocals, David Menachem – vocals, Yitzhak Refuah – vocals.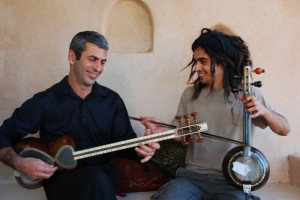 Mark and Peretz Eliyahu with "Dunes" at midnight and Berry Sakharof at sunrise, with many more ….the complete list of performances is available in English on the Jerusalem Season of Culture website.
Jerusalem Sacred Music Festival Artistic Director: Gil Ron Shama; Co-Artistic Director: Gil Karniel; Vision and Creative Direction: Gil Karniel, Omri Sharir; Producer: Carmi Wartman, 2bVibes; Artistic Director, Jerusalem Season of Culture: Itay Mautner.