The Bat Yam Street Theatre Festival is the biggest and oldest of its kind in Israel, continuously dedicated to disseminating ideas through original theatrical performances for the public. Touching on various social themes such as unemployment, homelessness, social interactions between the rich and the poor and the imprudence of war, the festival helps add perspective and understanding for the more somber elements of our society through visual entertainment and stimulation. This year's festival will celebrate sixteen years since its inception with the premier of 23 new performances. Included in these pieces will be the widely popular Playback theatre, an often deeply moving experience based on improvisation and interaction with the crowd.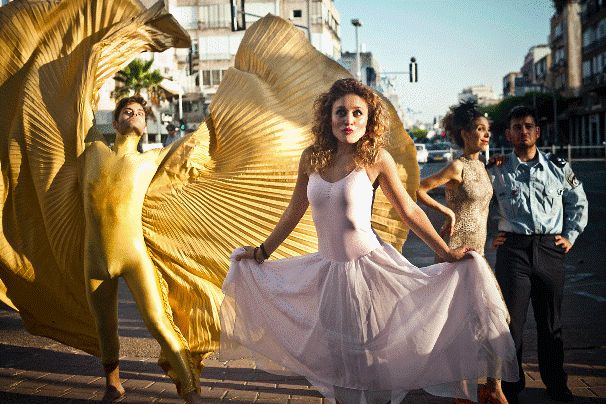 Artistic directors Lisa Jacobson and Gil Becher will be conducting the festival for their second year running. Two competition tracks will also be taking place throughout the festival, and monetary prizes will be awarded to winners of Best Theatre Performance and Best Dance Performance.
The following performances are all free and open to the public, except Tania's Paradise, which has an entrance fee of 20 NIS. The Festival will take place on October 2 – 4, between 17:00 and 23:00; a map of the festival location is available on the festival website in English.
Bat Yam: A musical comedy about family values and making dreams a reality. When an eccentric Israeli family encounters a mermaid, the family dynamic is challenged as fantasy and reality blend. Director: Yair Sherman
Mirandolina: An Italian comedy about the lovely innkeeper Mirandolina, who enchants her male guests until deciding on her one true love. Director: Yossi Jozz Cohen.
Suspend's Tango: Movement are marked with gentleness, fluidity and aptitude through various mediums: bricks, stones, glass, etc. Choreography: Eric Lecomte and Odile Gheysens.
75+: A group of cheery elderly people roam the city in their various forms of transportation: a walker, a wheelchair, a cane. They are frequently met with problems of accessibility and the frantic pace of our society.
Ceci 3.0: A wheelchair rides solo through the city. What kind of reaction does it elicit? The show exposes society's fear of social confrontation through audience interaction.
Murder at a Motel: Two opposing characters struggle to remake one of the biggest scenes in cinema. Adventure, humour and suspense ensue. Director: Bris de Banane
Home Less Eat: Dance in pubic space. A homeless woman raises dolls, trying to recreate herself in an environment that has rejected her. Treads carefully between the border of sanity and insanity, reality and illusion.
Patapoufs et Filifers: The truth about war from the perspective of children.
Anonymous: An interdisciplinary performance of dance and sound. Among the ever-moving transience of the city, five blue figures move as if independent of their surroundings.
The Cleaning Zone: Three expert street cleaners take on the streets of Bat Yam. They attend to their daily chores as chaos ensues.
Seek in the Coffee: Strangers in a café meet, discuss and interact. The dance performance touches on elements of desire, fear, and expression.
The Big Bank Robbery: Playback theatre.
When You're Strange: Encounters that transpire on a bus, while the passengers are trapped in unexpected theatrical cages where anything can happen. Director: Roee Hertz-Rousso.
The Wheel House: An acrobatic take told in an on a wheel. Comic dystopia set in a time when values are altered and endurance relies on friendship. Join these traveler-gatherers on the road to nowhere: treading lightly, surviving quietly, and always, always moving onwards. Stunning design, theatrical acrobatics, and breathtaking moments of risk, all housed within an exquisite, hand-built structure. A moving piece of visual theatre from Acrojou, one of the UK's most innovative circus companies.
Funny Monsters: A roll-abut show combining Physical theatre, clownery and stunts.
Tania's Paradise: A residency project in the city of Bat Yam. Tania Shelfan is an Israeli circus artist who has been residing in France for many years. Together with circus artist Giles Cailleau she has created an acrobatic account of the city that will premier at the festival. Entrance fee: 20 NIS
Danse: Juan is looking for the dancing girl of his dreams through dance and interaction with the crowd.
Les Scotcheurs Eclairés : Sculptors from all over the world who speak the Polop language, invite the audience to a playful performance and installation. An unusual and entertaining performance of 'body-taping' in public spaces, that gives the imprint of human bodies, like a Chrysalis or cocoon.  At nightfall, this interaction leads to a unique illuminated installation full of poetry and commotion, carried by volunteers. You are all invited to this spectacular exhibition of human-urban movement, in the public spaces of Bat Yam.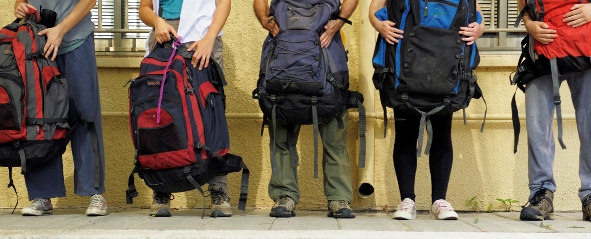 Massa: A figure stands still, a huge bag at her feet looking towards the horizon. One by one, other figures emerge, with their huge bags. For a moment, all of them stand together, looking at the space revealed in front of them. Slowly they shift their body weight forward and suddenly leave on a journey.
A dance in public space that describes the journey of people carrying a huge bag – amass. The motion with the bags reveal the figures' relations to their past and to their surroundings.
Anything Can Happen: A simple newspaper vendor, coincidentally or not, found a box full of abandoned clothes. From one garment to another he finds himself in different characters and embarrassing situations.
Poetry Slam: Poetry slam – a spoken word contest in 3 rounds.
Poets, rappers and raging prophets will speak their words
The public decides who will continue to the next round!
This evening is a fusion of Hyde-park, Street theatre, poetry reading and Rap
Kleine Mentshelekh: Kleine Mentshelekh (from Yiddish: little people) is a young Israeli Klezmer band, influenced by the Yiddishkait culture of 18th-19th century Eastern Europe.
The Tire Repair Shop: The Tire Repair Shop is in a crisis and the employees are trying to find a solution how to save their work place. Slowly we discover that under their work clothes, different characters are hidden and they express their desires through circus combined with dance, theater, aerial acrobatics and clowning.