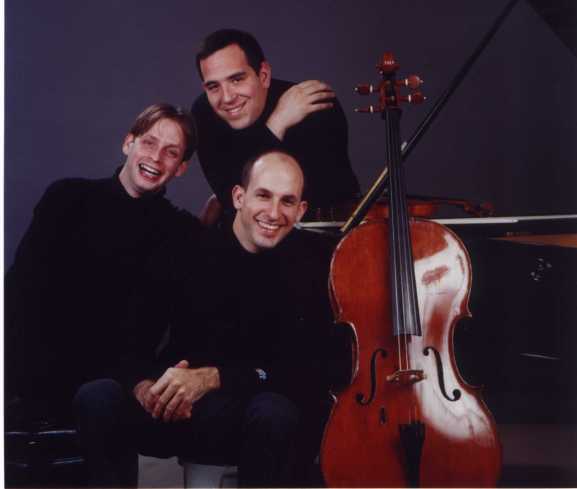 After four years of renovations, Israeli concertgoers will be able to return to the Chamber Music Center's home at the Israel Conservatory of Music, on the corner of Stricker and Louis Marshal Streets in Tel Aviv. The Chamber Music Center's 2012-2013 season promises to be as exciting as ever. The new season will celebrate not only the Chamber Music Center's return home, but also important milestones for two of Israel's most prominent music ensembles: the Jerusalem Trio and the New Israel Quintet.
The internationally-acclaimed Jerusalem Trio will open the season in a concert dedicated to Schubert's two piano trios: No. 1 in B-flat major, Op. 99 and No. 2 in E-flat major, Op. 100. This concert will take place on October 20 at 20:30, and it is the first of the Chamber Music Center's "Trio" series, which will celebrate the Jerusalem Trio's 25th anniversary.
Tickets for this concert are 105-130 NIS.
Young persons up to 21 years old: Free admission (free seat basis)
Young persons 22-34 years old: 35-55 NIS (free seat basis)
The "Trio" series will continue in December, when the Jerusalem Trio will be joined by violist Krzysztof Chorzelski in playing works by Brahms and Robert and Clara Schumann, and then in May for a concert focusing on Russian composers: Rachmaninoff, Shostakovich and Tchaikovsky.
Another special event will be the The New Israel Quintet's 20th anniversary concert. The Quintet will collaborate with several Israeli artists in playing nonets by Nino Rota and Louis Spohr and a selection of songs by Mahler and waltzes by Johann Strauss, adapted for nonet.
This year's Piano Recital series will focus on compositions inspired by non-musical themes and works of art. The Chamber Music series, which includes 15 diverse concerts, will host a number of world-renowned musicians, some of whom will be performing in Israel for the first time: the Arcadia Quartet (Romania), the Pavel Haas Quartet (Czech Republic) and the Modigliani Quartet (France). In April the Chamber Music Center will host musicians from the Pablo Casals Festival in France in a concert featuring works by Bruch, Rossini, Schumann and Gershwin.
These concerts and many more will take place in the newly-renovated auditorium of the Israel Conservatory of Music, 25 Louis Marshal St., Tel Aviv. Tickets may be ordered through the Israel Conservatory of Music, Tel Aviv: 03-5466228. Additional information can be found on the Chamber Music Center's website.